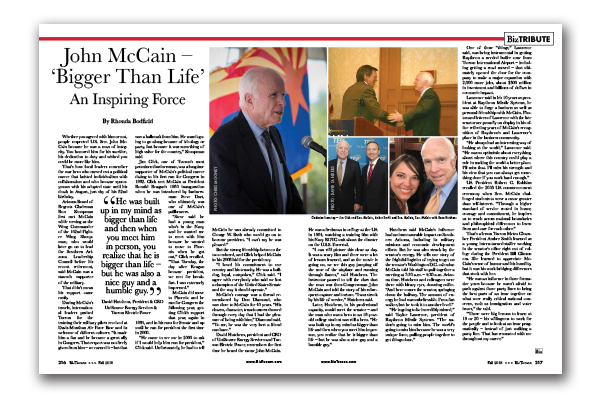 By Rhonda Bodfield –
An Inspiring Force
Whether you agreed with him or not, people respected U.S. Sen. John McCain because he was a man of integrity. You honored him for his sacrifice, his dedication to duty and wished you could be more like him.
That's how local leaders remember the war hero who carved out a political career that knitted individualism with collaboration and who became synonymous with his adopted state until his death in August, just shy of his 82nd birthday.
Arizona Board of Regents Chairman Ron Shoopman first met McCain while serving as the Wing Commander of the 162nd Fighter Wing. Shoopman, who would later go on to lead the Southern Arizona Leadership Council before his recent retirement, said McCain was a staunch supporter of the military.
That didn't mean his support came easily.
During McCain's travels, international leaders praised Tucson for the training their military pilots received at Davis-Monthan Air Force Base and its welcome of different cultures. "It made him a fan and he became a great ally in Congress. That respect was not freely given from him – we earned it – but that was a hallmark from him. He wasn't going to go along because of ideology or party, but because it was something of high value for the country," Shoopman said.
Jim Click, one of Tucson's most prominent businessman, was a longtime supporter of McCain's political career dating to his first run for Congress in 1982. Click met McCain at President Ronald Reagan's 1980 inauguration when he was introduced by businessman Steve Dart, who ultimately was one of McCain's pallbearers.
"Steve said he had a young man who's in the Navy, and he wanted me to meet with him because he wanted to move to Phoenix when he got out," Click recalled. "That Tuesday, the day after Reagan became president, we met for breakfast. I was extremely impressed."
McCain did move to Phoenix and he ran for Congress the following year, getting Click's support that year, again in 1984, and in his runs for Senate and up until he ran for president the first time in 2000.
"He came to see me in 2000 to ask if I would help him run for president," Click said. Unfortunately, he had to tell McCain he was already committed to George W. Bush who would go on to become president. "I can't say he was pleased."
But the strong friendship between the two endured, and Click helped McCain in his 2008 bid for the presidency.
"I loved his commitment to our country and his tenacity. He was a bulldog, loyal, outspoken," Click said. "I agree with everybody who said we lost a champion of the United States Senate and the way it should operate."
McCain's courage was a thread remembered by Don Diamond, who was close to McCain for 40 years. "His charm, character, tenaciousness showed through every day that I had the pleasure of being with him," Diamond said. "To me, he was the very best a friend can have."
David Hutchens, president and CEO of UniSource Energy Services and Tucson Electric Power, remembers the first time he heard the name John McCain. He was a freshman in college at the UA in 1984, watching a training film with his Navy ROTC unit about the disaster on the U.S.S. Forrestal.
"I can still picture this clear as day. It was a scary film and there were a lot of lessons learned, and as the movie is going on, we see this guy jumping off the nose of the airplane and running through flames," said Hutchens. The instructor paused to tell the class that the man was then-Congressman John McCain and told the story of his subsequent capture and torture. "I was struck by his life of service," Hutchens said.
Later, Hutchens, in his professional capacity, would meet the senator – and the man who was a hero to an 18-year-old college student was still a hero. "He was built up in my mind as bigger than life and then when you meet him in person, you realize that he is bigger than life – but he was also a nice guy and a humble guy."
Hutchens said McCain's influence had an immeasurable impact on Southern Arizona, including its military missions and economic development efforts. But he was also struck by the senator's energy. He tells one story of the frightful logistics of trying to get on the senator's Washington D.C. calendar. McCain told his staff to pull together a meeting at 7:30 a.m. – 4:30 a.m. Arizona time. Hutchens and colleagues were there with bleary eyes, downing coffee. "And here comes the senator, springing down the hallway. The amount of energy he had was unbelievable. I'm a fast walker, but he took it to another level."
"He is going to be incredibly missed," said Taylor Lawrence, president of Raytheon Missile Systems. "The nation's going to miss him. The world's going to miss him because he was a very unique force, pulling people together to get things done."
One of those "things," Lawrence said, was being instrumental in getting Raytheon a needed buffer zone from Tucson International Airport – including getting a road moved – that ultimately opened the door for the company to make a major expansion with 2,000 more jobs, about $500 million in investment and billions of dollars in economic impact.
Lawrence said in his 10 years as president at Raytheon Missile Systems, he was able to forge a business as well as personal friendship with McCain. Photos and letters of Lawrence with the late senator are proudly on display in his office reflecting years of McCain's recognition of Raytheon's and Lawrence's place in the business community.
"He always had an interesting way of looking at the world," Lawrence said. "He was so optimistic about everything, about where this country could play a role in making the world a better place. I'll miss that. I'll miss his strength and his view that you can always get something done if you work hard enough."
UA President Robert C. Robbins recalled the 2005 UA commencement ceremony when Sen. McCain challenged students to serve a cause greater than self-interest. "Through a higher standard of service rooted in honor, courage and commitment, he inspires us to reach across national boundaries and philosophical differences to learn from and care for each other."
That's a lesson Tucson Metro Chamber President Amber Smith learned as a young intern-turned-staffer working in the senator's office right out of college during the President Bill Clinton era. She learned to appreciate McCain's sense of humor and his humility, but it was his work bridging differences that stuck with her.
"He was an influence in those formative years because he wasn't afraid to push against those party lines to bring the best parts of an issue together on what were really critical national concerns, such as immigration and voter issues," she said.
"Those were big lessons to learn at 19 or 20 – his willingness to work for the people and to look at an issue pragmatically – instead of just walking a party line. That has resonated with me throughout my career."