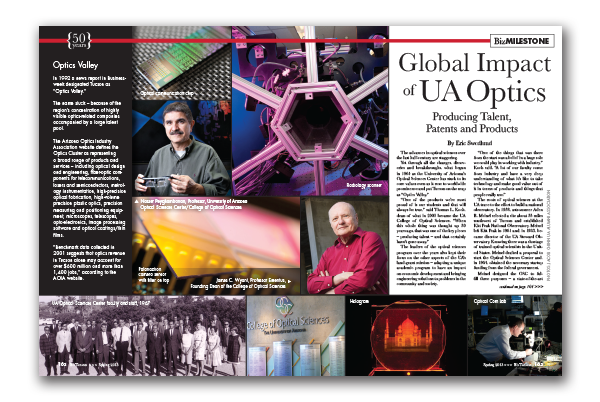 Global Impact of UA Optics – Producing Talent, Patents and Products
By Eric Swedlund –
The advances in optical sciences over the last half-century are staggering.
Yet through all the changes, discoveries and breakthroughs, what began in 1964 as the University of Arizona's Optical Sciences Center has stuck to its core values even as it rose to worldwide prominence and put Tucson on the map as "Optics Valley."
"One of the products we're most proud of is our students and that will always be true," said Thomas L. Koch, dean of what in 2005 became the UA College of Optical Sciences. "When this whole thing was thought up 50 years ago, that was one of the key pieces – producing talent – and that certainly hasn't gone away."
The leaders of the optical sciences program over the years also kept their focus on the other aspects of the UA's land-grant mission – adapting a unique academic program to have an impact on economic development and bringing engineering solutions to problems in the community and society.
"One of the things that was there from the start was a belief in a huge role we could play in working with industry," Koch said. "A lot of our faculty come from industry and have a very deep understanding of what it's like to take technology and make good value out of it in terms of products and things that people really use."
The roots of optical sciences at the UA trace to the effort to build a national observatory. In 1958, astronomer Aden B. Meinel selected a site about 55 miles southwest of Tucson and established Kitt Peak National Observatory. Meinel left Kitt Peak in 1961 and, in 1963, became director of the UA Steward Observatory. Knowing there was a shortage of trained optical scientists in the United States, Meinel drafted a proposal to start the Optical Sciences Center and, in 1964, obtained the necessary startup funding from the federal government.
Meinel designed the OSC to fulfill three purposes – a state-of-the-art research center for experimental and theoretical optical physics, a strong graduate curriculum in optical physics and technology, and the ability to translate new technology rapidly into industrial uses.
That final aspect led Meinel to hire faculty members directly from industry and remains a particular strength of the college to this day. Through the industrial affiliates program, the university regularly hosts industry representatives, and not in the typical career-day mode.
"Optics companies come in, both regionally and nationally, and as opposed to human resources folks, they send development and management leaders to come and listen to students and faculty giving talks," Koch said. "It's a very nice dynamic and sometimes it's financially beneficial to us because we get research opportunities to work with companies. We're expecting more of that as time goes on.
"I think the universities have held private sector at arm's length a little too much and that's where a lot of things get turned into value for people."
Meinel's goals have turned the College of Optical Sciences into the largest optics education and research program in the nation. The college teaches more than 100 optics courses and has awarded nearly 700 doctoral degrees, 1,200 master's degrees and 500 bachelor's degrees.
Now retired, James C. Wyant was head of optical sciences, first as director and then as dean. He oversaw much of the expansion in terms of teaching and the 47,000-square-foot west wing of the Meinel Building, completed in 2006.
In 2014 Wyant turned his focus to the optical sciences students, giving UA $10 million for graduate student scholarships, the largest gift toward scholarships in the university's history.
"I understood very well the problems we had funding first-year Ph.D. students and that also led to problems in recruiting them. We lost some that I don't think we would have lost if we had better funding for them," he said. "Before, most of the students would come in and within the first few weeks, they'd have to pick the professor they wanted to work with and that professor had to agree and it was not very useful for the first year."
With Wyant's scholarship funds, graduate students can take an extra course each semester their first year and be better equipped to select an area to specialize in, as well as which professor to work with.
In terms of research, nearly half of all patents filed by the UA each year come from optics.
"We invest a lot of time and energy in trying to really make things," Koch said. "You don't really know the problems until you actually try to do it and deploy it. We have an appreciation for that and that makes us easier to work with than a lot of universities. We not only understand it, we do it. That's a big part of the culture here."
Working with Tech Launch Arizona, the university's new technology transfer and commercialization arm, will do even more to boost patents and spinoff companies, Koch said.
"It's a big help. Some of it is a much smoother way to deal with intellectual property and ways to get over those bumps when we work with companies. I think it's communicating to partners that we have a lot of flexibility," Koch said. "We are a creative bunch and a lot of our faculty members have startup companies and some of them have done very well."
In a well-designed loop, that commercialization component carries directly over to education.
"When we do joint research with some of our companies, the students really gain a deep understanding of how their stuff actually ends up influencing the marketplace," Koch said. "It's not just some hypothetical thing where you publish a paper and hope somebody reads it. We actually work with companies and turn it into real products and the students are involved in that. They become valuable to prospective employers afterward."
Meinel's vision 50 years ago placed the UA at the forefront of a field that has incredible breadth in terms of information, entertainment, communication, medical sciences, defense and much more.
"It's surprising to everybody. When we think of optics, everybody mainly thinks of optical instruments, things with lenses in them," Koch said. "Those are very important applications of optics, but it's embedded in so many things that we do now. I don't think you could do much of anything related to information management without relying on optics, from the displays in your phone to the Internet, which is all optical information technology now. The rates of communication are just mind boggling."
Advances in medical optics have spurred that as its own separate subfield, which the UA has tied in with its medical school and teaching hospital.
"In the biomedical world, it goes all the way from using optical techniques to identify different tissues that might be cancerous to the development of new instrumentation for non-invasive tissue exploration," Koch said. "Hopefully the technology will get to the point of not having to do biopsies."
Yet even as the research specializes, the College of Optical Sciences remains dedicated to the realm of basic research as well.
"One third of what we do is very fundamental and we don't even know how it's going to be useful. We just know there are questions we don't know the answers to. We're just exploring what's possible and as soon as you do that, there's a whole other group of people who come in to make something new with that," Koch said. "You don't know until you've discovered something what it's going to be useful for. We're expanding on the application side and doubling down on the basic research as well."