Tucson Museum of Art presents "Welcome to Beveldom"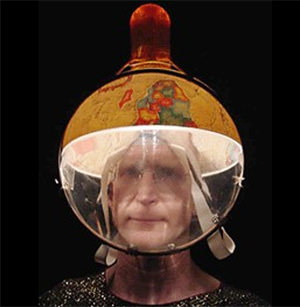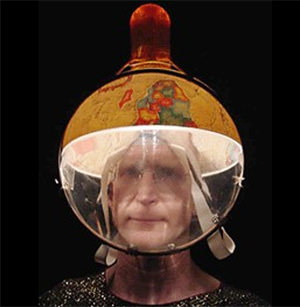 Mat Bevel's Museum of Kinetic Art The maestro of spunk, funk and kinetic junk
At Tucson Museum of Art
The Tucson Museum of Art announces a new exhibition,

 

Welcome to Beveldom: Mat Bevel's Museum of Kinetic Art, August 8, 2014 through September 28, 2014 at the Tucson Museum of Art, 140 N. Main Ave in downtown Tucson. For more information please visit our website

 

TucsonMuseumofArt.org

 

or call
520-624-2333

, extension 104.
Using a plethora of found objects and assembling them into fantastical kinetic sculptures and performance props, Ned Schaper, in the persona of Mat Bevel, has created playfully punning, yet deeply philosophical works that reflect on society in all its absurdity. Known as the maestro of "gizmotronic fanfare of spunk, funk, and kinetic junk," Schaper created the Mat Bevel Institute in 1996, housed in a 5,000 foot Arizona Department of Transportation warehouse in Tucson at a time when the downtown area was gritty and alive with a thriving art community. There, he created poetry, performances, and sculptures as part of his Museum of Kinetic Art, embodied through such colorful characters as Lover boy, Fine Fellow, Dr. Paradox, Mr. Chairperson, and Aimless Sucker.
     When recent downtown revitalization projects began to kick into gear, Schaper was given a spring deadline to vacate his space, which inspired him to shape all of his sculptures into a vast Ark D'Bevel. For this retrospective exhibition, Schaper will disentangle the behemoth of an ark for visitors to see his various kinetic sculptures for the first time in a museum setting. As Schaper explains, "I don't make my art, my art makes itself.  By helping things come together that want to come together, I enable magic.  The universe works through my hands to manifest truths of our surroundings with items of our time.  Nature applies a pressure to evolve workable systems.  I am here to assist them in evolving.  All our realities grow like plants.  The junk that lies discarded from man's industry is the resource for what's to come.  I believe inspiration is nature's tug pulling us forward.  The answers to our itemized culture are what we create from it.  I make art because it's meant to be made."
"Mat Bevel is an institution in Tucson," says Julie Sasse, Chief Curator and Curator of Modern and Contemporary Art at the Museum, "and this retrospective is long overdue. I am pleased to present his imaginative and highly entertaining, yet thought-provoking work to the general public." Schaper will also present two performances of

 

Beveled Ark Theatre: High Art for the Whole Family, a one-man variety show featuring your host, General Lee Speaking, and his elite team of action heroes. These brave men will hold nothing back as they haul out such old-time favorites as the Think Tank, the Painful Moment Simulator, the Gypsy Base, the Big Bang, Chicken Pox, Heckno Techno, the Kinetic Yankee, and the New Non-Prophet. Performances take place Thursday, August 21 at 6:00

 
PM
 

and Thursday, September 11 at 6:00

 
PM
. Performances are free with Museum admission. Photos available upon request.
The Tucson Museum of Art and Historic Block connects art to life, inspiring discovery, creativity, and cultural understanding through meaningful, engaging experiences. The Museum is open Tuesday, Wednesday, Friday, and Saturday 10:00

 
AM
 

- 5:00

 
PM
, Thursday 10:00

 
AM
 

- 8:00

 
PM
, and Sunday 12:00 noon - 5:00

 
PM
. The first Sunday of each month is free. The Museum is located at 140 North Main Avenue in historic downtown Tucson, at the crossroads of West Alameda and North Main Avenue.  The Museum also includes a full-service café, five historic houses, public tours, and a Research Library.