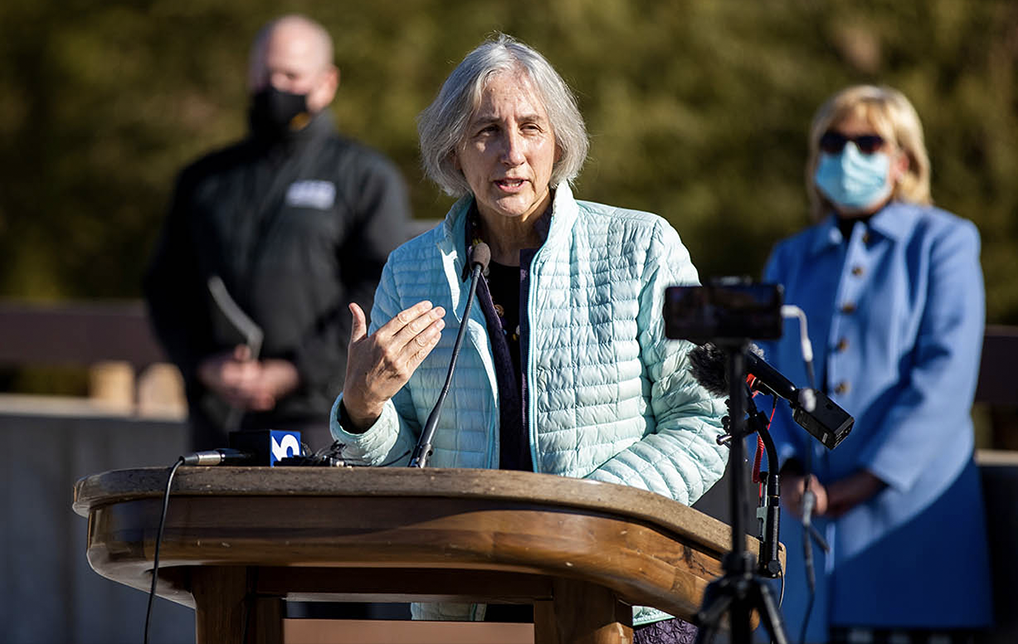 Dr. Theresa Cullen Honored as UArizona College of Medicine – Alumni of the Year
Theresa Cullen, MD, MS, was honored as the University of Arizona College of Medicine – Tucson's 2021 Alumni of the Year. She was recognized Nov. 4 at the UArizona Alumni Association's 2021 Alumni of the Year Awards Ceremony for her distinguished career in public health and medical informatics.

An associate professor in the College of Medicine – Tucson's Department of Family and Community Medicine, Dr. Cullen was named Pima County health department director and vice president of the county's Back to Business Task Force in April 2020. In that post, she oversaw the county's response to the COVID-19 pandemic.

Dr. Cullen said she hopes her pick as Alumni of the Year prompts others to pursue a career of service.

"I'm not a researcher. I haven't discovered a cure for anything. I've done a life of service that I am really blessed to have had the opportunity to do, and with a family that's been really supportive. We've, as a family, made conscious decisions about my position and work to ensure it was consistent with my moral compass, which is that you're supposed to make the world better," she said.

"I would hope my getting this award, which I am really humbled by, inspires other people to understand the way we impact the world can be just service."

Dr. Cullen began her career as a medical service officer with then Indian Health Service hospitals on the San Carlos Apache Reservation and Tohono O'odham Nation. She then spent 27 years with the U.S. Public Health Service, Veterans Affairs and Indian Health Service, leading transformative change in health informatics and earning a star as an assistant U.S. surgeon general.

In 2015, she became deputy director for global health informatics at the Regenstrief Institute in Indianapolis and an associate professor in the Department of Family Medicine at Indiana University. During the 2014-16 Ebola crisis, Dr. Cullen led a maternity Ebola unit as a volunteer physician in Freetown, Sierra Leone, one of many public health deployments she took on over three decades.
About the University of Arizona College of Medicine – Tucson
The University of Arizona College of Medicine – Tucson is shaping the future of medicine through state-of-the-art medical education programs, groundbreaking research and advancements in patient care in Arizona and beyond. Founded in 1967, the college boasts more than 50 years of innovation, ranking among the top medical schools in the nation for research and primary care. Through the university's partnership with Banner Health, one of the largest nonprofit health-care systems in the country, the college is leading the way in academic medicine. For more information: medicine.arizona.edu (Follow us: Facebook | Twitter | LinkedIn | Instagram).
About the University of Arizona Health Sciences
Located on campuses in Tucson and Phoenix, the University of Arizona Health Sciences is one of the top-ranked academic medical centers in the southwestern United States. UArizona Health Sciences includes the College of Medicine – Phoenix, College of Medicine – Tucson, College of Nursing, Mel and Enid Zuckerman College of Public Health, and R. Ken Coit College of Pharmacy. In addition, 12 UArizona Health Sciences centers and programs focus on cancer, neurodegenerative diseases, pain and addiction, and respiratory diseases; biomedical informatics, health technology innovation and simulation training; and precision health care and health disparities. A leader in next-generation education, biomedical research and public outreach, UArizona Health Sciences employs nearly 5,000 people, has approximately 4,000 students and 900 faculty members, and garners more than $220 million in research grants and contracts annually.