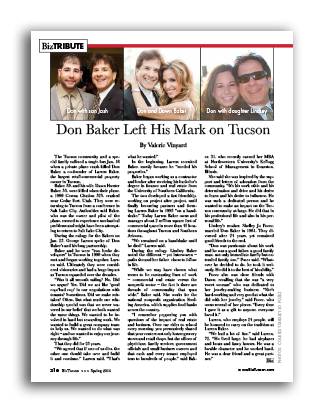 Don Baker Left His Mark on Tucson
By Valerie Vinyard –
The Tucson community and a special family suffered a tragic loss Jan. 18 when a private plane crash killed Don Baker, a co-founder of Larsen Baker, the largest retail-commercial property owner in Tucson.
Baker, 59, and his wife, Dawn Hunter Baker, 55, were killed when their plane, a 1999 Cessna Citation 525, crashed near Cedar Fort, Utah. They were returning to Tucson from a conference in Salt Lake City. Authorities said Baker, who was the owner and pilot of the plane, seemed to experience mechanical problems and might have been attempting to return to Salt Lake City.
During the eulogy for the Bakers on Jan. 23, George Larsen spoke of Don Baker's and his long partnership.
Baker and he were "two broke developers" in Tucson in 1990 when they met and began working together, Larsen said. Ultimately they were considered visionaries and had a huge impact as Tucson expanded over the decades.
"Was it all smooth sailing? No. Did we argue? Yes. Did we act like 'good cop/bad cop' in our negotiations with tenants? Sometimes. Did we make mistakes? Often. But what made our relationship special was that we never wavered in our belief that we both wanted the same things. We wanted to be involved in hard but rewarding work. We wanted to build a great company team to help us. We wanted to do what was right – and we wanted to enjoy our journey through life."
That they did for 23 years.
"We agreed that if one of us dies, the other one should take over and build it and continue," Larsen said. "That's what he wanted."
In the beginning, Larsen recruited Baker, mostly because he "needed his properties."
Baker began working as a contractor and broker after receiving his bachelor's degree in finance and real estate from the University of Southern California.
The two developed a fast friendship, working on project after project, until finally becoming partners and forming Larsen Baker in 1993 "on a handshake." Today Larsen Baker owns and manages about 2 million square feet of commercial space in more than 45 locations throughout Tucson and Southern Arizona.
"We remained on a handshake until he died," Larsen said.
During the eulogy, Lindsey Baker noted the different – yet interwoven – paths she and her father  chose to follow in life.
"While we may have chosen what seems to be contrasting lines of work – commercial real estate versus the nonprofit sector – the fact is there are threads of commonality that span wide," Baker said. She works for the national nonprofit organization Feeding America, which supplies food banks across the country.
"I remember peppering you with questions of the impact of real estate and business. Over car rides to school every morning, you persuasively shared that your centers not only house grocery stores and retail shops, but the offices of physicians, family services, government officials and small business owners and that each and every tenant employed tens to hundreds of people," said Baker, 31, who recently earned her MBA at Northwestern University's Kellogg School of Management in Evanston, Illinois.
She said she was inspired by the support and letters of adoration from the community. "It's his work ethic and his determination and drive and his desire to learn and his desire to influence. He was such a dedicated person and he wanted to make an impact on the Tucson community at large. He did that in his professional life and also in his personal life."
Lindsey's mother, Shelley Jo Pozez, married Don Baker in 1981. They divorced after 24 years, yet remained good friends to the end.
"Don was passionate about his work and he was a good father, a good family man, not only immediate family but extended family, too," Pozez said. "Whatever he decided to do, he took it seriously. He did it to the best of his ability."
Pozez also was close friends with Dawn, recalling that she was "a very sweet woman" who was dedicated to her jewelry-making business. "She's hard-working and very good at what she did with her jewelry," said Pozez, who owns several of her pieces. "Every time I gave it as a gift to anyone, everyone loved it."
Larsen, who employs 24 people, will be honored to carry on the tradition at Larsen Baker.
"We had a lot of fun," said Larsen, 72. "He lived large, he had airplanes and boats and fancy houses. He was a lovable character and he worked hard. He was a dear friend and a great partner."