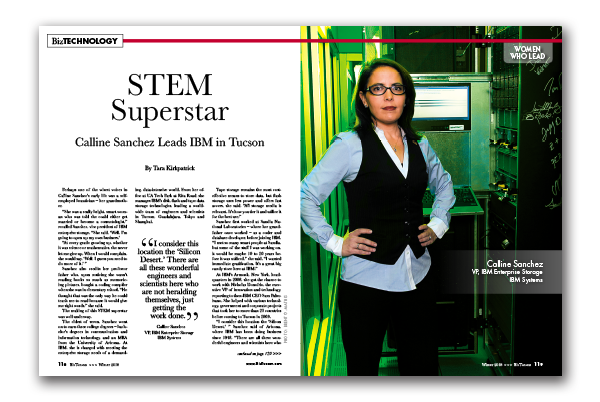 Calline Sanchez Leads IBM in Tucson
By Tara Kirkpatrick –
Perhaps one of the wisest voices in Calline Sanchez's early life was a self-employed beautician – her grandmother.
"She was a really bright, smart woman who was told she could either get married or become a cosmetologist," recalled Sanchez, vice president of IBM enterprise storage. "She said, 'Well, I'm going to open up my own business.'
"At every grade growing up, whether it was science or mathematics, she never let me give up. When I would complain, she would say, 'Well, I guess you need to do more of it.' "
Sanchez also credits her professor father who, upon noticing she wasn't reading books so much as memorizing pictures, bought a coding compiler when she was in elementary school. "He thought that was the only way he could teach me to read because it would give me sight words," she said.
The making of this STEM superstar was well underway.
The eldest of seven, Sanchez went on to earn three college degrees – bachelor's degrees in communication and information technology, and an MBA from the University of Arizona. At IBM, she is charged with meeting the enterprise storage needs of a demanding, data-intensive world. From her office at UA Tech Park at Rita Road, she manages IBM's disk, flash and tape data storage technologies, leading a worldwide team of engineers and scientists in Tucson, Guadalajara, Tokyo and Shanghai.
Tape storage remains the most cost-effective means to store data, but flash storage uses less power and offers fast access, she said. "All storage media is relevant. It's how you tier it and utilize it for the best use."
Sanchez first worked at Sandia National Laboratories – where her grandfather once worked – as a coder and database developer, before joining IBM. "I met so many smart people at Sandia, but some of the stuff I was working on, it would be maybe 10 to 20 years before it was utilized," she said. "I wanted immediate gratification. It's a great big candy store here at IBM."
At IBM's Armonk, New York, headquarters in 2008, she got the chance to work with Nicholas Donofrio, the executive VP of innovation and technology, reporting to then-IBM CEO Sam Palmisano. She helped with various technology, government and corporate projects that took her to more than 25 countries before coming to Tucson in 2009.
"I consider this location the 'Silicon Desert,' " Sanchez said of Arizona, where IBM has been doing business since 1948. "There are all these wonderful engineers and scientists here who are not heralding themselves, just getting the work done. I really do believe there is untapped talent here."
In 2016, IBM secured 465 U.S. patents in the state of Arizona – 410 of which came from IBM Tucson. The company's All-Flash DS8886 storage system was named a finalist for the "2017 Tech Innovator Award" by Computer Reseller News.
"The technology is super cool," said Sanchez, who starts each morning with a walk through IBM's storage lab. "I like to be in the lab, walk around and feel the energy. I want to be able to translate the technology and best explain how it works for client value."
She relishes the problem-solving and strategic facets of her work at IBM, saying that in college she once took a job at a law office that specialized in immigration and thoroughly enjoyed learning the ins and outs of the process.
Now a mom herself, Sanchez has become a role model for young women in engineering and works to partner with local organizations, including the Southern Arizona Leadership Council, the Society of Hispanic Professional Engineers and the Southern Arizona Research, Science and Engineering Foundation. She noted that IBM Arizona employees and retirees pledged $514,000 to nonprofit organizations and the United Way in 2016.
Her local involvement is noticed.
"Within minutes of meeting, she understood the importance of SARSEF's mission and supported our efforts to encourage underrepresented populations, particularly in areas of poverty," said SARSEF CEO Kathleen Bethel. "She comes to our events and cheers us on as we reach out to those who might not be so readily seen in our community."
Sanchez's best advice to young people: "Look around to find people who push you up, who help you."
When you get there, "bring others along with you," she said. "Pay it forward."