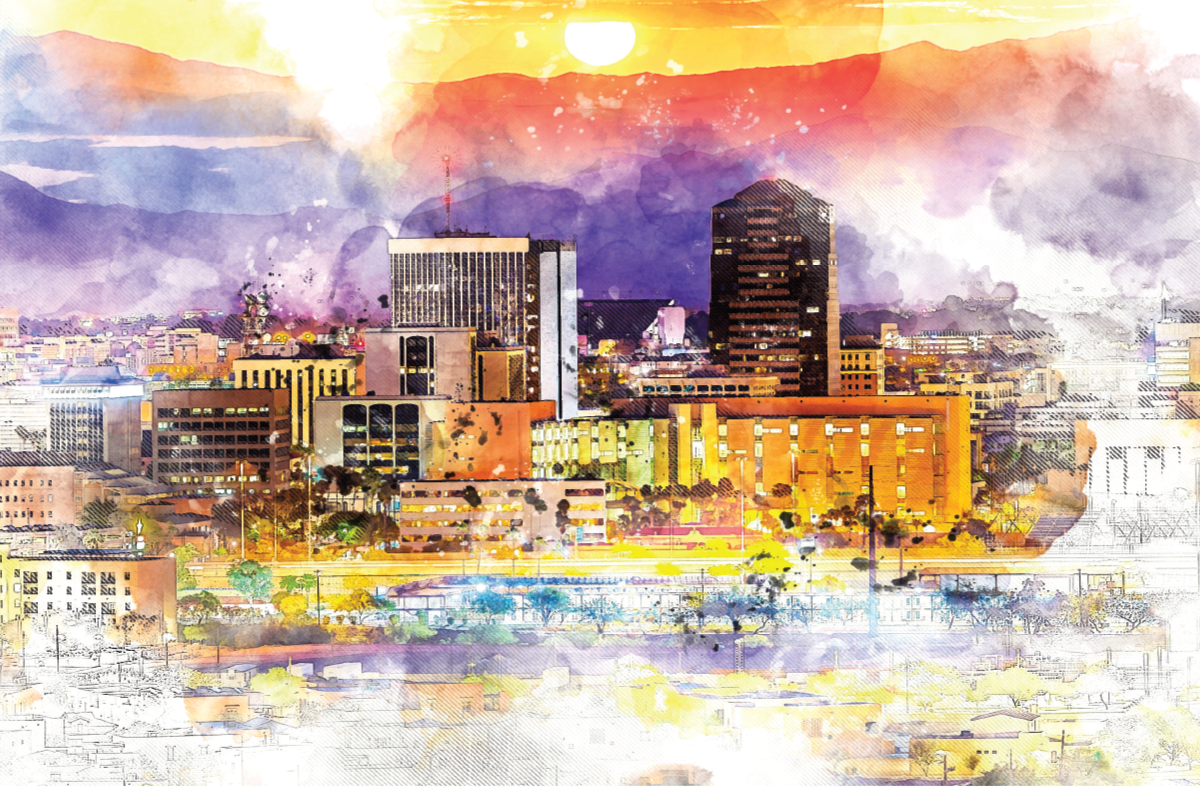 Business Expansion & Relocation 2021-2022
SUN CORRIDOR INC. Recent Business Expansion and Recruitment Successes
The following is a list of companies that relocated, set up operations or expanded in the Tucson region in 2021 and 2022. Company information provided by Sun Corridor Inc.
Amazon
Amazon announced plans to open a new distribution facility in Marana creating hundreds of new jobs with an economic impact of $4.3 million over the next 5 years.
The facility, to be known as the Silverbell Gateway Distribution Center, will be 220,000 square feet on a 65-acre site at the northeast corner of Ina Road and Silverbell Road in the Town of Marana.
The facility will be Amazon's fifth in the Tucson area. The company first opened in Tucson in 2019 with an 855,000-square-foot fulfillment center. Amazon has invested more than $16 billion and created more than 30,000 jobs in Arizona since 2010.
Eurofins CellTx
Eurofins Donor Testing Services, a company that provides laboratory services for the transplant community, selected Tucson for its newest laboratory, Eurofins CellTx, at the UArizona Tech Park, 9052 S. Rita Road.
The new location will be approximately 15,000 square feet of laboratories and administrative offices. The new laboratory is anticipated to be completed by the second quarter of 2022.
The full expansion over five years will add an additional 24 jobs to the Tucson facility, primarily laboratory technicians, technologists and managers. The total capital investment over the next five years will be approximately $3 million, resulting in a total economic impact of $14 million.
Imperial Brown®
Imperial Brown®, a leading manufacturer of custom walk-in coolers and freezers, announced plans to open a manufacturing plant in Tucson in 2023.
Imperial Brown is working with Schnitzer Properties, a real estate development and investment firm based in Portland but with significant holdings in Tucson. The companies are building a 99,000-square-foot stand-alone building at the corner of East Medina Road and Brosius Avenue.
Imperial Brown has already relocated staff to the Tucson area, to assist with preconstruction and construction phases. Once completed, the company plans to hire approximately 100 employee-owners at the new location at Tucson Airport Distribution Center. The economic impact of the new operation will be $225 million over the next 10 years.
Leonardo Electronics US
Leonardo Electronics US, a provider of next-gen technologies for defense, security, medical and industrial applications, and a U.S. subsidiary of Leonardo, announced plans to expand in Oro Valley.
LEI's existing Tucson operation has approximately 200 employees. The expansion over five years will add an additional 170 jobs primarily in engineering, production, quality control, information technology, human resources, marketing, business development, purchasing and finance.
The total capital investment will be approximately $100 million, resulting in a total economic impact of $374 million over the next 10 years.
The company purchased 12 acres in Innovation Park, at North First Avenue and Tangerine Road, and is planning a new state-of-the-art semiconductor laser manufacturing facility. The new location will have approximately 120,000 square feet of manufacturing and administrative offices.
PackDash
PackDash, a third-party logistics partner for small to mid-sized ecommerce companies, moved its headquarters from Chicago and established a west-coast delivery operation in Tucson. PackDash's fulfillment business in Tucson is its first Arizona operation.
PackDash leased 6,000 square feet for its new operation at 820 E. 16th St. The company plans to add 50 jobs, including managers, directors, warehouse and additional c-level headquarters positions, with an estimated 10-year economic impact of $84 million.
PowerPhotonic
PowerPhotonic, a leader in design and manufacture of wafer scale optics for advanced lasers and optical systems, announced that its U.S. subsidiary has signed a long-term lease for manufacturing facilities in the Sahuarita Advanced Manufacturing and Technology Center.
PowerPhotonic will add 20 high-tech jobs in Sahuarita with a five-year economic impact of $32 million. PowerPhotonic will be hiring for optical design engineers, process engineers, machine operating technicians, product planners, inventory control, purchasing, shipping.
PowerPhotonic products are precision optical parts that are both complex to design and challenging to make. Consequently, PowerPhotonic has developed its own unique production machines that produce products from wafers of glass. These machines are quite similar in concept to some electronic semiconductor wafer systems, and also need to be operated in a "clean room" environment to eliminate dust.
SkyWest Airlines
SkyWest Airlines, which operates through partnerships with United Airlines, Delta Air Lines, American Airlines and Alaska Airlines, plans to move and build a new aircraft maintenance hangar at the Tucson International Airport (TUS).
SkyWest will lease 14 airside acres, part of the Aeronautical Way 50 site at TUS, and build a nearly 200,000 square-foot MRO (maintenance, repair, overhaul) facility. The total capital investment over the next five years will be approximately $41 million, resulting in a total economic impact of $105 million.
SkyWest Airlines, with nearly 15,000 employees, carried more than 21 million passengers in 2020 and 43 million passengers in 2019. Headquartered in St. George, Utah, its fleet of over 450 aircraft connects passengers to over 230 destinations throughout North America.
Steel Jupiter
Steel Jupiter, a minority-owned, specialty coating manufacturer has leased a 13,000-square-foot facility in Sahuarita for its manufacturing, research and development facility. The facility is expected to be operational by the end of 2022, initially creating 15 jobs in the community.
"Steel Jupiter's mission is to help make indoor air as free from viruses as possible," said Carlos Tellez, Chairman and President of Steel Jupiter. "Our product, developed by leading scientists, has the promise to significantly improve the effectiveness of HVAC filters and masks in filtering viruses from the air we breathe.
"The establishment of this new facility will have an economic impact of $27 million over the next five years," said Joe Snell, President and CEO, Sun Corridor Inc.
TuSimple
TuSimple announced plans to add hundreds of jobs to its Tucson footprint, with an expansion of roughly 35,000 square feet of office, lab and warehouse space for continued technology development.
In April 2021, TuSimple went public and raised more than $1 billion with a successful initial public offering on the Nasdaq stock market. Prior to the IPO, TuSimple raised more than $600 million in private-equity investments, including a major stake owned by an affiliate of Chinese online giant Sina Corp.
TuSimple has been running paid loads from its Tucson test center since 2017, with a driver and engineer aboard as the company awaits regulatory approval for fully driverless operations, which it expects by 2024.
Walgreens/Village MD
Walgreens and VillageMD announced plans to open eight new Village Medical at Walgreens coordinated primary care and pharmacy practices in the Tucson area in 2022. The openings represent expansion into the second major market in Arizona, following Phoenix, and add to the growing number of locations in the state.
Village Medical at Walgreens practices in the Tucson area will create 285 full-time jobs and employ 140 STEM (Science, Technology, Engineering, and Mathematics) professionals, such as physicians, nurse practitioners, and medical assistants.