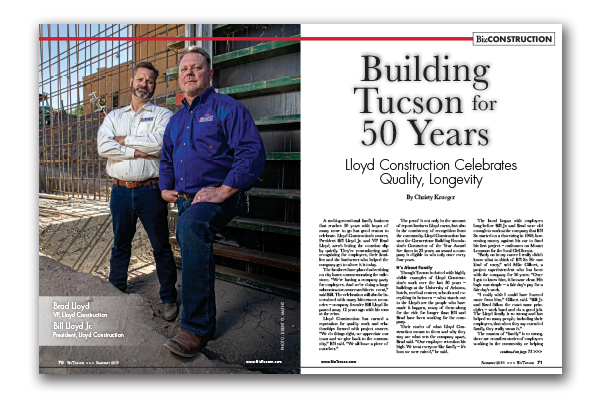 Building Tucson for 50 Years
By Christy Krueger –
Lloyd Construction Celebrates Quality, Longevity
A multi-generational family business that reaches 50 years with hopes of many more to go has good reason to celebrate. Lloyd Construction's owners, President Bill Lloyd Jr. and VP Brad Lloyd, aren't letting the occasion slip by quietly. They're remembering and recognizing the employees, their families and the businesses who helped the company get to where it is today.
The brothers have placed advertising on city buses commemorating the milestone. "We're having a company party for employees. And we're doing a large subcontractor-owner-architects event," said Bill. The celebration will also be intertwined with many bittersweet memories – company founder Bill Lloyd Sr. passed away 12 years ago with his sons at the reins.
Lloyd Construction has earned a reputation for quality work and relationships formed with project owners. "We do things right, we appreciate our team and we give back to the community," Bill said. "We all leave a piece of ourselves."
The proof is not only in the amount of repeat business Lloyd earns, but also in the consistency of recognition from the community. Lloyd Construction has won the Cornerstone Building Foundation's Contractor of the Year Award five times in 25 years, an award a company is eligible to win only once every four years.
It's About Family
Though Tucson is dotted with highly visible examples of Lloyd Construction's work over the last 50 years – buildings at the University of Arizona, hotels, medical centers, schools and everything in between – what stands out to the Lloyds are the people who have made it happen, many of them along for the ride for longer than Bill and Brad have been working for the company.
Their stories of what Lloyd Construction means to them and why they stay are what sets the company apart, Brad said. "Our employee retention his high. We treat everyone like family – it's how we were raised," he said.
The bond began with employees long before Bill Jr. and Brad were old enough to work at the company that Bill Sr. started on a shoestring in 1969, borrowing money against his car to fund his first project – outhouses on Mount Lemmon for the local Girl Scouts.
"Early on in my career I really didn't know what to think of Bill Sr. He was kind of scary," said Mike Gilbert, a project superintendent who has been with the company for 36 years. "Once I got to know him, it became clear. His logic was simple – a fair day's pay for a fair day's work.
"I really wish I could have learned more from him," Gilbert said. "Bill Jr. and Brad follow the exact same principles – work hard and do a good job. The Lloyd family is so strong and has helped so many people, including their employees, that when they say extended family, they really mean it."
The mantra of "family" is so strong, there are countless stories of employees working in the community or helping each other all in the name of Lloyd Construction.
Anthony French, project superintendent, helps the Tucson Rodeo Parade Committee every year, keeping the historic wagons and buggies in working order so they can be used year after year.
"It feels good to work on the wagons that have been in a parade that dates back to 1925 and will continue to be in the parade if they are taken care of," French said.
French was also part of a group of employees who were working on a project for the Vail Unified School District when they became aware that one of the school district's employees had lost her home in a wildfire.
"Mike Gilbert asked several of us if we would like to volunteer to clean up the property," French said. "I knew that the Lloyds paid to rent equipment to help with cleanup and thought it would be great to help out. Mike Gilbert, Nick Georgiopolous, Jeremy Berryhill, Ray Prall and I spent a day there cleaning up the debris. The family was so grateful, they shared the story and it got published."
Outhouses to Clean Rooms
While the Lloyds like to say they build everything from outhouses to clean rooms, the type of work has varied throughout the years, sometimes dictated by the economy or building trends.
"There's always a first time for a type of project, but prior to taking it on, we do our research," said Brad. "For the first one, there is a learning curve; from there it opens us up to do more." Examples where one project has led to others include schools, detention centers, medical research labs and athletic facilities.
"What makes us unique is that we are not defined by a niche," Brad said. "By remaining local, we've had the honor of building whatever Tucson and the surrounding communities need – everything from municipal projects such as police and fire stations, courthouses and detention centers to public facilities such as museums, public parks, sports and recreation facilities, K-12, higher education and military facilities. We do private projects – hotels, apartments, office, retail, manufacturing, healthcare and more."
"Because we're local, we're better able to serve the project owners," Brad said. "We're able to ensure superior quality at the time of construction and we remain the owner's single-source contact through and long after warranty. We build relationships. Those relationships allow us to construct buildings."
Family and Community are Foremost
Brad and Bill grew up in Tucson and are passionate about contributing to the community and supporting local nonprofit organizations. They donated work for the garden at Brandi Fenton Memorial Park and a playground at Ronald McDonald House. They often donate time and materials for organizations and efforts such as Volunteer Day for the Arizona Builder's Alliance that benefits a different non-profit each year. Lloyd employees participate in fundraisers and volunteer at a variety of local charitable organizations.
The family atmosphere has been such that a few families have started at Lloyd Construction.
Project superintendent Jerry Pemberton, also known as "Shorty," and office manager Clarie Pemberton have a unique office romance story. Soon after Clarie went to work for Lloyd, she recognized Shorty. She went to her childhood diary and realized the two had danced together in junior high school in 1963. After parting ways for 30 years, they were reunited as Lloyd employees and later married.
Recently, the Pembertons suffered a tragic loss when their great grandson died while waiting for a liver transplant. A family friend had set up a GoFundMe account for the transplant and Lloyd Construction made a generous donation.
"He passed away, but I want people to know the kind of loving family the Lloyds are," Clarie said in sharing the story. The funds will cover medical and funeral expenses.
Tim Shute, who has been with Lloyd almost all of its 50 years, mostly as a project superintendent, is thankful for the work and the relationships he's formed there. "It's the best company I ever worked for," he said. "It has been a blessing for me."