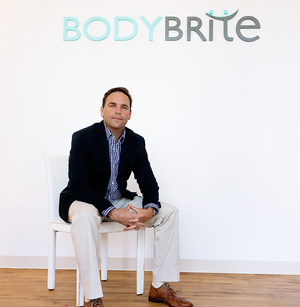 BodyBrite Announces Plan to Make Permanent, Pain-Free Hair Removal Available to Tucson
Proven Successes in Europe, United Kingdom, Mexico and Central America Signal U.S. Opportunity; Brand Outlines Aggressive American Franchise Growth Strategy
Americans have had it with body hair, and they're spending big bucks on expensive, painful treatments to tame it.
Yet, despite the widespread distaste for furry fronts and backs, only the affluent have been able to afford laser hair removal — the most common treatment available, which often comes with pricey financing plans for many who are willing to purchase the treatment at any cost and cannot layout the lump sums for services. But, that is all about to change.
In an effort to eliminate the divide among the hairy haves and have nots, BodyBrite announced today a strategic franchise growth strategy that will make relatively pain-free, permanent results more available to Tucson residents, ending years of frustrations for those who have only considered laser hair removal, or have been waxing and shaving. The company detailed today a plan to expand its presence into Tucson.
"This an awakening for the hair removal industry. The dawn of a new era," said Chris Hardy, the CEO of BodyBrite USA who has previously guided franchise growth for other top-tier consumer brands, most notably Curves. "There isn't another concept in our field that has created a value proposition like ours. Traditionally these services were only available to the rich, glamorous and those willing to enter into financed payment plans, but we want to help people everywhere in America look and feel better about themselves."
Already established in Europe, the United Kingdom, Mexico and Central America with more than 200 centers open and operating, BodyBrite offers state-of-the-art, FDA-approved intense pulse light (IPL) therapy. The method has proven to be as permanent as laser, but safer and gentler than most laser technologies.
Today's announcement of the company's strategic growth for Tucson comes on the heels of opening its first 10 U.S. centers during the past year, including the brand's signature center in New York City. Plus, the brand released today that more than 30 additional units, all franchised locations, will open in the next several months, with six to launch before August in markets such as Eden Prairie, MN., Davenport, IA. and Mission, Texas.
"The potential for BodyBrite is limitless," noted Emmanuelle Hardy, chief operations officer for BodyBrite who is married to Chris and worked with him to successfully grow Curves internationally to more than 160 locations in Europe and Northern Africa. "Consumers are tired of waxing and shaving, and most Americans cannot afford laser. At the same time, they don't like body hair — James Bond of the 60s was hairy…today he's hairless and women love it. We're changing the daily lives of our clients who have been shaving and waxing regularly, or who have dealt too long with the excessive hair. They're getting back time and gaining confidence as they go smooth."
BodyBrite estimates the combined waxing and laser industry to be more than $5 billion annually. With hairless preferences growing among both U.S. male and female consumers, BodyBrite is well positioned to grab market share as well as significantly grow the sector. In addition to the market forces at play, BodyBrite's leadership team includes experienced franchise executives who have designed the business model and developed effective sales, marketing and operations systems to support franchisees.
"We've inspected every aspect of the industry and developed a turnkey business opportunity with a low-investment, strong ROI and quick point of profitability in an industry that is booming and proven to be recession proof," added Chris.
Beyond the IPL hair removal treatments, BodyBrite's revenue streams include two face and body treatments. IPL Skin Rejuvenation and DermaOxy O2 Oxygen treatment both provide younger-looking skin immediately after the treatments begin.
BodyBrite supports its franchisees with initial and ongoing training programs, site selection, marketing and continuing operational guidance. The brand's proven business model has been cultivated to attract individuals and ownership teams seeking to invest in a robust growth industry. From first-time entrepreneurs to seasoned business owners and corporate professionals, BodyBrite appeals to a wide investor audience. Additionally, BodyBrite is a strong add-on revenue channel for medical professional offices where the business can thrive without taking doctors and nurses away from their patients. The franchise investment starts at $114,000, which includes the initial franchise fee.
About BodyBrite
BodyBrite provides affordable, aesthetic services to a large demographic of men and women through state-of-the-art, FDA-approved Intense Pulse Light (IPL) that is safer and gentler than laser treatments and equally as effective. The BodyBrite franchise opportunity offers a viable business in a recession-proof, booming medical and spa aesthetics industry. Currently, there are more than 10 BodyBrite franchise locations open in the United States and 30 in development. There are more than 200 locations in Europe, the United Kingdom, Mexico and Central America. For more information about BodyBrite visit www.bodybriteusa.com. To learn more about available franchise opportunities visit http://www.bodybriteusa.com/franchise.