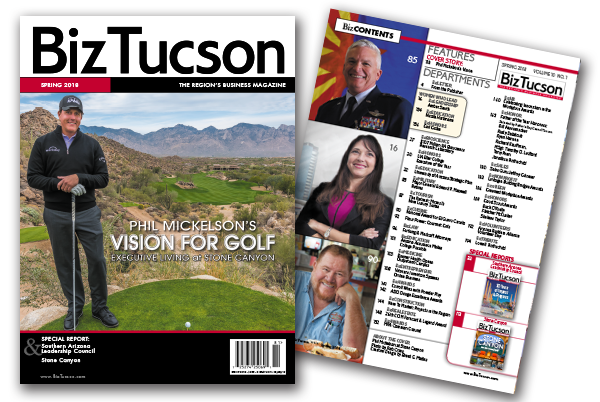 BizTUCSON SPRING 2018 ISSUE
From The Publisher –
Jay Gonzales said it best: "Golf is supposed to be fun. It's a simple notion and it's the foundation for a business model for PGA Tour Champion Phil Mickelson and his partners at Mickelson Golf Properties. It brought them to the Tucson area, where they purchased the financially troubled Stone Canyon Golf Club in Oro Valley in 2014, one of six golf properties the company now owns." After a few years, the club is now thriving with housing developments, a new clubhouse and is on track for continued success.
Mickelson definitely has a vision for the future of golf and executive living at Stone Canyon. He has a love for Tucson, winning four of his 42 PGA Tour Championships here. Mickelson told Gonzales, "I feel like we're making golf more enjoyable because we're making the courses we take over more playable."
In 2017, Forbes ranked Mickelson as the #12 highest-paid athlete in the world, after combining tour earnings and endorsements, and stated that Mickelson "dominated his sport" and is "one of only six athletes to top the Forbes highest-paid athletes list since 1990." Mickelson pitches for Amgen, KPMG, Rolex, Callaway Golf, Intrepid Financial Partners, Greyhawk, The Greenbrier Resort and Workday. Yet he remains ever affable and accessible to his fans.
Our Stone Canyon Special Report highlights the generous philanthropy of the Stone Canyon Foundation, along with the Phil and Amy Mickelson Foundation, in serving the region's most underprivileged youth. Since 2008 the foundation, which is made up entirely of members of The Stone Canyon Club, has donated approximately $2 million to make the community a better place, especially for children at risk.
Speaking of making the community a better place to live, the Southern Arizona Leadership Council continues its momentum to set and reach focused actions and goals over the past 20 years. Comprised of more than 140 of the region's C-level executives, it has truly become a powerhouse for getting things done.
David Pittman files a special report on key accomplishments of SALC and the organization's 2018 Policy Goals and Actions. SALC continues to address the key focus areas of governance, innovation economy, healthcare, infrastructure and P-20 education. Education is SALC's top priority, the need to address our state's low rankings and the opportunities for improvement.
SALC's CEO Ron Shoopman, a retired brigadier general, said those who join the organization do so because of what he calls a "greater-good gene" in their makeup. "SALC is a leadership organization that views issues through a business lens," he said. "It employs research and fact-based decision-making to develop strategic policy important to Southern Arizona and the state."
The 24th Annual Father of the Year Awards Gala on May 31 benefits type 1 diabetes research at the University of Arizona's Steele Children's Research Center. In this issue, you'll meet this year's stellar slate of honorees, selected by the Father's Day Council Tucson: Bill Assenmacher, Rudy Dabdoub, Ryan Hansen, Richard Kauffman, MSgt. Timothy Ledford, Tony Penn and Jonathan Rothschild. These men have given great service to our community, excelled in their profession and most importantly are exceptional role-model fathers.
Romi Carrell Wittman interviews the new president and CEO of the Tucson Metro Chamber, Amber Smith, who succeeds Mike Varney. Chairman of the Board Larry Lucero said, "Amber brings her exceptional business advocacy track record and will build upon Mike's success. I was impressed with her community vision and the different perspective she brings to the Chamber."
Finally, congratulations to El Guero Canelo recently honored with a James Beard Award for their Sonoran Hot Dog. Only in Tucson.
Steven E. Rosenberg
Publisher & Owner
BizTucson