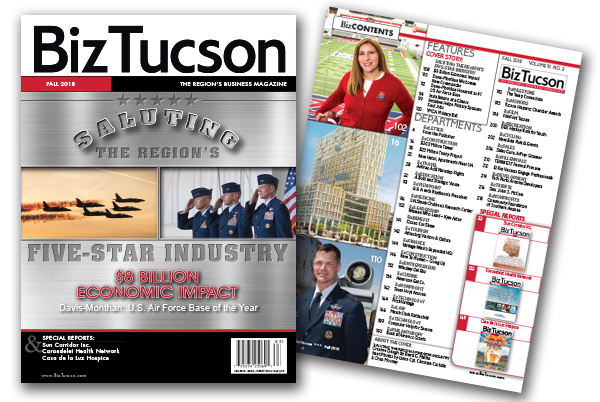 BIZTUCSON FALL ISSUE 2018
From The Publisher –
United States military operations and the Aerospace/Defense businesses they support have an enormous economic impact on the state of Arizona. Specifically, in Southern Arizona, the annual impact is $8 billion. These combined industries are responsible for creating 76,714 jobs statewide. 
This data is contained in a new report titled "Economic Impact of Arizona's Principal Military Operations 2017." The report states that Arizona's six military installations and four National Guard facilities are responsible for annually contributing $11.5 billion to the state's economy. Ted Maxwell, a retired major general and former commander of the Arizona Air National Guard, said no state in the nation can compete with Arizona in terms of military training and readiness. In addition to the bases, Arizona is a top- 10 state for U.S. Defense Department contracts.
 These recently released economic impact reports and the U.S. Senate's passage of the John S. McCain National Defense Authorization Act for Fiscal Year 2019 make this a perfect time for BizTucson to provide our readers with in-depth coverage. The bill is named for Senate Armed Services Committee Chairman John McCain, who was elected to Congress in 1982 and represented Arizona as a senator since 1986. Sadly, Sen. McCain passed away on Aug. 25th. We bring you a special tribute for him through the experiences of local business leaders.
In this edition we report on the continued excellence of the region's third-largest employer – Davis-Monthan Air Force Base. D-M was recently honored as the #1 US Air Force Base in the nation, receiving the Commander-in-Chief's Installation Excellence Award. It's an unprecedented achievement for D-M, as the base received the same honor just six years ago. In this issue, you'll meet the new Davis-Monthan Air Force Base Commander and Commander of the 355th Wing, Col. Michael R. Drowley. 
Southern Arizona is "on the doorstep of greatness – but we have to stay vigilant," said Joe Snell, president and CEO of Sun Corridor Inc., the region's economic development organization. Sun Corridor Inc. is the subject of a special report entitled, "Corporate America Chooses Southern Arizona." The long list of powerhouse corporations includes recent wins like Caterpillar (600 jobs), Amazon (1,500 jobs), Raytheon Missile Systems expansion (2,000 jobs) and more. Read how the region's leadership is building momentum as national and global corporations are making the move to Southern Arizona.
One big opportunity on the horizon is the transformative potential of  our airport region to become a large-scale employment center, and a transportation and logistics hub. 
Celebrating a quarter century of greatness is the University of Arizona Steele Children's Research Center. The visionary Dr. Fayez K. Ghishan leads this dynamic research center. Read about exciting discoveries and research projects of the 100+ world-class physicians and researchers, plus what's on the horizon for future discoveries – which include autoimmune diseases, genomic medicine and developmental behavioral pediatrics. You'll be inspired by these "Scientists of Steele" as there is not a more noble cause than dedicating your life to discovering treatments and cures to life-threatening childhood diseases.
This edition contains a special report on the Carondelet Health Network and an interview with CEO Mark Benz. It's a compelling update on three very important hospitals in our area and the many dedicated healthcare professionals that contribute to its high standard of excellence in patient care. 
We also have a special report on Casa de la Luz Hospice, a remarkable organization dedicated to providing compassionate care for more than 20,000 patients over two decades. You'll meet the inspirational founders Lynette Jaramillo and Agnes Poore and learn about their emphasis on compassion, education and innovation.   
Steven E. Rosenberg
Publisher & Owner
BizTucson