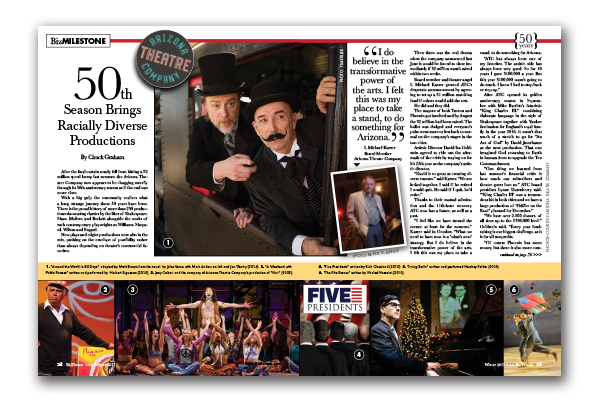 By Chuck Graham –
50th Season Brings Racially Diverse Productions
After the final curtain nearly fell from hitting a $2 million speed bump last summer, the Arizona Theater Company now appears to be chugging merrily through its 50th anniversary season as if the end was never close.
With a big gulp the community realizes what a long, strange journey those 50 years have been. There is the proud history of more than 250 productions showcasing classics by the likes of Shakespeare, Shaw, Moliere and Beckett alongside the works of such contemporary playwrights as Williams, Shepard, Wilson and Fugard.
New plays and edgier productions were also in the mix, pushing on the envelope of possibility rather than always depending on theater's commercial favorites.
Then there was the real drama when the company announced last June it would be forced to close immediately if $2 million wasn't raised within two weeks.
Board member and theater angel I. Michael Kasser greeted ATC's desperate announcement by agreeing to set up a $1 million matching fund if others would add the rest.
He did and they did.
The mayors of both Tucson and Phoenix got involved and by August the $2 million had been raised. The bullet was dodged and everyone's pulse went more or less back to normal on the company's stages in the two cities.
Artistic Director David Ira Goldstein agreed to ride out the aftermath of the crisis by staying on for his 25th year as the company's artistic director.
"David is so great at creating diverse seasons," said Kasser. "We are locked together. I said if he retired I would quit. He said if I quit, he'd retire."
Thanks to their mutual admiration and the 11th-hour recovery, ATC now has a future, as well as a past.
"I feel like we have turned the corner, at least for the moment," Kasser said in October. "What we need to have now is a 'what's next' strategy. But I do believe in the transformative power of the arts. I felt this was my place to take a stand, to do something for Arizona.
"ATC has always been one of my favorites. The artistic side has always been very good. So for 10 years I gave $100,000 a year. But this year $100,000 wasn't going to do much. I knew I had to step back or step up."
After ATC opened its golden anniversary season in September with Mike Bartlett's futuristic "King Charles III," combining elaborate language in the style of Shakespeare together with Yankee fascination for England's royal family in the year 2016, it wasn't that much of a stretch to go for "An Act of God" by David Javerbaum as the next production. That one imagined God returning to Earth in human form to upgrade the Ten Commandments.
"One thing we learned from last summer's financial crisis is how much our subscribers and theater goers love us," ATC board president Lynne Dusenberry said. "'King Charles III' was a tremendous hit in both cities and we have a huge production of 'Fiddler on the Roof' planned for December."
"We have over 2,500 donors, of all sizes up to the $700,000 level," Goldstein said. "Every year fundraising is our biggest challenge, as it is for all nonprofits.
"Of course Phoenix has more money, but there is also more competition for that money. Generally speaking, there are more individual donors in Tucson, more corporate donors in Phoenix."
When it comes to buying tickets, Goldstein sees less difference between the two cities.
"I've been the artistic director for 25 years and for the first 20 years, if you were to line up all the hits, they would be almost the same for both cities," Goldstein said. "Despite what people say."
Interestingly, the artistic director thinks that more change has occurred over the last five years in both cities.
"I feel like there has been an increased preference for newer and meatier plays," Goldstein said. "'Disgraced' was very popular in both cities. There seems to be less fear of the new."
He noted that "in the company's first 25 years, they had done only one new play."
Goldstein is also proud that his theater seasons have become more racially diverse. ATC has presented "four or five" of August Wilson's epic plays, and was one of the first regional companies to produce South African playwright Athol Fugard's works dealing with apartheid.
"We have given the National Latino Playwriting Award for 20 years straight," he added. "Next season we are doing a full production of 'The River Bride,' which won that award three years ago.
"This coming February we are bringing Mexican-American writer/performer Rubén C. González from the famed El Teatro Campesino to present 'La Esquinita, USA.'
"I like to think we are developing a Latin audience. Last season we did two performances of 'Pablo Picasso' in Spanish that drew about 1,000 people."
As for the future that almost slipped away, Goldstein is still planning to retire at the end of this season.
"By the beginning of next season, someone new will be named," he said. "My main focus has been in developing the artistic and production staff capable of creating any kind of new work for someone with a new vision."
"David has been wonderful," Dusenberry said. "We have a search committee that's helping us, the Albert Hall Company. We are being patient, want to do the search efficiently. It feels like everything is on schedule."
Dusenberry also notes that ATC's immediate fundraising goals include an additional $3 million to ensure future solvency.
"I don't expect we'll have that same kind of financial situation next summer. We do want to be exercising our fiduciary responsibility," Dusenberry said, sounding like the attorney that she is.
Completing the ATC season in Tucson are: "Fiddler on the Roof," Dec. 3-Dec. 31; "La Esquinita, USA," Jan. 14-Feb. 4; "Ring of Fire: the Music of Johnny Cash," March 4-March 25; "Holmes and Watson," April 15-May 6.