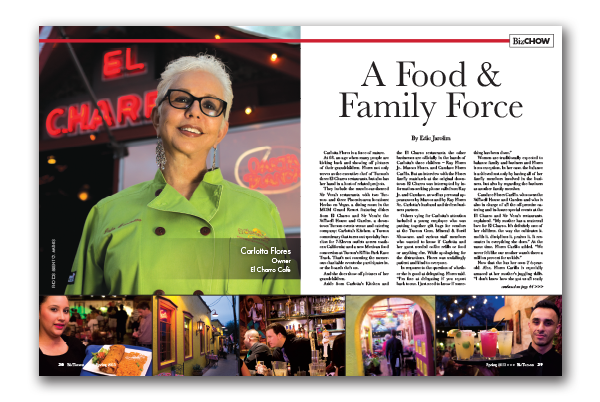 By Edie Jarolim –
Carlotta Flores is a force of nature.
At 68, an age when many people are kicking back and showing off pictures of their grandchildren, Flores not only serves as the executive chef of Tucson's three El Charro restaurants, but also has her hand in a host of related projects.
They include the muscle-car-themed Sir Veza's restaurants, with two Tucson- and three Phoenix-area locations; Hecho en Vegas, a dining room in the MGM Grand Resort featuring dishes from El Charro and Sir Veza's; the Stillwell House and Garden, a downtown Tucson events venue and catering company; Carlotta's Kitchen, a Tucson commissary that turns out specialty burritos for 7-Eleven outlets across southern California; and a new Mexican food concession at Tucson's Rillito Park Race Track. That's not counting the numerous charitable events she participates in, or the boards she's on.
And she does show off pictures of her grandchildren.
Aside from Carlotta's Kitchen and the El Charro restaurants, the other businesses are officially in the hands of Carlotta's three children – Ray Flores Jr., Marcos Flores, and Candace Flores Carillo. But an interview with the Flores family matriarch at the original downtown El Charro was interrupted by information-seeking phone calls from Ray Jr. and Candace, as well as personal appearances by Marcos and by Ray Flores Sr., Carlotta's husband and tireless business partner.
Others vying for Carlotta's attention included a young employee who was putting together gift bags for vendors at the Tucson Gem, Mineral & Fossil Showcase, and various staff members who wanted to know if Carlotta and her guest needed coffee refills or food or anything else. While apologizing for the distractions, Flores was unfailingly patient and kind to everyone.
In response to the question of whether she is good at delegating, Flores said, "I'm fine at delegating if you report back to me. I just need to know if something has been done."
Women are traditionally expected to balance family and business and Flores is no exception. In her case, the balance is achieved not only by having all of her family members involved in the business, but also by regarding the business as another family member.
Candace Flores Carillo, who owns the Stillwell House and Garden and who is also in charge of all the off-premise catering and in-house special events at the El Charro and Sir Veza's restaurants, explained, "My mother has a maternal love for El Charro. It's definitely one of her children, the way she cultivates it, molds it, disciplines it, praises it. It resonates in everything she does." At the same time, Flores Carillo added, "We never felt like our mother wasn't there a million percent for us kids."
Now that she has her own 2½-year-old, Alex, Flores Carillo is especially amazed at her mother's juggling skills. "I don't know how she got us all ready for Easter Sunday with new shoes on a limited budget and working 100-plus hours a week."
In the early days, one way that Carlotta Flores managed was by keeping family and work in a single location. The youngest of the three children, Flores Carillo literally grew up at the downtown restaurant. "Everyone tells the story that I came home from the hospital and went with my mother to El Charro in a bassinet so she could check how things were going." Many Tucson notables helped in the girl's upbringing. "Architect Les Wallach and his wife would eat at the restaurant all the time and I would sit at their table and do my homework and tell them about my day," Flores Carillo recalled.
Flores herself grew up in El Charro, in the late 1940s and early 1950s. At that time, the restaurant was located on the site of La Placita and run by her great aunt Monica Flin, a larger-than-life woman who "smoked up a storm," hunted, and drank martinis from a teapot while playing cards with her friends during Prohibition. Monica's stonemason father, Jules Flin, was brought to Tucson from France in the early 1880s by Bishop Jean-Baptiste Salpointe to craft the stone facade for Arizona Territory's first cathedral, San Agustin. Today, the Arizona Historical Society is home to the rose window that Flin created from volcanic basalt quarried from "A" Mountain.
Monica married and moved south of the border for a time but ultimately returned to Tucson and opened a restaurant that she named for Mexico's famed horsemen, or charros. "Tia Monica never had children but she was the oldest of eight and always acted like a mother to her brothers and sisters, including my mother, and she was like a grandmother to me," said Flores, who spent a great deal of time in the kitchen with the family and the local women who helped create El Charro's classic recipes. Every special occasion was marked at the restaurant.
"When I married Ray, we stopped at El Charro and had a glass of champagne and cake and got Tia Monica's blessing before going to our wedding reception," Flores laughed.
Urban renewal brought upheaval to downtown in the 1960s and Flin relocated her restaurant and her home to the Court Street residence her father had built – but she was in her 80s and slowing down. Flores, then living in California with her husband and two small children and doing catering to help make ends meet, came back to assist her mother and aunt in selling the business. But, she said, "I couldn't do it."
Instead, she borrowed money and on Jan. 15, 1971 – "my son Marcos's first birthday," Flores noted – took the reins of El Charro, now the oldest Mexican restaurant in the U.S. continuously operated by the same family. It's the rare Tucson native who doesn't have nostalgic memories of meals there.
But it's not the labels and the legends that draw newcomers to El Charro and that earn the kudos from the national press. It's the food. While staying true to such traditional dishes as the famed carne seca, dried on the roof, the menu has anticipated many culinary trends. For example, it was her father's heart condition that inspired Flores to concoct dishes made without lard and to de-emphasize red meat, and her own health consciousness that led her to perfect many vegan recipes. And of course the corn-based diet of the indigenous Mexican people is the original gluten-free cuisine.
Yes, what goes around comes around. The restaurant is again at the heart of a revitalized downtown – one that is approaching the resident-friendliness of the city center where Flores and her children grew up – though it's not quite there yet.
Flores, whose policeman father made sure she walked on the other side of the street from the bars and nightclubs when she was a young girl returning home, said, "The entertainment is there, all the restaurants and nightlife. But we still don't have basics like a drugstore to get a Band-Aid or something for a headache." Recalling the days when she shopped at department stores like Steinfeld's and Jacome's, she added, "And there's not really any place you could run to and buy a new blouse if you ruin the one you're wearing."
Candace Flores Carillo concurs. "I love the Tucson Children's Museum," she said, "and the Fox Theatre sometimes has kids' events – but you have to drive to see the first-run popular movies." As the owner of a wedding and events venue, she especially feels the lack of a downtown hotel besides the Hotel Congress to host older guests. But she is optimistic. "We have only one downtown, and we'll have to get it to work."
It certainly would happen, and quickly, if everyone had the drive and initiative of one of downtown's original entrepreneurs. Flores Carillo said, "As much as I like my business, I'd probably also like being retired on a beach or at least taking a vacation. Not my mother. She would never know what to do with herself."