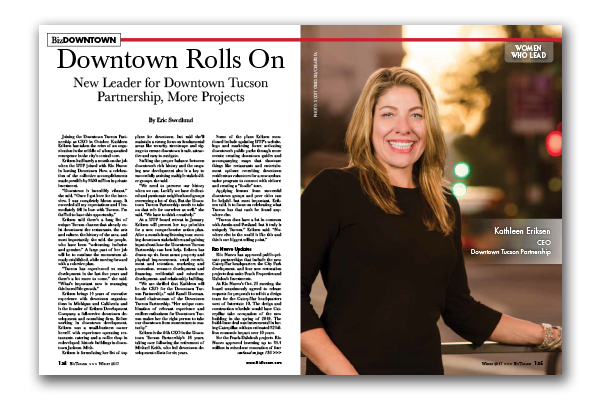 By Eric Swedlund – 
New Leader for Downtown Tucson Partnership, More Projects
Joining the Downtown Tucson Partnership as CEO in October, Kathleen Eriksen has taken the reins of an organization in the middle of a long-awaited resurgence in the city's central core.
Eriksen had barely a month on the job when the DTP joined with Rio Nuevo in hosting Downtown Now, a celebration of the collective accomplishments made possible by $600 million in private investment.
"Downtown is incredibly vibrant," she said. "Once I got here for the interview, I was completely blown away. It exceeded all my expectations and I immediately fell in love with Tucson. I'm thrilled to have this opportunity."
Eriksen said there's a long list of unique Tucson charms that already exist downtown: the restaurants, the arts and culture, the history of the area, and most importantly, she said, the people, who have been "welcoming, inclusive and genuine." A large part of her job will be to continue the momentum already established, while moving forward with a cohesive plan.
"Tucson has experienced so much development in the last five years and there's a lot more to come," she said. "What's important now is managing this incredible growth."
Eriksen brings 14 years of executive experience with downtown organizations in Michigan and California and is the founder of Eriksen Development Company, a full-service downtown development and consulting firm. Before working in downtown development, Eriksen was a small-business owner herself, with experience operating restaurants, catering and a coffee shop in redeveloped, historic buildings in downtown Jackson, Mich.
Eriksen is formulating her list of top plans for downtown, but said she'll maintain a strong focus on fundamental areas like security, streetscape and signage to ensure downtown is safe, attractive and easy to navigate.
Striking the proper balance between downtown's rich history and the ongoing new development also is a key to successfully assisting multiple stakeholder groups, she said.
"We need to preserve our history when we can. Luckily we have dedicated and passionate neighborhood groups overseeing a lot of that. But the Downtown Tucson Partnership needs to take on that role for ourselves as well," she said. "We have to think creatively."
At a DTP board retreat in January, Eriksen will present her top priorities for a new, comprehensive action plan. After a month-long listening tour, meeting downtown stakeholders and gaining input about how the Downtown Tucson Partnership can best help, Eriksen has drawn up six focus areas: property and physical improvements, retail recruitment and retention, marketing and promotion, resource development and financing, residential and mixed-use development, and relationship building.
"We are thrilled that Kathleen will be the CEO for the Downtown Tucson Partnership," said Randi Dorman, board chairwoman of the Downtown Tucson Partnership. "Her unique combination of relevant experience and endless enthusiasm for Downtown Tucson makes her the right person to take our downtown from momentum to maturity."
Eriksen is the fifth CEO in the Downtown Tucson Partnership's 18 years, taking over following the retirement of Michael Keith, who led downtown development efforts for six years.
Some of the plans Eriksen mentioned include updating DTP's website, logo and marketing focus; activating downtown's public parks through more events; creating downtown guides and accompanying maps that showcase things like restaurants and entertainment options; recruiting downtown residents as volunteers for a new ambassador program to connect with visitors; and creating a "foodie" tour.
Applying lessons from successful downtown groups and peer cities can be helpful, but most important, Eriksen said, is to focus on celebrating what Tucson has that can't be found anywhere else.
"Tucson does have a lot in common with Austin and Portland, but it truly is uniquely Tucson," Eriksen said. "Nowhere else in the world is like this and this is our biggest selling point."
Rio Nuevo Updates
Rio Nuevo has approved public-private partnerships that include the new Caterpillar headquarters, the City Park development, and four new restoration projects that unite Peach Properties and Dabdoub Investments.
At Rio Nuevo's Oct. 25 meeting, the board unanimously agreed to release requests for proposals to solicit a design team for the Caterpillar headquarters west of Interstate 10. The design and construction schedule would have Caterpillar take occupation of the new building in the spring of 2019. The build-lease deal was instrumental in luring Caterpillar, with an estimated $2 billion economic impact over 10 years.
For the Peach-Dabdoub projects, Rio Nuevo approved investing up to $4.4 million in mixed-use renovation of four historic buildings: Chicago Store, the Arizona Hotel on Sixth Avenue, Bring's Chapel on South Scott, and 123 S. Stone Ave. The projects will create an estimated $1.3 million every year in tax revenue.
A nearly 8,000 square-foot new space for Pizzeria Bianco will be the anchor at 123 S. Stone, keeping the iconic restaurant downtown after its two-year run on Congress Street. Additional retail, office and event space will complete that restoration.
At the Chicago Store, the one-time artisan pop-up Cultivate Tucson will have permanent space, joining BreakOut dance studio and restaurant/bar spaces. The Brings development will feature the Owl's Club, Exo coffee, Creative Tribe and Ace of Escape. The Arizona Hotel project will feature Miss Saigon, Yellow Brick Coffee, UPS Store, Sweat Shop fitness and 10 apartments.
For the City Park building on East Congress Street, Rio Nuevo agreed to advance $2.6 million of the $17 million project budget, now that developer Don Bourn has obtained financing from Bank of Tucson. In December, the Tucson City Council approved a $1.2 million tax incentive for the project.
Also in October, the Arizona Auditor General presented the results of the 2016 audit, finding Rio Nuevo in 100-percent compliance with statutes for the first time in the district's history. The audit cited transparency and recent success in projects, including renovation of the TCC Arena, construction of the new Greyhound Bus Terminal and Mercado Annex.
BBB Moves Downtown
Southern Arizona's office of the Better Business Bureau moved downtown in late December.
From a financial and physical standpoint, the move advances BBB's mission, bringing the regional office closer to major partners such as the City of Tucson, Pima County, the Arizona Attorney General's office, SCORE Southern Arizona and the Arizona Small Business Development Center.
"Not only does this move serve us positively in a financial capacity but it allows us to be a part of the dynamic shift which has occurred downtown," said Pamela Crim, President and CEO. "It has become the nerve center for small business and we want to increase our ethical and trustworthy marketplace within this growing community. Our move also allows us to build a headquarters that successfully serves all of Southern Arizona."
The new BBB office is at 120 N. Stone Avenue, Suite 200.
RendezVous Urban Flats Development 
Construction on a new mixed-use, six-story development is planned to begin in April next to Tucson's tallest building, One South Church.
The RendezVous building will combine 100 urban flats with retail and restaurants on the plaza level, announced Aerie Development. The one- and two-bedroom apartments will be built over 7,000 square feet of commercial space. Construction is planned for 14 months, beginning in April. The Davis Experience firm designed RendezVous and has partnered with Swaim Associates Architects on the project.