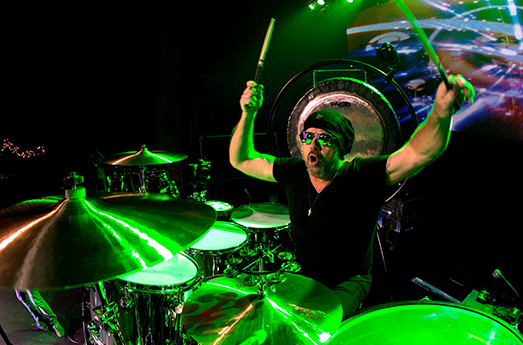 Jason Bonham's Led Zeppelin Evening Concert at the TCC
Encompassing hits from the iconic band's career, including albums Led Zeppelin, Led Zeppelin II, Led Zeppelin IV and Physical Graffiti, Jason Bonham's Led Zeppelin Evening, on Oct. 26 at Tucson Music Hall, celebrates the life and music of his father, the legendary Led Zeppelin drummer John Bonham.  
Since the death of John Bonham in 1980, Jason has stepped in from time to time to help keep his father's memory alive. In 1988, he took his father's spot in the televised, first-ever Led Zeppelin reunion at the Atlantic Records 40th Anniversary concert, which included Robert Plant, Jimmy Page, and John Paul Jones.
Later that year, he went on to tour with Page and they recorded the album Outrider. Jason represented his father when Led Zeppelin was inducted into the Rock and Roll Hall of Fame in January 1995 alongside of his sister Zoe. He soon put together a solo project which culminated in In the Name of My Father – The Zepset CD, which featured the songs of Led Zeppelin (proceeds went to charity). On Dec. 10, 2007, Jason played drums in the most anticipated concert of all time – the Led Zeppelin reunion at London's O2 arena with surviving members Page, Plant and Jones.
Jason is a veteran musician in his own right. He was playing drums at the age of five. At 17, he was a member of the band Air Race, opening for big names like Queen, Meat Loaf, Ted Nugent, and AC/DC. By 1989, he completed the album The Disregard of Timekeeping with his new band called Bonham. One of the tracks from this first effort, "Wait for You," earned him a gold record. He teamed up with greats like Paul Rodgers, Slash, David Gilmour, Jeff Beck and others in 1993 to work on the Grammy-nominated Tribute to Muddy Waters album.
A year later, Jason, along with Rodgers and Slash, appeared at Woodstock II. That same year, he recorded a new album, Peace 4 Me, with his group known as Motherland. He toured and recorded with The Healing Sixes from 1999–2003. Jason starred with Ted Nugent, Evan Seinfeld (Biohazard), Sebastian Bach (Skid Row) and Scott Ian (Anthrax) on the VH1 reality TV show, SuperGroup, in May 2006. He was a member of the group Black Country Communion 2009-2013. Clearly a sought-after drummer, in 2014, Jason joined Sammy Hagar's super group The Circle. Jason has recorded and/or played with a number of other rockers over the years including Joe Bonamassa, UFO, and Foreigner.
Tickets may be purchased on Friday, July 16 at the TCC Ticket Office or online at www.ticketmaster.com.