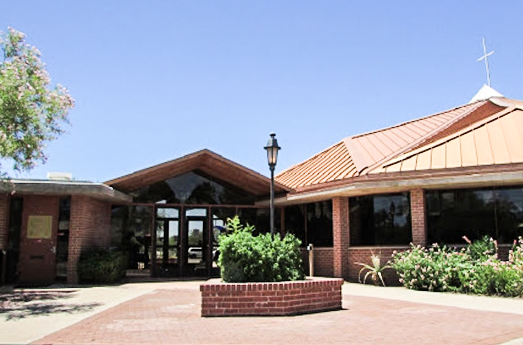 Interfaith Community Services Opens New Midtown Office
Local social services agency Interfaith Community Services is pleased to announce the opening of a new office in the Rincon Congregational United Church of Christ, located at 122 N. Craycroft Rd.
The site's opening has been gradual, in three separate phases that began in February. The first phase initial opening brought the ICS Emergency Financial Aid services to Rincon. Individuals and families are now able to receive financial assistance with expenses such as rent and mortgage payments, utilities, back-to-work and other employment costs.
The second phase of the Rincon opening will bring a Workforce Development Center.
The center will help clients develop the skills and confidence to secure and retain employment. The third phase of the opening will be food distribution through a new food truck where registered households can receive one food allotment per month, filled with basic food staples in addition to meat, produce, bread and other fresh items as they are available.
The new location, which is open from 9 am to 4 pm, Monday through Friday, was picked for a number of reasons. "A good portion of the clients ICS already serves come from this area," said Tim Kromer, ICS director of outreach and partnerships, "This will reduce their need for travel to gain access to our services."
Additionally, ICS has had a long relationship with Rincon Congregation United Church of Christ. "The generosity of this congregation is immeasurable and they have always been very focused on how they can give to the community," said Kromer. "This is a true partnership between our two organizations."
The church echoed Kromer's sentiment. "Rincon Congregational UCC is thrilled to share our campus with ICS," said Beth Shelby, moderator elect and interim chair of the Justice and Witness Ministry, "We have long supported the goals of ICS and support for the vulnerable. We now see more opportunity to strengthen that relationship and to partner in service to the community."
The Rincon office complements existing ICS offices on Tucson's northwest, eastside and southside.
Established in 1985, Interfaith Community Services provides food, job assistance and emergency financial assistance to Pima County residents in need. ICS mobilizes volunteers to assist senior and disabled individuals with Mobile Meals, transportation, home repairs, calls and visits, and health and safety referrals. ICS offers compassionate support by leveraging the help of over 1,000 volunteers, over 120 diverse faith community partners and generous funders to assist our area's most vulnerable residents. ICS assists over 47,000 people a year. ICS has received Charity Navigator's highest rating of four stars, 11 years in a row for its fiscal responsibility and best practices.
For more information about Interfaith Community Services, visit the website at www.icstucson.org.