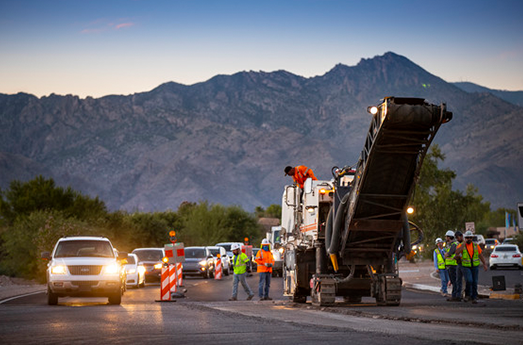 Pima County Approves Plan to Repair 130 More Miles of Roadway
The Pima County Board of Supervisors has approved a plan to accelerate road repair funding in fiscal year 2022.
The plan provides for the sale of an additional $50 million in Certificates of Participation to fund road repairs in fiscal 2022, which begins in July. This brings the total amount allocated to road repair funding for the year to $85 million.
The acceleration of road repair funding for fiscal year 2022 does not allocate new or previously unplanned funds, but rather includes already anticipated funding earlier than planned. In doing so, road repair funding for subsequent years would be reduced.
The accelerated funding will allow for the repair of more than 130 additional miles of roadway in the 2022 fiscal year. The current climate of favorable pricing makes this a good time to accelerate repair efforts.
This action advances the Board of Supervisor's 2019 PAYGO plan, which uses General Fund sources to pay for county capital infrastructure projects, including road repair in the unincorporated county.
The funding for PAYGO comes from a percentage of the growth in the overall County tax base and recapturing a portion of the taxes no longer needed to pay off bonds, while still reducing the combined County property tax rate over time.
The county has set a goal of repairing all roads in unincorporated Pima County in 10 years.
Learn more about the County's PAYGO program here. More about the County's 10-year Pavement Repair and Preservation Program can be found here.