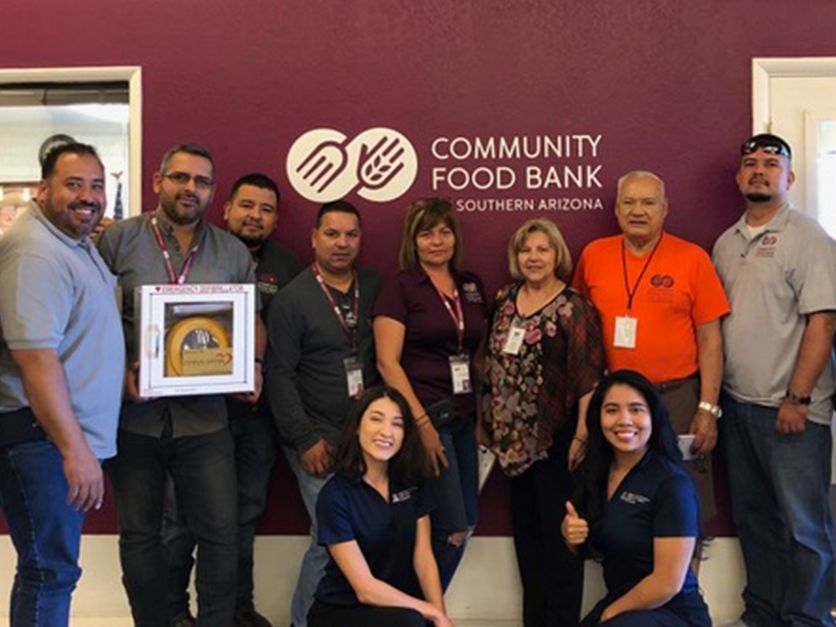 Steven M. Gootter Foundation Awarded Trio of Grants to Boost AED Donations
The Steven M. Gootter Foundation was recently awarded three significant grants. All are dedicated to the increased donations of Automated External Defibrillators or AEDs to the Southern Arizona community.
To date, the foundation has distributed more than 350 to first responders (law-enforcement vehicles), local area schools, places of worship and other regional non-profit organizations that did not have these life-saving devices.
AEDs have the capacity to rapidly resuscitate those suffering from ventricular fibrillation cardiac arrest and can be deployed by lay public rescuers as well as professional emergency responders. Minutes count and an AED can be the difference not only between life and death, but importantly for a victim resuming a high-quality life with normal brain function.
The Grants
A $25,000 grant from the Fiesta Bowl Charities will be used to purchase 28 AEDs to be placed with organized youth sports teams/organizations in Southern Arizona. Recent studies show that myocarditis or scarring of the heart tissue, affects 60% of COVID survivors. This can lead to sudden cardiac death, especially in athletes who may be unaware that they have been affected. Placement of AEDs at all athletic competition venues are now more critically needed than ever.
A $4000 grant from the Sundt Foundation will be used to place four AEDs in the community: Two will go to the Community Food Bank (the Gootter Foundation has previously donated an AED – with this addition– they will now have one at each location). One will go to the HSL Center of Opportunity for its new facility (the center previously received two for other locations), and one to the Ronald McDonald House for its second location (it has previously received one for its original location).
MDRT (Million Dollar Round Table) awarded the foundation a $5000 grant to further expand on earlier donations of AEDs in patrol cars. To date, the Gootter Foundation has placed AEDs in 160 patrol cars throughout Tucson, Marana, Oro Valley and Sahuarita. During the pandemic there has been a substantial increase in heart attacks and sudden cardiac death. Often, people with symptoms who would normally go to the hospital have stayed home, making first responder patrol cars with AEDs the front line in saving these lives.
Paying it Forward
Andrew Messing, president of the Gootter Foundation is thrilled with the support the Foundation has received from the community. "Creating awareness of Sudden Cardiac Death has really helped to build a large donor/support base which in turn has allowed us to provide lifesaving research and AEDs to the community. We recently provided a lead gift to the UA Sarver Heart Center for the Mentice G7+ Simulator which is used to train doctors on the complex procedures for treatment of patients that have survived a cardiac arrest."
Dr. Kwan Lee, director of the cardiac catherization laboratory and cardiology clinic and associate chief of the division of cardiology at Banner is thrilled at the opportunities this support offers, "A generous gift has led to the founding of the Steven M. Gootter Foundation Cardiovascular Simulation Center at the Sarver Heart Center, enabling UArizona to continue its work at the forefront of cardiology simulation education".
Investigator awards – at UArizona and Stanford
The Steven M. Gootter Investigator Awards are designed to foster greater understanding of the causes and prevention of Sudden Cardiac Death. The Gootter Foundation recently provided an investigator award to Zachary Frankman at the UArizona Sarver Heart Center. He will be developing a 3-D tissue engineered heart around an electro=pneumatic transducer. This 3-D printed system using human heart stem cells will provide more accurate data on testing medicines than the widely used animal models.
Additionally, Messing said that "we provided a seed grant to the Stanford Cardiovascular Institute to test four common drugs used to fight COVID -19 such as Remdesivir, Azithromycin and Lopinavir on the stem cells of patients who have inherited diseases including cardiomyopathy, hypertrophic cardiomyopathy and Long QT Syndrome. It is important to determine whether these drugs could be harmful to people who suffer from the three major causes of sudden cardiac death".
The Gala
The annual Gootter Grand Slam will be virtual this year on April 30. More information on a very special online program with unique auction items will be announced soon.
About the Steven M. Gootter Foundation
The Steven M. Gootter Foundation was formed by the friends and family of Steve Gootter, a vibrant, athletic 42-year-old father of two who lost his life to sudden cardiac death on Feb. 10, 2005. Its mission is to defeat sudden cardiac death, the leading cause of death in the United States. For additional information please visit https://stevenmgootterfoundation.org/