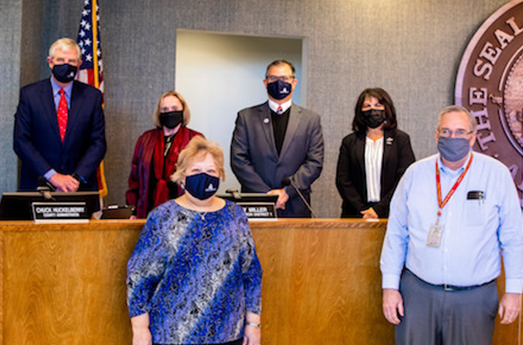 Pima County Courthouse Fountain Named for Longtime Recorder F. Ann Rodriguez
The Pima County Board of Supervisors voted unanimously to name the fountain in the courtyard of the county's historic courthouse for retiring Recorder F. Ann Rodriguez.
Rodriguez, who has just completed her 28th year as Pima County Recorder, maintained an office at the historic courthouse from 1993 to 2015. The office now is housed in the county's Public Service Center, 240 N. Stone Ave., but for decades, individuals recording or searching for public documents and voter information came to the courthouse to work with Rodriguez and her staff.
Rodriguez used to refer to the courthouse as "the pink palace," said Pima County Administrator Chuck Huckelberry at the Dec. 15 board meeting. "So, I think it's only fitting that the board name the fountain in her honor for her years and years of service."
During her administration, Rodriguez significantly automated and modernized the recorder's office. Archaic manual searches of records from books and microfilm, in place at the start of her tenure in 1993, have been replaced by updated, state-of-the-art computer equipment. Rodriguez also has broadened the exposure to vote-by-mail and walk-in early voting with aggressive media campaigns and expanded satellite voting site to raise public awareness of this convenient method of casting a ballot.
In 2008, the permanent early voting list provision was implemented, allowing any registered voter in Pima County to sign up to automatically receive vote-by-mail ballots for all elections in which they are eligible to vote.
This fall, Rodriguez worked closely with the elections department and the communications office to increase voter participation in ballot-by-mail voting to help minimize the spread of COVID-19. Through a campaign of television, radio, social media and print advertising called Vote Safe, the county saw nearly 100,000 more registered voters and ballots cast in 2020 over the 2016 general election. More than 87% of voters cast early ballots in the 2020 election, up from 76% in 2016.
Rodriguez's efforts to increase voter participation over the course of her career have earned her recognition from many quarters, including former Arizona Gov. Janet Napolitano, the Tucson chapter of the League of Women Voters, the League of United Latino American Citizens and the NAACP.
"You've been a fixture in this community and you have managed it well," said Pima County Board Chairman Ramón Valadez. "You have conducted yourself with honor and respect and always upheld the integrity of our elections."
Rodriguez, a Tucson native, recalled coming into downtown as a child and admiring the courthouse. To be housed in a building she admired as a youngster and to have that building's fountain named for her "really touches my heart," she said.