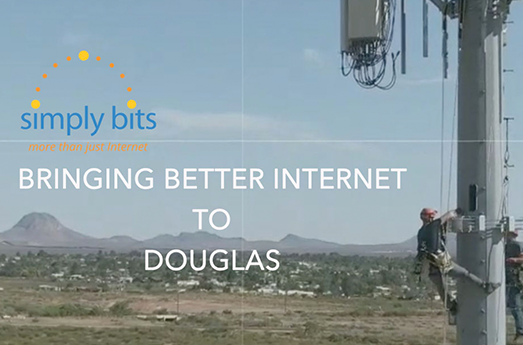 Simply Bits Expands Internet Services to Douglas
Simply Bits, LLC announced their deployment of Internet services in Douglas, Arizona. "There is a great need for highspeed broadband services in our city," Former Douglas Mayor Robert Uribe said. "Many rural and remote areas, such as Douglas, Arizona are without sufficient bandwidth to fully and effectively participate in a modern-day market, and experience a wide array of economic, educational, and social disadvantages."
Simply Bits offers extensive coverage in Southern Arizona for residential and commercial Internet services and works at bridging the digital divide in Southern Arizona. "We know in this day and age the Internet is not a luxury but a necessity for many people," Bradley Feder, Simply Bits Managing Partner said.
The gap between areas with and without sufficient bandwidth is known as the 'digital divide'. While the 'digital divide' was once a problem of access, it's evolved into an issue of connection quality and speed. While approximately 70% of Douglas residents have access to the Internet, the majority of Douglas residents live and have businesses located in unserved and underserved areas without broadband services. Simply Bits' plan to provide broadband Internet services will close the 'digital divide' in Douglas, affording residents the opportunity to participate in distance learning, take advantage of telemedicine, and online job opportunities in place of many jobs lost due to the pandemic. More businesses will be able to improve online services and take advantage of cloud-based business tools and services.
"Currently we have uneven high-speed internet capacities depending on where you live or are located in our community," Former Douglas Mayor Robert Uribe said.
Research indicates small communities and surrounding rural areas with high quality broadband services reap economic benefits, from modest increases in business and job growth, to growth in population, per capita income, and even GDP.
Broadband access does not just help businesses in underserved areas; rural communities and its citizens also benefit. "Simply Bits high speed Internet would create many new opportunities for our City by serving our commercial and industrial areas, educational institutions, downtown businesses, and offices of the Kickapoo Nation. Plus, greater connectivity to our City facilities and to our major economic engine, the new commercial port of entry in the joint planning stages between the City, GSA/EPA and Cochise County," Former Douglas Mayor Robert Uribe said.
The City of Douglas anticipates the new commercial port of entry to promote the retail and service sector, making Douglas and the entire southern portion of Cochise County a destination for U.S. and Mexican visitors and businesses, as well as industrial developments and warehousing/distribution centers, in support of the manufacturing taking place in Agua Prieta, on the Douglas side, according to the Douglas Arizona 2018 State of the City.
In addition to assisting with the port expansion, educational and government institutions can use high speed Internet for scholastic and vocational training, building a competent and competitive workforce. Medical providers require high-speed connections to supply telehealth which can immensely improve health care in rural and remote areas like Douglas, Arizona and research indicates that adequately connected citizens are often more involved in their communities.
Simply Bits uses wireless point-to-point technology, which allowed few barriers to the areas the signal can reach. This state-of-the-art technology gave them the capability to bring high speed Internet in a shorter time frame, without costly buildouts and construction often associated with larger Internet Service Providers. Simply Bits acknowledges financing broadband buildout, allows rural communities to keep pace with the global economy and prepare citizens for participation and competition in the modern world.
"We are very excited about this area since we believe it has a tremendous growth potential in all sectors. With the new development of the Port of Entry we will be prepared to support the needs of the Federal Government. We are also members of the Port of Entry technical committee and will remain involved until its completion," Bradley Feder added.
As a local Southern Arizona company, Simply Bits prides themselves in giving back to the communities they serve. "We have lots of local support in Douglas and the community is excited to see we made a commitment to deliver high speed Internet and associated services for Municipal, Commercial, and Residential customers. Beyond our Internet services, we intend to be involved in the community with partnerships, sponsorships and showing our support as a catalyst for community growth," Feder added.
Simply Bits Internet Services are available in Douglas homes and business today! Both current and future customers seeking to take advantage high speed options can visit www.simplybits.com/douglas to sign up or call (520) 645-2487.