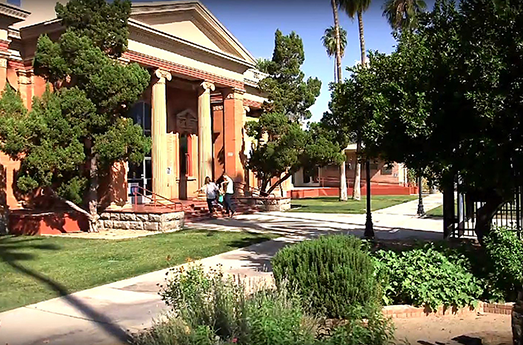 Children's Museum Tucson Reopens to Visitors
The Children's Museum Tucson, 200. S. 6th Ave., is ready to welcome visitors back to the Museum. Limited admission for members begins Oct. 31 with public admission beginning Nov. 11.
The play-based learning heads outdoors, as we fill the Museum's courtyard with activities, crafts and games. A maker space and paint activity recreate the fun of Imagine It! A cactus ring toss and animal-themed beanbag toss bring the desert scene of Sense of Place outdoors. A dig pit with backhoes offers a fun new addition to the courtyard.
There will also be limited access to indoor Museum exhibits Sense of Place, Electri-City and Public Safety.
"We are overjoyed to welcome children and families back to the Children's Museum!" said Executive Director Hilary Van Alsburg. "With new exhibits and activities, kids will have their curiosity and creativity sparked!"
The Museum will be open from 9 am-4:30 pm Thursday-Sunday with four timed play sessions each day. Museum admission – including the courtyard – will be by timed ticket only, with a limit of 50 visitors per session. Admission is $9 per person, with discounts available for military and visitors on public assistance.
Visitors age 5 or older will be required to wear masks while at the Museum. We will have sanitation stations in the courtyard for visitors and staff will clean and disinfect between sessions.
"The Museum's social distancing measures and cleaning protocols are in place to ensure visitors stay safe while getting the chance to stretch their wings with some engaging play," Van Alsburg said. "With limited admissions and mandatory masks, we are exercising caution in our reopening plans, to support visitors and staff until a full reopening is possible.
The Children's Museum Oro Valley will continue with virtual programming as part of our phased reopening plan.
Tickets are available at ChildrensMuseumTucson.org/courtyard.