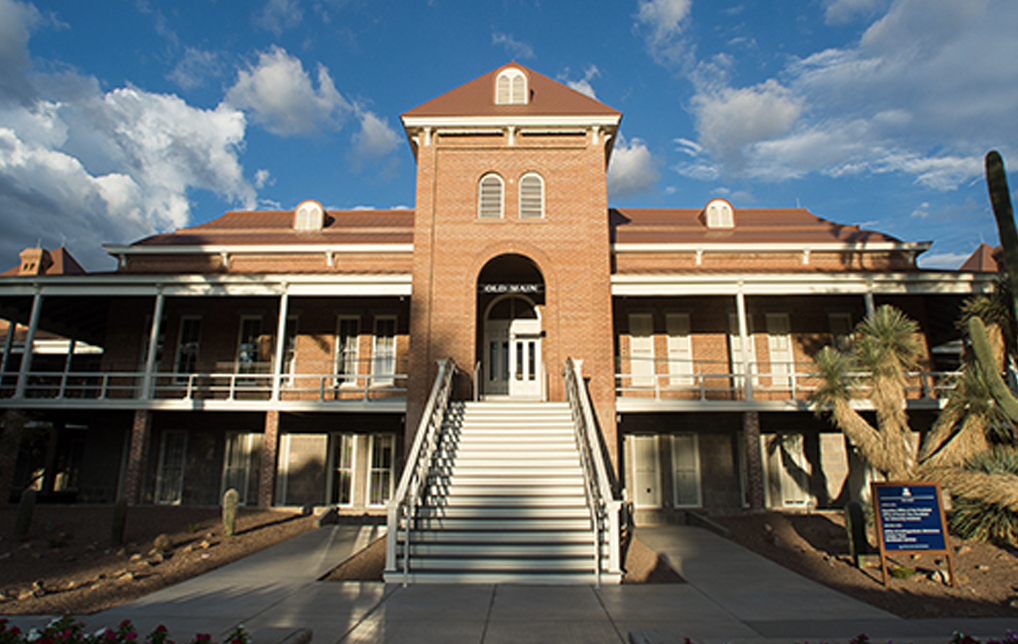 UArizona to Create Nonprofit, Online Global Campus to Expand Access
The University of Arizona announced its intention to create a new nonprofit entity — University of Arizona Global Campus — and acquire the assets of Ashford University. University of Arizona Global Campus will be a fully online university providing access to affordable high-quality higher education with flexible opportunities to students from diverse backgrounds around the world who seek to achieve their educational and life goals.
Ashford University is one of the nation's most innovative online universities with approximately 35,000 students and a geographic reach across the United States. The promise of high-quality virtual learning, access and inclusivity will be combined with the University of Arizona's mission as a land-grant institution focused on student success. As student populations turn increasingly to online platforms for higher education, University of Arizona Global Campus will meet students wherever they are in their educational journeys. University of Arizona Global Campus will focus on serving underrepresented and nontraditional students, including veterans and those who work or parent full time and who are in need of flexible pathways to advance their education or to learn new skills.
"As students look for new avenues to attain higher education, the accessibility and innovative approach of University of Arizona Global Campus will help a new generation of students find success," said University of Arizona President Robert C. Robbins. "By establishing University of Arizona Global Campus, the University of Arizona will greatly expand its reach and live up to its responsibility as a land-grant university to provide access to quality education, will enhance our Arizona Online platform, will further diversify our educational enterprise and will provide much-needed short- and long-term revenue."
Ashford University is accredited by WASC Senior College and University Commission and is currently owned by Zovio, an education technology services company based in Chandler, Arizona. The University of Arizona signed a definitive agreement with Zovio, which includes the sale of the assets of Ashford University to University of Arizona Global Campus. Zovio will continue to provide its education technology services under a long-term Strategic Services Agreement.
"University of Arizona Global Campus truly represents a forward-thinking approach to higher education," said Gregory Geoffrey, chair of the board of trustees of Ashford University and former president of Iowa State University. "It's the kind of innovative partnership that gives traditional public universities the opportunity to provide more students with access to education while also serving an expansive array of constituents far beyond the traditional campus. The University of Arizona, through University of Arizona Global Campus, will be able to more fully deliver on its mission to serve a broad community of working adults, veterans and other nontraditional students and ensure a new high-quality option for all students looking to build a better future. University of Arizona Global Campus will leverage developing technologies, new tools and the expertise of educators committed to rigorous academic programs to give students a truly enriching online educational experience."
The University of Arizona plans to take immediate steps to commence the final approval process with WSCUC, Ashford's accreditor, which is needed to formally operate University of Arizona Global Campus. Ashford University's faculty and approximately 35,000 students will continue coursework and degree programs with no interruptions or delays.
"The University of Arizona is making a smart move, consistent with its core mission, in expanding its ability to serve nontraditional students through Global Campus," said John Sexton, former president of New York University. "And, of course, this is great news for students, who will benefit both by the affiliation with the University of Arizona and by access to a high-quality education consistent with the principles of a top public research university."
"At Zovio, we use educational technology to create personalized online learning opportunities that enable learners to achieve their aspirations," said Andrew Clark, founder, president and CEO of Zovio. "With over 16 years of industry experience, we understand the changing dynamics of higher education, as well as the challenges students and educators now face as the COVID-19 pandemic further alters the learning landscape. That is why we're excited to partner with the University of Arizona in support of their vision to expand access and provide innovative learning solutions to help the University of Arizona meet students where they are."
The University of Arizona has a 135-year record of providing student-centric high-quality education to all classes of students, through more than 250 undergraduate majors and graduate programs, premier research university facilities and resources, and an internationally recognized faculty committed to student success. Building on its experience through Arizona Online and in keeping with its land-grant responsibility to provide access, the addition of University of Arizona Global Campus will enable the University of Arizona to reach students beyond its current student body, beyond Arizona and beyond traditional education formats.
Ashford University leads the nation for the number of courses certified by Quality Matters, an independent nonprofit quality assurance organization. According to results from the National Survey of Student Engagement, Ashford students experienced an academic challenge for higher order learning, learning strategies, and reflective and integrative learning that is higher than or equal to that of the top 10% of other institutions participating in the 2018 NSSE survey.
For more information, visit the University of Arizona Global Campus website.