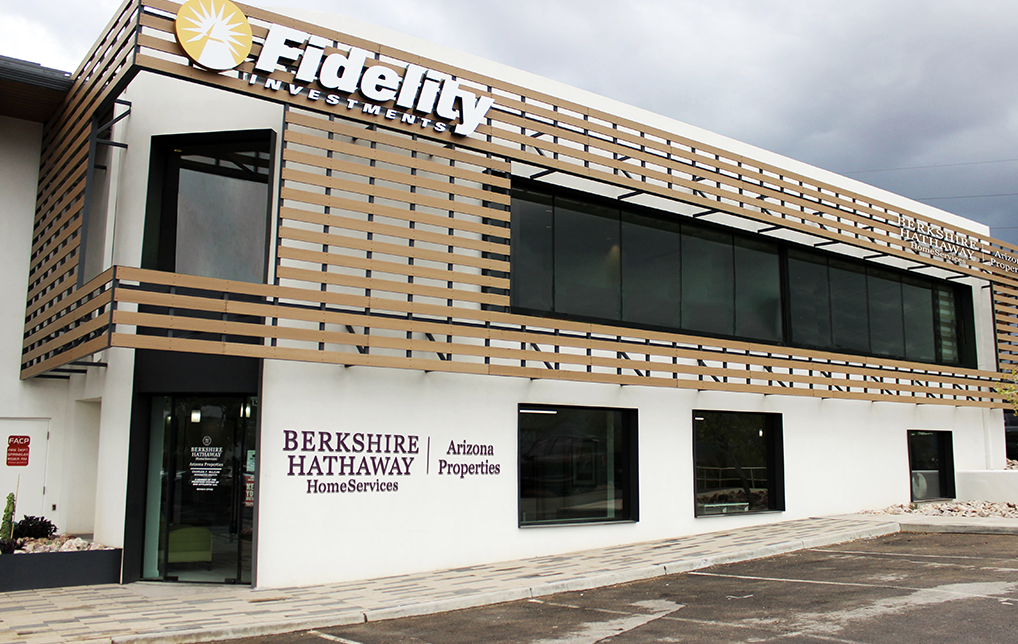 Berkshire Hathaway HomeServices Arizona Properties Expands to Gallery Row
Berkshire Hathaway HomeServices Arizona Properties is expanding its operations in Tucson with a move to one of the city's most sought-after locations in historic Gallery Row village. Located at 3001 E. Skyline Drive, Suite 139 in the luxury Catalina Foothills community, the firm now offers a substantially larger work space for real estate sales executives and staff.
The office is in one of several newly remodeled structures along Gallery Row, a retail community that received its name for having Tucson's largest collection of art galleries in one location. The building is within walking distance of retail shops, spas, boutique gyms and a variety of restaurants, allowing sales executives the convenience of meeting with clients in a centralized area.
"The new office space is in an incredible location and was virtually rebuilt from the ground up. The remodel now features a desert contemporary design – a seamless combination of Tucson's style and the Berkshire Hathaway HomeServices brand," said Gordon Miles, president and COO of Berkshire Hathaway HomeServices Arizona Properties.
The office showcases a modern industrial design with exposed pipes in the ceiling and clean neutral colors throughout. Along one side of the space features private and semi-private offices, while the other side offers open collaborative spaces and work desks. Sales executives have access to a private conference room, updated amenities, modern technology capabilities and to all of Berkshire Hathaway HomeServices Arizona Properties' sales and marketing platforms.
"Our top priority is to provide the best technology in the industry today," Miles said. "Offering unrestricted access to the Berkshire Hathaway HomeServices platforms and a convenient location to some of Tucson's finest communities."
Celebrated for its authentic southwestern experiences, Tucson is a relaxing haven on the southern Arizona border. The city is well known for its thriving visual and performing arts programs, multicultural heritage galleries and American Southwest museums. The unparalleled desert beauty with breathtaking mountain ranges, endless hiking trails and year-round sunshine makes Tucson one of Arizona's most attractive places to live.
For more information about the new office, visit www.bhhsaz.com.
ABOUT BERKSHIRE HATHAWAY HOMESERVICES ARIZONA PROPERTIES
Berkshire Hathaway HomeServices Arizona Properties is a part of Americana Holdings, which also includes Berkshire Hathaway HomeServices Nevada Properties and Berkshire Hathaway HomeServices California Properties. The firms are leaders in their respective markets with 32 offices and nearly 3,500 real estate sales executives, comprising the largest independently owned Berkshire Hathaway HomeServices franchise in the world. In 2019, the firm completed a record-breaking $5.5 billion in residential home sales.
For more information, visit www.bhhsaz.com.