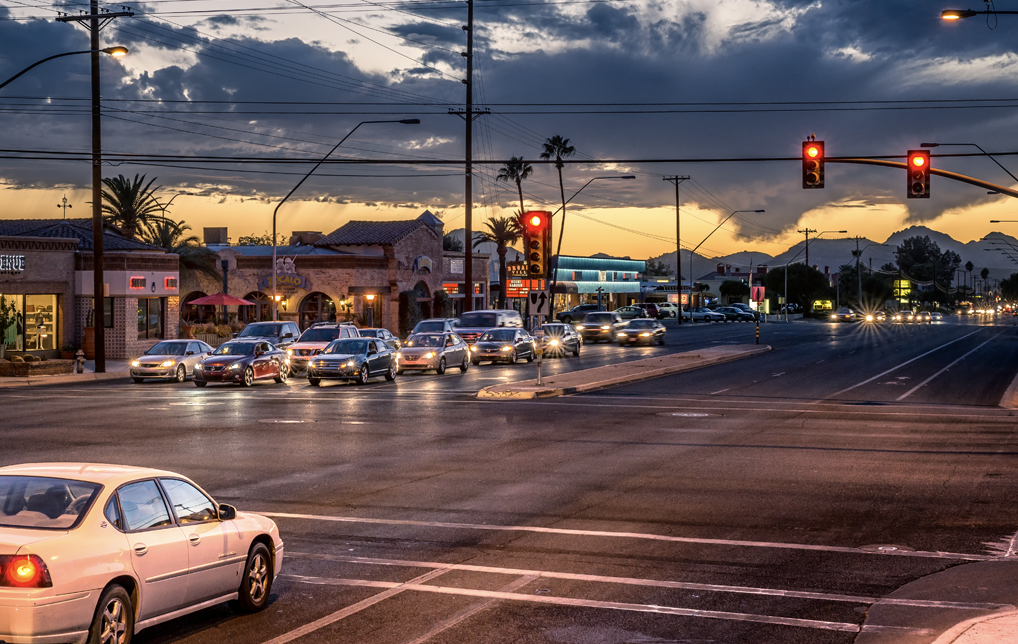 Sunshine Mile Listed on National Register of Historic Places
An outstanding collection of mid-century modern commercial buildings designed by Tucson's cohort of 20th-century architects has been listed on the National Register of Historic Places. Nominated by the Tucson Historic Preservation Foundation in partnership with the City of Tucson, the Sunshine Mile designation will support the restoration of these significant properties and promote the preservation of one of the largest concentrations of surviving mid-century storefronts in the Southwest. This grassroots community effort took eight years, thousands of volunteer hours , and was supported by private contributions and Preservation Foundation dollars. A few of the major buildings in the two mile long district include Hirsh's Shoes, 1954; Valley National Bank Broadway-Country Club Branch (Chase Bank), 1971, Kelly Building, 1964; and Temple Emanu-El Synagogue,1949-1960; Solot Plaza, 1954-1958; and the Friedman Block, 1955-1961.
Tucson Historic Preservation Foundation CEO Demion Clinco said: "This project to document these incredible buildings and designate the Sunshine Mile on the National Register represents the commitment of our community to preserve and celebrate Tucson's mid-century modern heritage." Clinco continued, "The contributing historic buildings of the Sunshine Mile are now eligible for Federal Historic Preservation Tax Incentives when they are restored. This entire project was undertaken to support the revitalization of this shopping district and will be a powerful economic driver for the community."
Tucson Mayor Regina Romero said: "Tucson is proud to celebrate this important historic designation. Our city and my office will work to ensure these architecturally significant buildings and their facades are protected and adaptively reused. This designation compliments recent placemaking efforts, the forthcoming zoning overlay, as well as the City's Move Tucson mobility and complete streets Masterplan. The tax incentives associated with this designation will further support the small local business as well as our economic recovery."
Broadway Boulevard was born modern. The avenue expressed the new American optimism and post-World War II economic boom that was changing the nation. Like many cities, Tucson grew rapidly during the middle of the 20th century. In 1940, the population was 35,000; by 1960, it soared to 212,000. Broadway became an important suburban corridor with modern structures built along its edge to support new suburban neighborhoods. Broadway was a reflection of the American Dream. A high-end shopping district emerged with stores to meet the new demands of the 1950s and 60s. Furniture, lighting, photographic equipment, shoes, clothes, and cars were just some of the offerings of the street. Glass storefronts, geometric designs, new materials, and evocative signage combined to create a vision of Tucson as a modern metropolis. In 1953, the East Broadway Merchants sponsored a contest to name the strip between Campbell and Country Club. They received over 5,000 ideas and the winning entry was The Sunshine Mile.
An extraordinary collection of mid-century modern buildings designed by Tucson's most influential architects of the era shaped this modernist boulevard. Architects who contributed to the unique character of this commercial shopping district include: Bernard J. Friedman, AIA (1916 – 2012), Anne Rysdale (1920 – 2017), Frank J. Nelson (1893 – 1950), Cecil H. Moore (1913 – 2009), Nicholas Gust Sakellar (1918 – 1993), Roy Place (1887 – 1950), Lew Place (1913 – 1986), Josias Joesler (1895 – 1956), Terrence "Terry" Cloney Atkinson (1915 – 1983), William Wilde (1904 – 1984), and Sylvia Wilde (1907 – 1954), Blanton and Cole, Charles Cox (1922 – 1996), Cain, Nelson, Wares, & Cook, Juan Wørner y Bas (1929 – 2015), Gordon Maas Luepke (1913 – 1984), Jaastad & Knipe, Phoenix's Ralph Haver, and California's Ronald Bergquist.
Broadway Boulevard, currently under construction, is being widened as part of a Regional Transportation Authority project. Rio Nuevo, the local tax increment finance district, is actively engaged in the preservation of numerous historic resources along the street. Fletcher McCusker, Chairman of Rio Nuevo, said: "A large part of our interest in engaging with the Sunshine Mile was to protect its historical assets." McCusker summed it up, "This registration will enhance the area as a destination."
Visit preservetucson.org to learn more and contribute to the effort.
Tucson Historic Preservation Foundation
The mission of the Tucson Historic Preservation Foundation, a 501(c)3 organization, is to preserve the city's unique architectural environment and design heritage. The non-profit organization advocates for the preservation of Tucson's architectural resources and is working to preserve the Black Officers Club at Fort Huachuca, the Mid-Century Modern Architecture of Broadway, and other iconic Tucson landmarks. The organization continually advocates for historic preservation in Tucson and the surrounding area. View them online at www.preservetucson.org.