World View Pivots to COVID-19 Isolation Gowns
A manufacturer of high-altitude balloon systems has pivoted its operations to become a Cinderella of sorts, creating isolation gowns for Pima County healthcare workers in the midst of the COVID-19 pandemic.
World View is an innovative space technology company developing high altitude balloons capable of lifting various types of payloads to the stratosphere. Now the company is manufacturing up to 9,600 gowns per week for communities most in need of Personal Protective Equipment (PPE), specifically long-term care facilities, assisted living centers and skilled nursing facilities.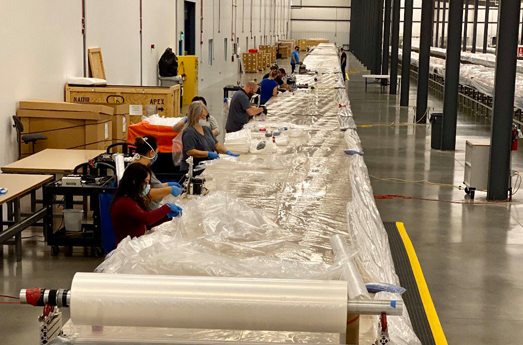 The need is great. A nursing assistant or other healthcare professional walking into a patient's room to administer medications didn't need to gown up to do that in the past. Now they do.
In fact, the County currently has more than 100,000 requests from over 200 agencies who desperately need gowns. That's one reason World View stepped in.
Like many other start-up companies, World View was required to furlough a number of employees to ensure its survival during the pandemic and resultant economic impacts, explained its president and CEO Ryan Hartman.
"This difficult decision inspired the company to focus on actions we could take to return employees to work as quickly as possible," Hartman said. So the company took steps to support efforts to stop the spread of COVID-19 – ultimately leading to the design of a medical gown to support front-line workers.
Their efforts allowed the company to recall 19 employees to begin producing gowns on April 27.
"The ability to find an intersection of supporting our teammates while also supporting local front line workers and first responders is truly rewarding," Hartman said. "We remain grateful for the ongoing support and partnership with Pima County."
John Voorhees, assistant county administrator and director of aerospace and defense initiatives, applauded World View's ability to pivot its business operations while helping healthcare workers keep themselves and the community safe.
"The company recognized a critical need in the community that they could address. World View's transition to isolation gown production demonstrates their commitment to southern Arizona and the rapid, adaptive nature of their business."
For the latest on the COVID-19 response in Pima County, visit pima.gov/COVID19. Photo courtesy of World View.