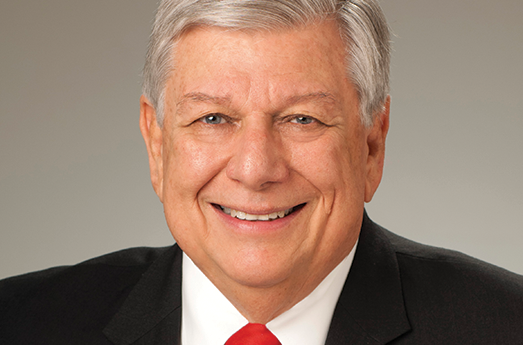 2019 Tucson Founders Award Honoree

By Romi Carrell Wittman

It's difficult to put into words the depth of Air Force Brig. Gen. Ronald Shoopman's career and service – not to mention the depth of his impact on Tucson and Southern Arizona. One theme runs through every phase of Shoopman's life and career – an abiding commitment to leadership built on service, trust and working toward common goals.
In recognition of his lifetime of service and his exceptional leadership, Shoopman will receive the Greater Tucson Leadership 2019 Founders Award at the February Man, Woman and Founder gala at Loews Ventana Canyon Resort.
Longtime Tucson businessman Steve Lynn nominated Shoopman for the award. Lynn first met him when looking for a SALC leader.
"I invited him to lunch to get a sense of his personality and leadership style," Lynn said. "What I discovered in Ron Shoopman is a real renaissance man."
Lynn said Shoopman had the unique experience of serving in the military at an extremely high level, while also possessed a background in the private sector. "Ron had exactly the right combination of military discipline, community mindedness, service experience and workplace achievement to make me really comfortable in recommending him to the board as SALC's chief executive."
Shoopman would go on to lead SALC to unprecedented membership growth and give the organization a financially strong foundation.
Long before Shoopman took the helm of SALC, he led the 162nd Fighter Wing, which was responsible for training both U.S. and foreign pilots flying F-16s. He was in meetings at Randolph Air Force Base in Texas on Sept. 11, 2001, and his unit was immediately tasked with putting F-16s on alert to protect the nation from further attacks. The U.S. Secretary of Defense authorized Shoopman to fly his F-16 home to Tucson, where he led the defensive operation so that he could lead his Wing in defending our nation. On Sept. 12, Shoopman's F-16 was the only plane in the air west of the Mississippi on a mission unlike any other he had ever flown.
"It was a very sobering assignment to tell our pilots that we might be asked to shoot down domestic aircraft filled with American citizens. Thanks to the incredible professionalism and skill of our pilots, the worst never happened," Shoopman said. "I'm so proud of all the men and women I served with during those uncertain times."
In his role training pilots all over the world, Shoopman honed his leadership and relationship-building skills. "Training pilots from around the world and building trust with our allies was a fantastic experience for me and I truly enjoyed it," he said.
After retiring, Shoopman considered leaving Tucson for a job opportunity elsewhere. "Thankfully, the business leaders of SALC convinced me to stay and take the position as SALC's president and CEO. My wife and I are both Arizona kids, and it was great to stay home in Arizona," he said.
At SALC, Shoopman was instrumental in creating the Southern Arizona Bioscience Roadmap, as well as Tucson Values Teachers, a partnership of business leaders, educators and individuals with a shared mission to help Southern Arizona schools attract and retain highly talented K-12 teachers.
In 2007, Shoopman led the Tucson Regional Town Hall to identify the top 10 issues facing Southern Arizona. He also led the development of the Making Action Possible Community Dashboard – known as the MAP – a measure of indicators that compare Tucson to other communities in Arizona and in other states.
Shoopman served several community organizations, including the Southern Arizona Health Information Exchange, Military Community Compatibility Committee, Southern Arizona Defense Alliance, Air Guardians, Science Foundation Arizona, Flinn Biosciences Roadmap Steering Committee and Center for the Future of Arizona.
While at SALC, Shoopman gained the attention of the state's top political leaders. In 2014, then-Gov. Jan Brewer appointed him to the Arizona Board of Regents, where he has served for the past six years, including one year as chair.
In a letter of support for Shoopman's nomination, presidents from each of Arizona's public universities said, "He's a tireless advocate for education, dedicating his time to meeting with numerous business and community organizations as well as legislators. Regent Shoopman leads by example with the utmost dedication, integrity and honor."
Shoopman said, "For me, leadership is an opportunity to serve. It's about persuading others to join you in pursuit of a worthy goal. People will step up when they trust you and believe you have their best interests at heart."
Lynn summed up Shoopman: "Good leaders work with others to accomplish common goals. Great leaders inspire others to achieve things they weren't even aware they were capable of doing. Ron makes people feel like a valued member of the team."