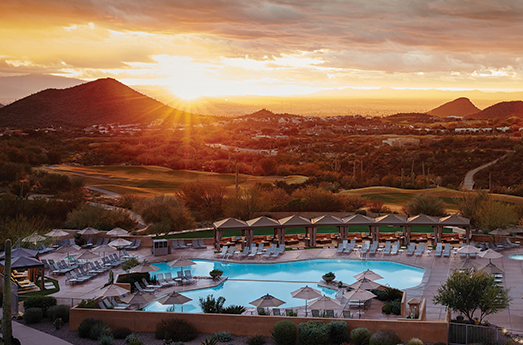 JW Marriott at Starr Pass Resort Completes $3.5 Million Renovation
A transformation of the spa, a redesigned lobby and the addition of Mexican-market-inspired food service are among the features in JW Marriott Tucson Starr Pass Resort & Spa's $3.5 million renovation that was completed last fall.
"It's been an exciting year to watch all of these enhancements unfold and come to fruition," said GM Russ Bond. "We are always striving to stay relevant and ahead of industry trends."
New space was added to the Hashani Spa to provide salon services in the lower lobby. The spa's new entry on the third level provides an inviting open space with new comfortable seating, invigorating colors, new artwork and an area for quick massages.
The resort's refurbished lobby complements picturesque views with cozy seating arrangements in a Southwestern decor.
JW Market offers locally inspired take-away snacks and a to-go menu of flatbreads, sandwiches and soups. The setting is reminiscent of open-air festivals and mercados in Southern Arizona and Sonora, Mexico. Happy hour touts specialty wines and beers on tap.
A Starbucks previously on the lower lobby has been moved to a bigger space in the upper lobby across from the gift shop. The shop sports new furniture and accents.
Open-air Salud Terrace – considered the most popular gathering spot at the resort – got new furniture and more fire pits. The interior bar that faces the terrace was refinished.
JW Marriott Starr Pass Resort & Spa, 3800 W. Starr Pass Blvd., sits on 50 acres in the foothills of the Tucson Mountains. Its 575 guestrooms are complemented by a fitness center, six eateries and 88,000 square feet of meeting space.
For recreation, the resort offers tennis courts, a 27-hole Arnold Palmer-designed golf course, programs for kids and teens, and water features that include pools and a meandering "river" where guests can float.
The resort has the AAA Four Diamond rating.