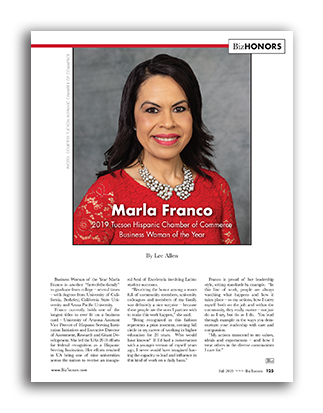 By Lee Allen

2019 Tucson Hispanic Chamber of Commerce Business Woman of the Year
Business Woman of the Year Marla Franco is another "first-of-the-family" to graduate from college – several times – with degrees from University of California, Berkeley; California State University and Azusa Pacific University.
Franco currently holds one of the longest titles to ever fit on a business card – University of Arizona Assistant Vice Provost of Hispanic Serving Institution Initiatives and Executive Director of Assessment, Research and Grant Development. She led the UA's 2018 efforts for federal recognition as a Hispanic Serving Institution. Her efforts resulted in UA being one of nine universities across the nation to receive an inaugural Seal of Excelencia involving Latino student successes.
"Receiving the honor among a room full of community members, university colleagues and members of my family was definitely a nice surprise – because these people are the ones I partner with to make this work happen," she said.
"Being recognized in this fashion represents a prize moment, coming full circle in my career of working in higher education for 20 years. Who would have known? If I'd had a conversation with a younger version of myself years ago, I never would have imagined having the capacity to lead and influence in this kind of work on a daily basis."
Franco is proud of her leadership style, setting standards by example. "In this line of work, people are always watching what happens and how it takes place – so my actions, how I carry myself both on the job and within the community, they really matter – not just do as I say, but do as I do. You lead through example in the ways you demonstrate your leadership with care and compassion.
"My actions transcend to my values, ideals and expectations – and how I treat others in the diverse communities I care for."