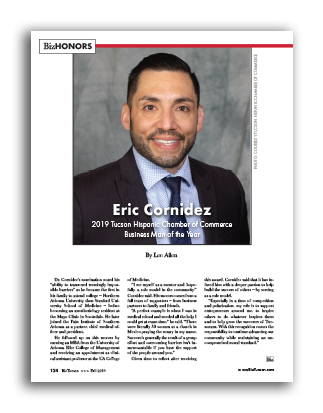 By Lee Allen

2019 Tucson Hispanic Chamber of Commerce Business Man of the Year
Dr. Cornidez's nomination noted his "ability to transcend seemingly impossible barriers" as he became the first in his family to attend college – Northern Arizona University, then Stanford University School of Medicine – before becoming an anesthesiology resident at the Mayo Clinic in Scottsdale. He later joined the Pain Institute of Southern Arizona as a partner, chief medical officer and president.
He followed up on this success by earning an MBA from the University of Arizona Eller College of Management and receiving an appointment as clinical assistant professor at the UA College of Medicine.
"I see myself as a mentor and, hopefully, a role model in the community," Cornidez said. His success comes from a full team of supporters – from business partners to family and friends.
"A perfect example is when I was in medical school and needed all the help I could get at exam time," he said. "There were literally 50 women at a church in Mexico praying the rosary in my name. Success is generally the result of a group effort and overcoming barriers isn't insurmountable if you have the support of the people around you."
Given time to reflect after receiving this award, Cornidez said that it has infused him with a deeper passion to help build the success of others – by serving as a role model.
"Especially in a time of competition and polarization, my role is to support entrepreneurs around me, to inspire others to do whatever inspires them and to help grow the successes of Tucsonans. With this recognition comes the responsibility to continue advancing our community while maintaining an uncompromised moral standard."