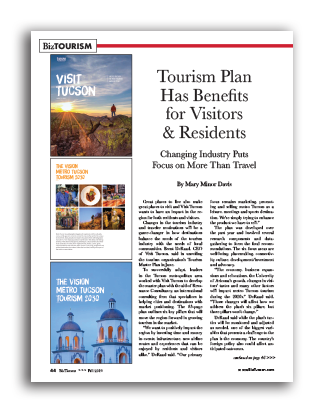 Tourism Plan Has Benefits for Visitors & Residents
By Mary Minor Davis

Changing Industry Puts Focus on More Than Travel
Great places to live also make great places to visit and Visit Tucson wants to have an impact in the region for both residents and visitors.
Changes in the tourism industry and traveler motivations will be a game-changer in how destinations balance the needs of the tourism industry with the needs of local communities, Brent DeRaad, CEO of Visit Tucson, said in unveiling the tourism organization's Tourism Master Plan in June.
To successfully adapt, leaders in the Tucson metropolitan area worked with Visit Tucson to develop the master plan with the aid of Resonance Consultancy, an international consulting firm that specializes in helping cities and destinations with market positioning. The 85-page plan outlines six key pillars that will move the region forward in growing tourism in the market.
"We want to positively impact the region by investing time and money in events, infrastructure, new airline routes and experiences that can be enjoyed by residents and visitors alike," DeRaad said. "Our primary focus remains marketing, promoting and selling metro Tucson as a leisure, meetings and sports destination. We're simply trying to enhance the product we have to sell."
The plan was developed over the past year and involved several research components and data-gathering to form the final recommendations. The six focus areas are well-being, placemaking, connectivity, culture, development/investment and advocacy.
"The economy, business expansions and relocations, the University of Arizona's growth, changes in visitors' tastes and many other factors will impact metro Tucson tourism during the 2020s," DeRaad said. "Those changes will affect how we address the plan's six pillars, but those pillars won't change."
DeRaad said while the plan's tactics will be monitored and adjusted as needed, one of the biggest variables that presents a challenge to the plan is the economy. The country's foreign policy also could affect anticipated outcomes.
"Travel is one of the first cuts to corporate and household budgets in recessionary times," DeRaad said. "Additionally, our nation's foreign policy stances impact international travel to the U.S. While international travel has grown in recent years, the U.S. is losing visitor market share to other nations."
For the Tucson area, however, there is strength in the opportunities that have presented themselves in recent years. That has led to the region achieving growth in the industry, evidenced by the February occupancy rate of 85.4%, the highest in comparable markets and just percentage points behind Phoenix.
"The biggest opportunities are through some of the incredible changes we have enjoyed in recent years," he added. "Corporate expansions and relocations add flights and hotel stays. The work done by Rio Nuevo and the city of Tucson to transform our downtown has made it our most-visited area. The Chuck Huckelberry Loop allows residents and visitors to explore our region on bike or foot. The Tucson Gem, Mineral & Fossil Showcase generates $130 million annually in direct spending throughout our metro area. We at Visit Tucson want to help our region achieve more of these victories in the years to come."
The Tourism Master Plan is available for download and review at www.visittucson.org/tourism-master-plan