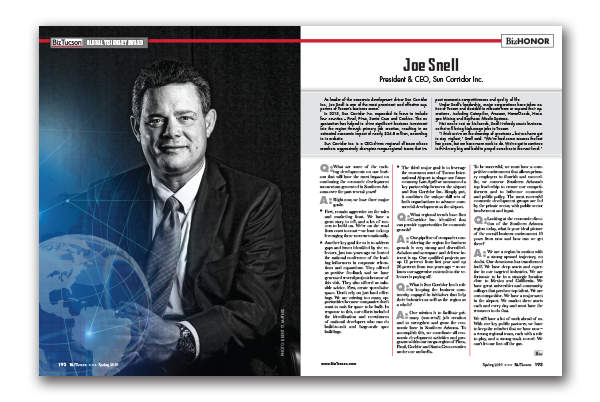 As leader of the economic development driver Sun Corridor Inc., Joe Snell is one of the most prominent and effective supporters of Tucson's business scene.
In 2015, Sun Corridor Inc. expanded its focus to include four counties – Pinal, Pima, Santa Cruz and Cochise. The organization has helped to drive significant business investment into the region through primary job creation, resulting in an estimated economic impact of nearly $24.8 million, according to its website. 
Sun Corridor Inc. is a CEO-driven regional alliance whose members aggressively champion mega-regional issues that impact economic competitiveness and quality of life.
Under Snell's leadership, major corporations have taken notice of Tucson and decided to relocate here or expand their operations – including Caterpillar, Amazon, HomeGoods, Hexagon Mining and Raytheon Missile Systems. 
Not one to rest on his laurels, Snell tirelessly courts businesses that will bring high-wage jobs to Tucson.
"I think we're on the doorstep of greatness – but we have got to stay vigilant," Snell said. "We've had some success the last few years, but we have more work to do. We've got to continue to think very big and bold to propel ourselves to the next level."
Q: What are some of the exciting developments on our horizon that will have the most impact on continuing the economic development momentum generated in Southern Arizona over the past several years?
A: Right now, we have three major goals:
• First, remain aggressive on the sales and marketing front. We have a great story to tell, and a lot of success to build on. We're on the road from coast to coast – we have to keep leveraging these successes nationally. 
• Another key goal for us is to address gaps and issues identified by site selectors. Just two years ago we hosted the national conference of the leading influencers in corporate relocations and expansions. They offered us positive feedback and we have generated several projects because of this visit. They also offered us valuable advice. First, create speculative space. Don't rely on just land offerings. We are missing too many opportunities because companies don't want to wait for space to be built. In response to this, our efforts included the identification and recruitment of national developers who can do build-to-suit and large-scale spec buildings. 
• The third major goal is to leverage the enormous asset of Tucson International Airport to shape our future economy. Last April we announced a key partnership between the airport and Sun Corridor Inc. Simply put, it combines the unique skill sets of both organizations to advance commercial development at the airport.
Q: What regional trends have Sun Corridor Inc. identified that can provide opportunities for economic growth?
A: Our pipeline of companies considering the region for business growth is very strong and diversified. Aviation and aerospace and defense interest is up. Our qualified projects are up 12 percent from last year and up 26 percent from two years ago – so we know our aggressive outreach to site selectors is paying off.
Q: What is Sun Corridor Inc.'s role in keeping the business community engaged in initiatives that help their industries as well as the region as a whole?
A: Our mission is to facilitate primary (non-retail) job creation and to strengthen and grow the economic base in Southern Arizona. To accomplish this, we coordinate all economic development activities and programs within our mega-region of Pima, Pinal, Cochise and Santa Cruz counties under one umbrella.
To be successful, we must have a competitive environment that allows primary employers to flourish and succeed. So, we convene Southern Arizona's top leadership to ensure our competitiveness and to influence economic and public policy. The most successful economic development groups are led by the private sector, with public sector involvement and input. 
Q: Looking at the economic direction of the Southern Arizona region today, what is your ideal picture of the overall business environment 10 years from now and how can we get there?
A: We are a region in motion with a strong upward trajectory, no doubt. Our downtown has transformed itself. We have deep assets and expertise in our targeted industries. We are fortunate to be in a strategic location close to Mexico and California. We have great universities and community colleges that produce top talent. We are cost competitive. We have a major asset in the airport. We market these assets each and every day and must have the resources to do that.
We still have a lot of work ahead of us. With our key public partners, we have to keep the mindset that we have now – a strong regional team, each with a role to play, and a strong track record. We can't let our foot off the gas.