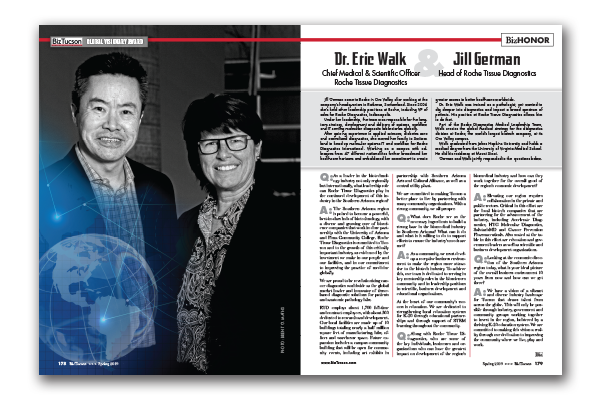 Jill German & Dr. Eric Walk
Jill German came to Roche in Oro Valley after working at the company's headquarters in Rotkreuz, Switzerland. Since 2004 she's held other leadership positions at Roche, including VP of sales for Roche Diagnostics, Indianapolis.
Under her leadership, the team was responsible for the long-term strategy, development and delivery of systems, workflow and IT serving molecular diagnostic laboratories globally.
After gaining experience in applied sciences, diabetes care and centralized diagnostics, she moved her family to Switzerland to head up molecular systems IT and workflow for Roche Diagnostics International. Working on a campus with colleagues from 47 different nationalities further broadened her healthcare horizons and emboldened her commitment to create greater access to better healthcare worldwide.
Dr. Eric Walk was trained as a pathologist, yet wanted to dig deeper into diagnostics and impact a broad spectrum of patients. His position at Roche Tissue Diagnostics allows him to do that.
Part of the Roche Diagnostics Medical Leadership Team, Walk creates the global medical strategy for the diagnostics division at Roche, the world's largest biotech company, at its Oro Valley campus.
Walk graduated from Johns Hopkins University and holds a medical degree from the University of Virginia Medical School. He did his residency at Mount Sinai.
German and Walk jointly responded to the questions below.
Q: As a leader in the biotechnology industry not only regionally but internationally, what leadership role can Roche Tissue Diagnostics play in the continued development of this industry in the Southern Arizona region?
A: The Southern Arizona region is poised to become a powerful, best-in-class hub of biotechnology, with a diverse and growing core of bioscience companies that work in close partnership with the University of Arizona and Pima Community College. Roche Tissue Diagnostics is committed to Tucson and to the growth of this critically important industry, as evidenced by the investment we make in our people and our facilities, and in our commitment to improving the practice of medicine globally.
We are proud to be revolutionizing cancer diagnostics worldwide as the global market leader and innovator of tissue-based diagnostic solutions for patients and anatomic pathology labs.
RTD employs about 1,700 full-time and contract employees, with about 500 dedicated to research and development. Our local facilities are made up of 10 buildings totaling nearly a half million square feet of manufacturing, labs, offices and warehouse space. Future expansion includes a campus community building that will be open for community events, including art exhibits in partnership with Southern Arizona Arts and Cultural Alliance, as well as a central utility plant.
We are committed to making Tucson a better place to live by partnering with many community organizations. With a strong community, we all prosper.
Q: What does Roche see as the necessary ingredients to build a strong base in the biomedical industry in Southern Arizona? What can it do and what is it willing to do to support efforts to ensure the industry's needs are met?
Q: As a community, we must develop a receptive business environment to make the region more attractive to the biotech industry. To achieve this, our team is dedicated to serving in key mentorship roles in the biosciences community and in leadership positions in scientific, business development and educational organizations.
At the heart of our community's success is education. We are dedicated to strengthening local education systems for K-20 through educational partnerships and through support of STEM learning throughout the community.
Q: Along with Roche Tissue Diagnostics, who are some of the key individuals, businesses and organizations who can have the greatest impact on development of the region's biomedical industry and how can they work together for the overall good of the region's economic development?
A: Elevating our region requires collaboration in the private and public sectors. Critical in this effort are the local biotech companies that are partnering for the advancement of the industry, including Accelerate Diagnostics, HTG Molecular Diagnostics, SalutarisMD and Cancer Prevention Pharmaceuticals. Also seated at the table in this effort are education and government leaders as well as scientific and business development organizations.
Q: Looking at the economic direction of the Southern Arizona region today, what is your ideal picture of the overall business environment 10 years from now and how can we get there?
A: We have a vision of a vibrant and diverse industry landscape for Tucson that draws talent from across the globe. This will only be possible through industry, government and community groups working together to invest in the region, bolstered by a thriving K-20 education system. We are committed to making this vision a reality through our dedication to improving the community where we live, play and work.