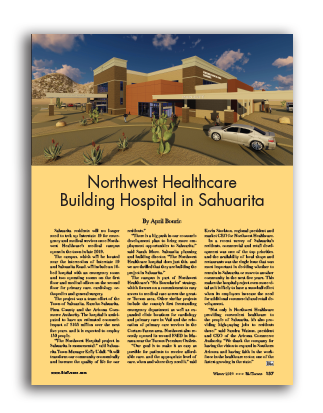 Northwest Healthcare Building Hospital in Sahuarita
By April Bourie –
Sahuarita residents will no longer need to trek up Interstate 19 for emergency and medical services once Northwest Healthcare's medical campus opens in the town in late 2019.
The campus, which will be located near the intersection of Interstate 19 and Sahuarita Road, will include an 18-bed hospital with an emergency room and two operating rooms on the first floor and medical offices on the second floor for primary care, cardiology, orthopedics and general surgery.
The project was a team effort of the Town of Sahuarita, Rancho Sahuarita, Pima County and the Arizona Commerce Authority. The hospital is anticipated to have an estimated economic impact of $165 million over the next five years, and it is expected to employ 150 people.
"The Northwest Hospital project in Sahuarita is monumental," said Sahuarita Town Manager Kelly Udall. "It will transform our community economically and increase the quality of life for our residents."
"There is a big push in our economic development plan to bring more employment opportunities to Sahuarita," said Sarah More, Sahuarita planning and building director. "The Northwest Healthcare hospital does just this, and we are thrilled that they are building the project in Sahuarita."
The campus is part of Northwest Healthcare's "No Boundaries" strategy, which focuses on a commitment to easy access to medical care across the greater Tucson area. Other similar projects include the county's first freestanding emergency department as well as expanded clinic locations for cardiology and primary care in Vail and the relocation of primary care services in the Cortaro Farms area. Northwest also recently opened its second FSED in Marana near the Tucson Premium Outlets.
"Our goal is to make it as easy as possible for patients to receive affordable care, and the appropriate level of care, when and where they need it," said Kevin Stockton, regional president and market CEO for Northwest Healthcare.
In a recent survey of Sahuarita's residents, commercial and retail development was one of the top priorities, and the availability of local shops and restaurants was the single issue that was most important in deciding whether to remain in Sahuarita or move to another community in the next five years. This makes the hospital project even more vital as it is likely to have a snowball effect when its employees increase the need for additional commercial and retail development.
"Not only is Northwest Healthcare providing convenient healthcare to the people of Sahuarita, it's also providing high-paying jobs to residents there," said Sandra Watson, president and CEO of the Arizona Commerce Authority. "We thank the company for having the vision to expand in Southern Arizona and having faith in the workforce in the healthcare sector, one of the fastest-growing in the state."