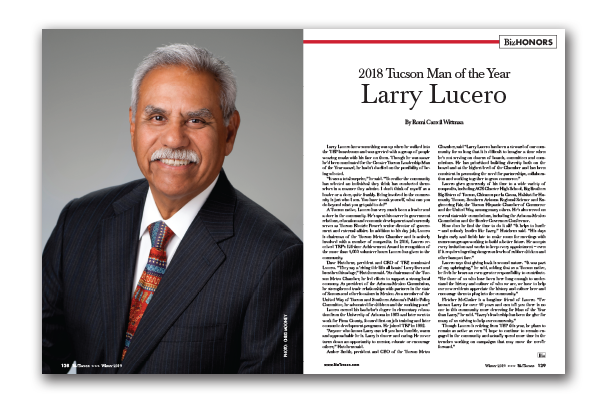 By Romi Carrell Wittman –
2018 Tucson Man of the Year
Larry Lucero knew something was up when he walked into the TEP boardroom and was greeted with a group of people wearing masks with his face on them. Though he was aware he'd been nominated for the Greater Tucson Leadership Man of the Year award, he hadn't dwelled on the possibility of being selected.
"It was a total surprise," he said. "To realize the community has selected an individual they think has conducted themselves in a manner they admire. I don't think of myself as a leader or a doer, quite frankly. Being involved in the community is just who I am. You have to ask yourself, what can you do beyond what you get paid to do?"
A Tucson native, Lucero has very much been a leader and a doer in the community. He's spent his career in government relations, education and economic development and currently serves as Tucson Electric Power's senior director of government and external affairs. In addition to his day job, Lucero is chairman of the Tucson Metro Chamber and is actively involved with a number of nonprofits. In 2016, Lucero received TEP's Lifetime Achievement Award in recognition of the more than 4,000 volunteer hours Lucero has given to the community.
Dave Hutchens, president and CEO of TEP, nominated Lucero. "They say a 'rising tide lifts all boats.' Larry lives and breathes this adage," Hutchens said. "As chairman of the Tucson Metro Chamber, he led efforts to support a strong local economy. As president of the Arizona-Mexico Commission, he strengthened trade relationships with partners in the state of Sonora and other locations in Mexico. As a member of the United Way of Tucson and Southern Arizona's Public Policy Committee, he advocated for children and the working poor."
Lucero earned his bachelor's degree in elementary education from the University of Arizona in 1983 and later went to work for Pima County, focused first on job training and later economic development programs. He joined TEP in 1992.
"Anyone who knows Larry can tell you how humble, warm and approachable he is. Larry is sincere and caring. He never turns down an opportunity to mentor, educate or encourage others," Hutchens said.
Amber Smith, president and CEO of the Tucson Metro Chamber, said "Larry Lucero has been a steward of our community for so long that it is difficult to imagine a time when he's not serving on dozens of boards, committees and commissions. He has prioritized building diversity both on the board and at the highest level of the Chamber and has been consistent in promoting the need for partnerships, collaboration and working together to grow commerce."
Lucero gives generously of his time to a wide variety of nonprofits, including ACE Charter High School, Big Brothers Big Sisters of Tucson, Chicanos por la Causa, Habitat for Humanity Tucson, Southern Arizona Regional Science and Engineering Fair, the Tucson Hispanic Chamber of Commerce and the United Way, among many others. He's also served on several statewide commissions, including the Arizona-Mexico Commission and the Border Governors Conference.
How does he find the time to do it all? "It helps to hustle – and nobody hustles like Larry," Hutchens said. "His days begin early and finish late to make room for meetings with numerous groups working to build a better future. He accepts every invitation and works to keep every appointment – even if it requires ingesting dangerous levels of rubber chicken and other banquet fare."
Lucero says that giving back is second nature. "It was part of my upbringing," he said, adding that as a Tucson native, he feels he bears an even greater responsibility to contribute. "For those of us who have been here long enough to understand the history and culture of who we are, we have to help our new residents appreciate the history and culture here and encourage them to plug into the community."
Fletcher McCusker is a longtime friend of Lucero. "I've known Larry for over 40 years and can tell you there is no one in this community more deserving for Man of the Year than Larry," he said. "Larry's leadership has been the glue for many of us striving to help our community."
Though Lucero is retiring from TEP this year, he plans to remain as active as ever. "I hope to continue to remain engaged in the community and actually spend more time in the trenches working on campaigns that may move the needle forward."