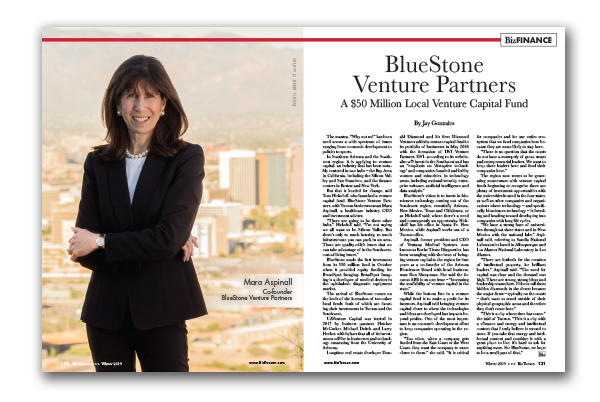 BlueStone Venture Partners
By Jay Gonzales –
A $50 Million Local Venture Capital Fund
The mantra, "Why not us?" has been used across a wide spectrum of issues ranging from economic development to politics to sports.
In Southern Arizona and the Southwest region, it is applying to venture capital, an industry that has been notably centered in two hubs – the Bay Area in California, including the Silicon Valley and San Francisco, and the finance centers in Boston and New York.
But that is headed for change, said Tom Nickoloff, who launched a venture capital fund, BlueStone Venture Partners, with Tucson businesswoman Mara Aspinall, a healthcare industry CEO and investment adviser.
"There are going to be these other hubs," Nickoloff said. "I'm not saying we all want to be Silicon Valley. But there's only so much housing, so much infrastructure you can pack in an area. There are quality-of-life issues that we can take advantage of in the Southwest, cost-of-living issues."
BlueStone made the first investment from its $50 million fund in October when it provided equity funding for BroadSpot Imaging. BroadSpot Imaging is a developer of medical devices in the ophthalmic diagnostic equipment market.
The arrival of BlueStone comes on the heels of the formation of two other local funds, both of which are focusing their investments in Tucson and the Southwest.
UAVenture Capital was started in 2017 by business partners Fletcher McCusker, Michael Deitch and Larry Hecker, with bylaws that all of its investments will be in businesses and technology emanating from the University of Arizona.
Longtime real estate developer Donald Diamond and his firm Diamond Ventures added a venture capital fund to its portfolio of businesses in May 2018 with the formation of DVI Venture Partners. DVI, according to its website, also will invest in the Southwest and has an "emphasis on 'disruptive technology' and companies founded and led by women and minorities, in technology areas, including national security, enterprise software, artificial intelligence and data analysis."
BlueStone's vision is to invest in biosciences technology coming out of the Southwest region, essentially Arizona, New Mexico, Texas and Oklahoma, or as Nickoloff said, where there's a need and consequently an opportunity. Nickoloff has his office in Santa Fe, New Mexico, while Aspinall works out of a Tucson office.
Aspinall, former president and CEO of Ventana Medical Systems, now known as Roche Tissue Diagnostics, has been wrangling with the issue of bringing venture capital to the region for four years as a co-founder of the Arizona Biosciences Board with local businessman Ron Shoopman. She said the focus at ABB is on one issue – "increasing the availability of venture capital in the state."
While the bottom line in a venture capital fund is to make a profit for its investors, Aspinall said bringing venture capital closer to where the technologies and ideas are developed has impacts beyond profits., One of the most important is an economic development effort to keep companies operating in the region.
"Too often, when a company gets funded from the East Coast or the West Coast, they want the company to move closer to them," she said. "It is critical for companies and for our entire ecosystem that we fund companies here because they are more likely to stay here.
"There is no question that the coasts do not have a monopoly of great, smart and entrepreneurial leaders. We want to keep those leaders here and fund their companies here."
The region now seems to be generating momentum with venture capital funds beginning to recognize there are plenty of investment opportunities with the universities located in the four states, as well as other companies and organizations where technology – and specifically biosciences technology – is breeding and heading toward developing into companies with long life cycles.
"We have a strong base of universities throughout those states and in New Mexico with the national labs," Aspinall said, referring to Sandia National Laboratories based in Albuquerque and Los Alamos National Laboratory in Los Alamos.
"These are hotbeds for the creation of intellectual property, for brilliant leaders," Aspinall said. "The need for capital was clear and the demand was high. There are strong, strong ideas and leadership teams here. I like to call them hidden diamonds in the desert because the major firms – typically on the coasts – don't want to travel outside of their physical geographic areas and therefore they don't come here."
"This is a city whose time has come," she said of Tucson. "This is a city with a vibrance and energy and intellectual content that I truly believe is second to none. If you take that energy and intellectual content and combine it with a great place to live, it's hard to ask for anything more. For BlueStone, we hope to be a small part of that."