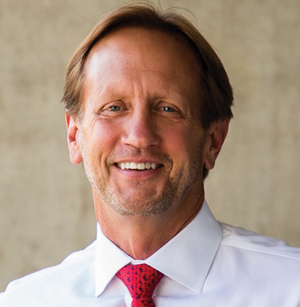 A top marketing strategist joined the University of Arizona last summer as its senior VP and chief marketing and communications officer.
Steve Moore, whose first marketing job was at Coca-Cola, comes to the UA from Texas A&M University and Texas A&M's system, which includes 11 universities, a law school, a health sciences center and seven state agencies.
He was the first chief marketing officer at Texas A&M University and was vice chancellor of marketing and communications for the Texas A&M System. Moore also served as VP of communications, marketing, public relations and public affairs at the University of Texas Southwestern Medical Center.
Under his guidance, Texas A&M joined the Southeastern Conference in athletics. His new job at the UA will start with developing and implementing its brand.
"Steve has just the right mix of experience and offers a unique perspective on branding," UA President Robert C. Robbins said in a news release.
"He shares my appreciation for the university and its students, research impacts and facilities. He is a natural collaborator who will work with teams across campus to increase brand awareness and align messaging with our forthcoming strategic plan."
While at Coca-Cola, Moore launched the company's first sponsorship of a NASCAR team. It was, in short, a big deal, and continues to be today. In February Coca-Cola celebrated a 20-year- milestone of the sponsorship
"It's quite an accomplishment," Ben Reiling, director, motor sports, Coca-Cola North America, said in an online new release.
"To have a platform that has lasted this long is impressive. It started 20 years ago and has maintained a distinct presence in NASCAR. Its longevity says a lot of about how it was formed, how it's been managed and how it's been a part of our strategy."
Moore was in charge of an assessment project that led Texas A&M to join the Southeastern Conference — another huge undertaking. The college had been in the Southwest Conference for 82 years, moved to the Big 12, then landed in the SEC.
Moore has had international success as well. At the sports marketing agency IMG, he was a leader in the $800 million redevelopment of Wembley Stadium in London.