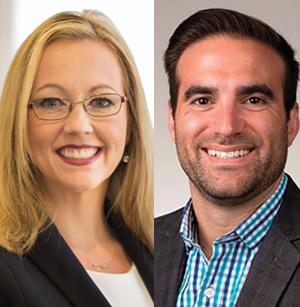 Michelle Trindade & John Alutto
GEICO's regional office in Tucson has two new employees – VP Michelle Trindade and Assistant VP John Alutto. Trindade will manage insurance operations for seven states – Arizona, Idaho, Montana, Nevada, Utah, Oregon and Washington. Alutto will oversee GEICO's underwriting activities in those states.
Trindade has worked for GEICO since 1997 at several locations, and has been promoted several times. She's twice worked at its headquarters in Chevy Chase, Md. She holds master's degrees in business administration from Southeastern University in Lakeland, Fla., and in innovation from Northeastern University in Boston.
Alutto has been with GEICO since 2007 at different sites in Virginia. He earned a bachelor's degree in business management at Virginia Wesleyan University in Norfolk, Va.