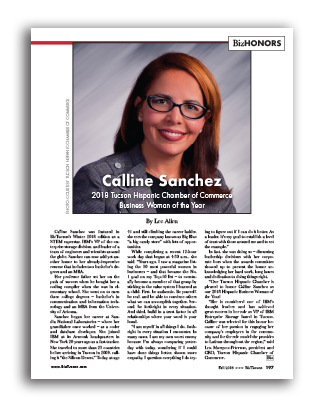 By Lee Allen –
2018 Tucson Hispanic Chamber of Commerce Business Woman of the Year
Calline Sanchez was featured in BizTucson's Winter 2018 edition as a STEM superstar, IBM's VP of the enterprise storage division, and leader of a team of engineers and scientists around the globe. Sanchez can now add yet another honor to her already-impressive resume that includes two bachelor's degrees and an MBA.
Her professor father set her on the path of success when he bought her a coding compiler when she was in elementary school. She went on to earn three college degrees – bachelor's in communication and information technology and an MBA from the University of Arizona.
Sanchez began her career at Sandia National Laboratories – where her grandfather once worked – as a coder and database developer. She joined IBM at its Armonk headquarters in New York 20 years ago as a fast-tracker. She traveled to more than 25 countries before arriving in Tucson in 2009, calling it "the Silicon Desert." Today, at age 41 and still climbing the career ladder, she sees the company known as Big Blue "a big candy store" with lots of opportunities.
While completing a recent 12-hour work day that began at 4:30 a.m., she said, "Years ago, I saw a magazine listing the 50 most powerful women in businesses – and that became the No. 1 goal on my Top-10 list – to eventually become a member of that group by sticking to the value system I learned as a child. First, be authentic. Be yourself, be real, and be able to convince others what we can accomplish together. Second, be forthright in every situation. And third, build in a trust factor in all relationships where your word is your bond.
"I am myself in all things I do, forthright in every situation I encounter. In many cases, I am my own worst enemy because I'm always comparing yesterday with today, wondering if I could have done things better, shown more empathy. I question everything I do trying to figure out if I can do it better. As a leader, it's my goal to establish a level of trust with those around me and to set the example."
In fact, she was doing so – discussing leadership decisions with her corporate boss when the awards committee showed up to present the honor acknowledging her hard work, long hours and dedication to doing things right.
"Our Tucson Hispanic Chamber is pleased to honor Calline Sanchez as our 2018 Hispanic Business Woman of the Year!  
"She is considered one of IBM's thought leaders and has achieved great success in her role as VP of IBM Enterprise Storage based in Tucson. Calline was selected for this honor because of her passion in engaging her company's employees in the community and for the role model she provides to Latinas throughout the region," said Lea Marquez-Peterson, president and CEO, Tucson Hispanic Chamber of Commerce.