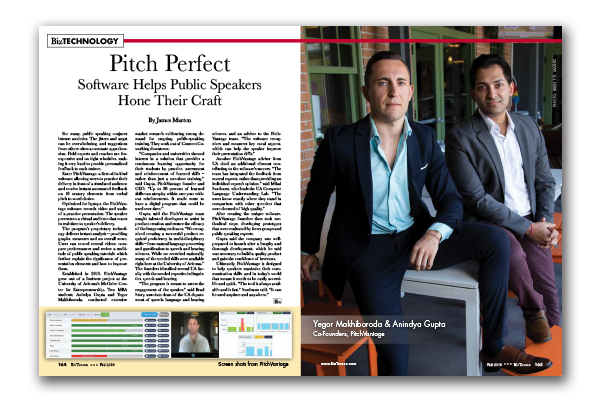 By James Marten –
Software Helps Public Speakers Hone Their Craft
For many, public speaking conjures intense anxieties. The jitters and angst can be overwhelming, and suggestions from others often accentuate apprehension. Field experts and coaches are few, expensive and on tight schedules, making it very hard to provide personalized feedback to each trainee. 
Enter PitchVantage, a first-of-its-kind software allowing users to practice their delivery in front of a simulated audience and receive instant automated feedback on 10 oratory elements, from verbal pitch to word choice. 
Optimized for laptops, the PitchVantage software records video and audio of a practice presentation. The speaker presents to a virtual audience that reacts in real-time to speaker's delivery. 
The program's proprietary technology delivers instant analysis – providing graphs, measures and an overall score. Users can record several videos, compare performances and review a multitude of public speaking tutorials, which further explain the significance of presentation elements and how to improve them.
Established in 2015, PitchVantage grew out of a business project at the University of Arizona's McGuire Center for Entrepreneurship. Two MBA students, Anindya Gupta and Yegor Makhiboroda, conducted extensive market research evidencing strong demand for ongoing, public-speaking training. They work out of Connect Coworking downtown.
"Companies and universities showed interest in a solution that provides a continuous learning opportunity for their students by practice, assessment and reinforcement of learned skills – rather than just a one-time training," said Gupta, PitchVantage founder and CEO. "Up to 90 percent of learned skills can atrophy within one year without reinforcement. It made sense to have a digital program that could be used over time."
Gupta said the PitchVantage team sought talented developers to assist in product creation and ensure the efficacy of the burgeoning endeavor. "We recognized creating a successful product required proficiency in multi-disciplinary skills – from natural language processing and gamification to speech and hearing sciences. While we recruited nationally, many of the needed skills were available right here at the University of Arizona." The founders identified several UA faculty with the needed expertise in linguistics, speech and hearing. 
"The program is meant to assess the engagement of the speaker," said Brad Story, associate dean of the UA department of speech, language and hearing sciences, and an adviser to the PitchVantage team. "The software recognizes and measures key vocal aspects, which can help the speaker improve their presentation skills."
Another PitchVantage adviser from UA cited an additional element contributing to the software's success. "The team has integrated the feedback from several experts, rather than providing an individual expert's opinion," said Mihai Surdeanu, who leads the UA Computer Language Understanding Lab. "The users know exactly where they stand in comparison with other speeches that were deemed of high quality."
After creating the unique software, PitchVantage founders then took methodical steps, developing prototypes that were evaluated by focus groups and public speaking experts. 
Gupta said the company was well-prepared to launch after a lengthy and thorough development, which he said was necessary to build a quality product and gain the confidence of investors.
Ultimately, PitchVantage is designed to help speakers maximize their communication skills, and in today's world that means it needs to be easily accessible and quick. "The tool is always available and is fast," Surdeanu said. "It can be used anytime and anywhere."