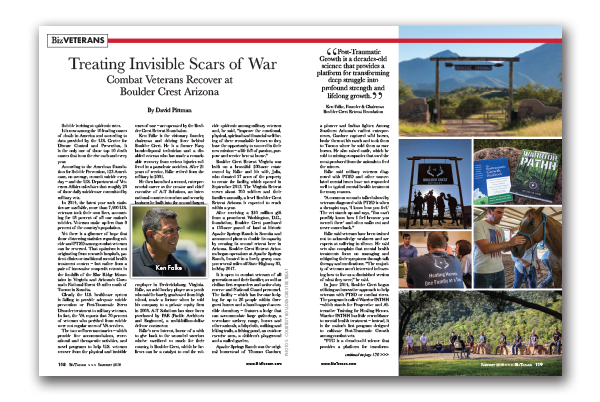 Treating Invisible Scars of War
By David Pittman –
Combat Veterans Recover at Boulder Crest Arizona
Suicide is rising at epidemic rates.
It is now among the 10 leading causes of death in America and according to data provided by the U.S. Center for Disease Control and Prevention, it is the only one of those top 10 death causes that is on the rise each and every year.
According to the American Foundation for Suicide Prevention, 123 Americans, on average, commit suicide every day – and the U.S. Department of Veterans Affairs calculates that roughly 20 of those daily suicides are committed by military vets.
In 2014, the latest year such statistics are available, more than 7,400 U.S. veterans took their own lives, accounting for 18 percent of all our nation's suicides. Veterans make up less than 9 percent of the country's population.
Yet there is a glimmer of hope that those distressing statistics regarding suicide and PTSD among combat veterans can be reversed. That optimism is not originating from research hospitals, patient clinics or traditional mental health treatment centers – but rather from a pair of innovative nonprofit retreats in the foothills of the Blue Ridge Mountains in Virginia and Arizona's Coronado National Forest 45 miles south of Tucson in Sonoita.
Clearly the U.S. healthcare system is failing to provide adequate suicide prevention or Post-Traumatic Stress Disorder treatment to military veterans. In fact, the VA reports that 70 percent of veterans who perished from suicide were not regular users of VA services.
The two wellness sanctuaries – which provide free accommodations, recreational and therapeutic activities, and novel programs to help U.S. veterans recover from the physical and invisible scars of war – are operated by the Boulder Crest Retreat Foundation.
Ken Falke is the visionary founder, chairman and driving force behind Boulder Crest. He is a former Navy bomb-disposal technician and a disabled veteran who has made a remarkable recovery from serious injuries suffered in a parachute accident. After 21 years of service, Falke retired from the military in 2001. 
He then launched a second, entrepreneurial career as the creator and chief executive of A-T Solutions, an international counter-terrorism and security business he built into the second-largest employer in Fredericksburg, Virginia. Falke, an avid hockey player as a youth who said he barely graduated from high school, made a fortune when he sold his company to a private equity firm in 2008. A-T Solutions has since been purchased by PAE (Pacific Architects and Engineers), a multi-billion-dollar defense contractor.
Falke's new interest, borne of a wish to give back to the wounded warriors who've sacrificed so much for their country, is Boulder Crest, which he believes can be a catalyst to end the suicide epidemic among military veterans and, he said, "improve the emotional, physical, spiritual and financial well-being of these remarkable heroes so they have the opportunity to succeed in their new mission – a life full of passion, purpose and service here at home."
Boulder Crest Retreat Virginia was built on a beautiful 200-acre estate owned by Falke and his wife, Julia, who donated 37 acres of the property to create the facility, which opened in September 2013. The Virginia Retreat serves about 700 soldiers and their families annually, a level Boulder Crest Retreat Arizona is expected to reach within a year.
After receiving a $10 million gift from a prominent Washington, D.C., foundation, Boulder Crest purchased a 130-acre parcel of land at historic Apache Springs Ranch in Sonoita and announced plans to double its capacity by creating its second retreat here in Arizona. Boulder Crest Retreat Arizona began operations at Apache Springs Ranch, located in a lovely grassy canyon several miles off State Highway 83, in May 2017.
It is open to combat veterans of all generations and their families, as well as civilian first responders and active-duty reserve and National Guard personnel. The facility – which has five-star lodging for up to 28 people within three guest homes and a handicapped-accessible dormitory – features a lodge that can accommodate large gatherings, a seven-lane archery range, horses and other animals, a labyrinth, walking and hiking trails, a fishing pond, an outdoor exercise area, a children's playground and a walled garden.
Apache Springs Ranch was the original homestead of Thomas Gardner, a pioneer and Indian fighter. Among Southern Arizona's earliest entrepreneurs, Gardner captured wild horses, broke them at his ranch and took them to Tucson where he sold them as race horses. He also raised cattle, which he sold to mining companies that used the meat produced from the animals to feed the miners. 
Falke said military veterans diagnosed with PTSD and other war-related mental issues have not responded well to typical mental health treatment for many reasons. 
"A common scenario talked about by veterans diagnosed with PTSD is when a therapist says, 'I know how you feel.' The vet stands up and says, 'You can't possibly know how I feel because you weren't there' and often walks out and never comes back."
Falke said veterans have been trained not to acknowledge weakness and are experts at suffering in silence. He said vets also complain that mental health treatments focus on managing and mitigating their symptoms through talk therapy and medications. "The majority of veterans aren't interested in learning how to live as a diminished version of what they were," he said.
In June 2014, Boulder Crest began utilizing an innovative approach to help veterans with PTSD or combat stress. The program is called Warrior PATHH –which stands for Progressive and Alternative Training for Healing Heroes. Warrior PATHH has little resemblance to mental health treatment – instead, it is the nation's first program designed to cultivate Post-Traumatic Growth among combat vets.
"PTG is a decades-old science that provides a platform for transforming deep struggle into profound strength and lifelong growth," Falke said. "The underlying notion of PTG is best captured in the words of Nietzsche: 'That which does not kill me makes me stronger.' "
Warrior PATHH aims to train combat veterans to be as productive at home as they were on the battlefield. It is an 18-month program that begins with seven days of intensive and immersive boot-camp-style training that a small group of vets do together. Rather than being allowed to feel disconnected and isolated, participants are encouraged to bond together in order to help one another. 
"What we're doing is training, not treatment," said Brian Bell, executive director of Boulder Crest Retreat Arizona. "Most military vets don't respond well to treatment – but they love training. We really don't have therapists, we have PATHH guides who are combat veterans who have been through the PATHH program and have walked the path of trauma, recovery and growth. We train our students how to struggle well. Everyone struggles. During the seven days of intensive training, participants connect with the five or six other people in their cadre. So when they go back home, they leave here as brothers and sisters (male and female programs are run separately) on a shared journey who help one another."
"This is not a catch-and-release program," he said. "There is 18 months of follow-up after-care in which our students have weekly assignments, and things are reviewed and taught during a weekly video conference or check-in phone call."
Bell spent 21 years in the Marines and saw combat during two tours of duty in Iraq. He enlisted in 1991 as a private, just as the Gulf War broke out. He was 42 when he retired from the military as a major "with some unseen scars that needed to be taken care of. The Veteran's Administration had nothing for me but pills and a person who asked trite, sometimes probing questions," Bell said. "I later heard about Boulder Crest and that's where I found personal healing for myself. Now I'm helping other veterans and their families heal."
It is estimated that 700,000 post-9/11 combat veterans battle PTSD or combat stress. However, rarely are these troubles contained solely to soldiers; combat-related stress often affects entire families. For that reason, Boulder Crest also offers Family PATHH, Couples PATHH and Caregiver PATHH. Family PATHH is a five-day program, while Couples PATTH and Caregiver PATTH are three-day programs. During down periods when BCR is not running PATHH programs, Boulder Crest allows veterans, first responders and their families to take time off at Boulder Crest for rest and recuperation stays.
While it's impressive that the two Boulder Crest retreats will soon be providing innovative mental health training to 1,400 combat veterans annually, Falke acknowledged that it is just scratching the surface of those struggling from PTSD. However, he said Boulder Crest's programs are working – and he intends to spread the word so the methods being utilized by BCR can be used by others across the country.
"In January 2016, after more than two years of research, development, piloting and success, the Marcus Foundation funded the development of the first-ever curriculum effort designed to cultivate and facilitate Post-Traumatic Growth," Falke said. "The curriculum includes student and instructor guides, a journal, syllabus, four pilot programs and an 18-month longitudinal study.
"Right now, we are actually 15 months into that study and our results are about three times as effective as traditional mental health care. At the end of the 18 months, we are going to hold up the study and say, 'Hey, we've developed something better,' and then try to scale that out to the entire population. The information will be exciting to share."