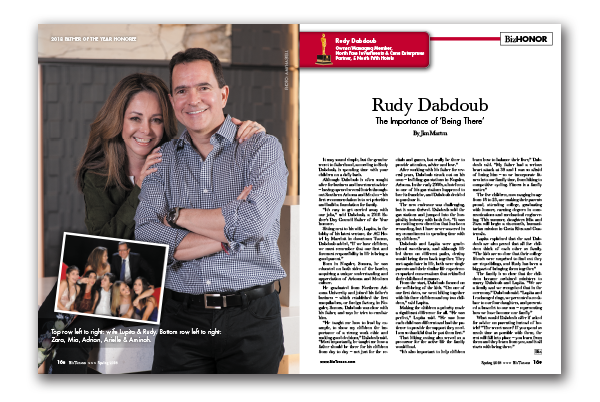 By Jim Marten –
2018 Father of the Year Honoree
It may sound simple, but the genuine secret to fatherhood, according to Rudy Dabdoub, is spending time with your children on a daily basis.
Although Dabdoub is often sought after for business and investment advice – having opened several hotels throughout Southern Arizona and Mexico – his first recommendation is to set priorities and build a foundation for family.
"It's easy to get carried away with our jobs," said Dabdoub, a 2018 Father's Day Council Father of the Year honoree.
Sitting next to his wife, Lupita, in the lobby of his latest venture, the AC Hotel by Marriott in downtown Tucson, Dabdoub added, "If we have children, we must remember that our first and foremost responsibility in life is being a good parent."
Born in Nogales, Sonora, he was educated on both sides of the border, acquiring a unique understanding and appreciation of Arizona and Mexican culture.
He graduated from Northern Arizona University and joined his father's business – which established the first maquiladora, or foreign factory, in Nogales, Sonora. Dabdoub was close with his father, and says he tries to emulate him.
"He taught me how to lead by example, to show my children the importance of a strong work ethic and making good decisions," Dabdoub said. "Most importantly, he taught me how a father should be there for his children from day to day – not just for the recitals and games, but really be there to provide attention, advice and love."
After working with his father for several years, Dabdoub struck out on his own – building gas stations in Nogales, Arizona. In the early 2000s, a hotel next to one of his gas stations happened to lose its franchise, and Dabdoub decided to purchase it.
The new endeavor was challenging, but it soon thrived. Dabdoub sold the gas stations and jumped into the hospitality industry with both feet. "It was an exciting new direction that has been rewarding, but I have never wavered in my commitment to spending time with my children."
Dabdoub and Lupita were grade- school sweethearts, and although life led them on different paths, destiny would bring them back together. They met again later in life, both were single parents and their similar life experiences sparked conversations that rekindled their childhood romance.
From the start, Dabdoub focused on the well-being of the kids. "On one of our first dates, we went hiking together with his three children and my two children," said Lupita.
Making the children a priority made a significant difference for all. "He was perfect," Lupita said. "He saw how each child was different and had the patience to provide the support they need. I am so thankful that he put them first."
That hiking outing also served as a precursor for the active life the family would lead.
"It's also important to help children learn how to balance their lives," Dabdoub said. "My father had a serious heart attack at 39 and I was so afraid of losing him – so we incorporate fitness into our family time, from hiking to competitive cycling. Fitness is a family matter."
The five children, now ranging in age from 18 to 23, are making their parents proud, attending college, graduating with honors, earning degrees in communications and mechanical engineering. This summer, daughters Mia and Zara will begin a six-month, humanitarian mission in Costa Rica and Guatemala.
Lupita explained that she and Dabdoub are also proud that all five children think of each other as family. "The kids are so close that their college friends were surprised to find out they are step-siblings, and Rudy has been a big part of bringing them together."
The family is so close that the children became ordained ministers to marry Dabdoub and Lupita. "We are a family and we recognized that in the ceremony." Dabdoub said. "Lupita and I exchanged rings, we presented a necklace to our four daughters, and presented a bracelet to our son – representing how we have become one family."
What would Dabdoub offer if asked for advice on parenting instead of hotels? "The secret sauce? If you spend as much time as possible with them, the rest will fall into place – you learn from them and they learn from you, and it all starts with being there."