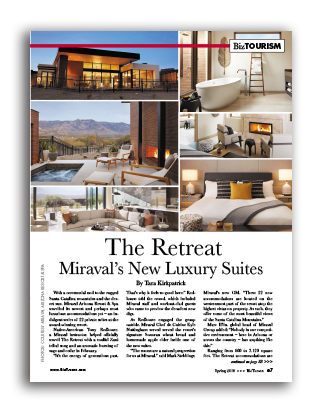 Miraval's New Luxury Suites
By Tara Kirkpatrick –
With a ceremonial nod to the rugged Santa Catalina mountains and the desert sun, Miraval Arizona Resort & Spa unveiled its newest and perhaps most luxurious accommodations yet – an indulgent series of 22 private suites at the award-winning resort.
Native-American Tony Redhouse, a Miraval instructor, helped officially unveil The Retreat with a soulful Zuni tribal song and an aromatic burning of sage and cedar in February.
"It's the energy of generations past. That's why it feels so good here," Redhouse told the crowd, which included Miraval staff and workout-clad guests who came to preview the decadent new digs.
As Redhouse engaged the group outside, Miraval Chef de Cuisine Kyle Nottingham served served the resort's signature Sonoran wheat bread and homemade apple cider inside one of the new suites.
"The rooms are a natural progression for us at Miraval," said Mark Stebbings, Miraval's new GM. "These 22 new accommodations are located on the westernmost part of the resort atop the highest vistas on property. As such, they offer some of the most beautiful views of the Santa Catalina Mountains."
Marc Ellin, global head of Miraval Group added: "Nobody in our competitive environment – here in Arizona or across the country – has anything like this."
Ranging from 600 to 3,120 square feet, The Retreat accommodations are named: Reflection (one bedroom), Unity (two bedrooms), Gratitude (three bedrooms) and Solace (studio). Each option offers private outdoor patios with indoor/outdoor shower, hot tub and fire pit.
The Reflection, Unity and Gratitude suites also have gourmet kitchens with stainless-steel appliances, cozy lounging spaces and ample dining areas that can host private culinary programming. They are the perfect draw for the resort's biggest clientele – girlfriend getaways. But they are also options for corporate retreats, family reunions, birthday celebrations or even the solo traveler.
The suites, designed by interior design firm SFA, feature a plush palette of modern beiges, creams and grays with textured walls, lavish bedding and a spa bathroom with soaking tub. "We tried to capture the desert tones, but just make it super luxurious and calming," said Heather David, Miraval's marketing manager.
"Aside from the breathtaking views and stunning décor, these serene suites feature exclusive amenities, including a special in-room spa treatment menu, a pillow menu and a communal journal and canvas where guests can share their Miraval experiences and create a beautiful piece of art for all to enjoy," Stebbings said.
The new accommodations differ from Miraval's Villas, a community of 16 equally luxurious residences adjacent to the resort that can be reserved or privately owned.
"This is a really smart step for us," Ellin said, "the fact that we could keep something and offer the next level of luxury for our guests. The economics were really strong. We create value for the asset."
With no advertising, guests were already booking the new accommodations on the opening weekend, Ellin said. "If pre-sales are any indicator, we're almost full and we've done nothing" to promote the new suites.
The Retreat is just the latest step in Miraval's progression over the past two years. The resort completed a renovation in 2016 that saw new guest rooms, a state-of-the-art fitness center and refreshed spaces throughout the property. In 2017, the Miraval Group was acquired by an affiliate of Hyatt Hotels Corporation, which now oversees the resort's operations.