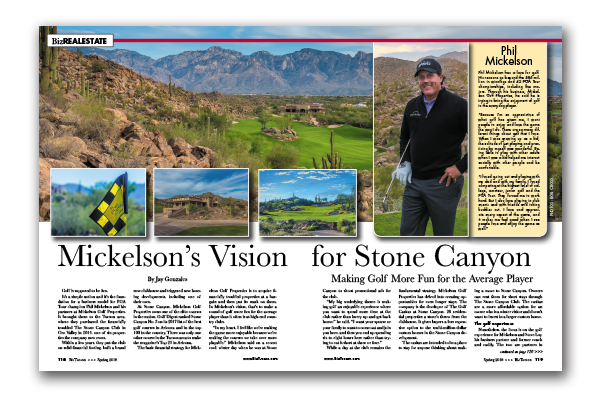 Mickelson's Vision for Stone Canyon
By Jay Gonzales –
Making Golf More Fun for the Average Player
Golf is supposed to be fun.
It's a simple notion and it's the foundation for a business model for PGA Tour champion Phil Mickelson and his partners at Mickelson Golf Properties. It brought them to the Tucson area, where they purchased the financially troubled The Stone Canyon Club in Oro Valley in 2014, one of six properties the company now owns.
Within a few years, they put the club on solid financial footing, built a brand new clubhouse and triggered new housing developments, including one of their own.
At Stone Canyon, Mickelson Golf Properties owns one of the elite courses in the nation. Golf Digest ranked Stone Canyon No. 3 on its 2017 list of the best golf courses in Arizona and in the top 100 in the country. There was only one other course in the Tucson area to make the magazine's Top 25 in Arizona.
The basic financial strategy for Mickelson Golf Properties is to acquire financially troubled properties at a bargain and then put its mark on them. In Mickelson's vision, that's to make a round of golf more fun for the average player than it often is at high-end country clubs.
"In my heart, I feel like we're making the game more enjoyable because we're making the courses we take over more playable," Mickelson said on a recent cool, winter day when he was at Stone Canyon to shoot promotional ads for the club.
"My big underlying theme is making golf an enjoyable experience where you want to spend more time at the club rather than hurry up and get back home," he said. "I want your spouse or your family to want to come out and join you here, and then you end up spending six to eight hours here rather than trying to cut it short at three or four."
While a day at the club remains the fundamental strategy, Mickelson Golf Properties has delved into creating opportunities for even longer stays. The company is the developer of The Golf Casitas at Stone Canyon, 28 residential properties a stone's throw from the clubhouse. It gives buyers a less expensive option to the multi-million-dollar custom homes in the Stone Canyon development.
The casitas are intended to be a place to stay for anyone thinking about making a move to Stone Canyon. Owners can rent them for short stays through The Stone Canyon Club. The casitas are a more affordable option for an owner who is a winter visitor and doesn't want to invest in a larger custom home.
The golf experience
Nonetheless, the focus is on the golf experience for Mickelson and Steve Loy, his business partner and former coach and caddy. The two are partners in Mickelson Golf Properties, whose president is Roger Nelson. Nelson also is a developer of the casitas in partnership with Mickelson and Loy.
Club General Manager Mike Russell, who has worked at the golf club since it opened in 2000, saw Mickelson's vision for the golf course coming into focus the first time the three-time Master's champion played it in late 2014.
"A lot of it started with Phil's first round here," Russell said. "His first time around the course, he was kind of dissecting it and looking at everything. He was really taking notes on what he could do to make the course more playable for the higher-handicapped players, but still challenging for the veteran players."
"I have this belief that the underlying reason golf hasn't been growing is that the courses are too hard," Mickelson said. "When I say too hard, the average player is not able to carry over a hazard and stop the ball on a green, but they can play the ball along the ground."
The proof, Mickelson said, was at an earlier acquisition, McDowell Mountain Golf Club, a public course in a residential development in northern Scottsdale. Bunkers were removed and other adjustments were made to keep the course from "gobbling up golf balls from the average guy," he said.
"Our play went up 185 percent a year. That's when I knew we were onto something."
'Stone Canyon' for a reason
Today, the golf course at Stone Canyon remains stunning.
For a local who knows Tucson like the proverbial back of his hand, Stone Canyon looks like it was formed somewhere else and set at the base of the Tortolita Mountains. Each hole seems to be in its own canyon surrounded by stones with a terrain unlike any in the region.
The course winds through the desert with each hole isolated from the next because of the hills covered with rock formations. Those golfers who gauge the breaks on the greens based on the theory of "breaking away from the mountain" have to figure out which mountain the ball is breaking away from because each green seems to be surrounded by hills than can affect the roll.
The views are unmatched. Even the highest handicap players should try some of the elevated back tees where spectacular views make for breathtaking shots into the fairways or the par-3 holes. The risk of a lost ball on a tee shot is well worth the view and the opportunity to hit a memorable shot into a canyon surrounded by mountains of stones.
The changes, since Mickelson put his stamp on the course, have been "subtle," Russell said. It can be as difficult or as easy as the player desires with at least five choices and up to 10 options at the tee box.
Adjustments to the course were made the summer after Mickelson's group purchased it, starting with the removal of some of the bunkers that were making it hard for the average player to access some of the greens. Since it is a desert course, one of the challenges for a golfer who lacks a precision game is to find balls that go into the desert. Some clearing was done to make it easier for golfers to spot their balls. More recently, the greens were resurfaced and expanded to get them back to their original size.
"We took out about five or six bunkers in certain areas on the course, and we did a lot of clearing of the desert in areas where people have a tendency to hit balls," Russell said. "It was subtle, which is what you want. The golf course didn't lose any of its characteristics. Every change was for the better."
To the rescue
The bigger change for the better came when Mickelson and his group bought the golf course and began investing in it after years of status quo for a development that had attracted a high-end resident – mostly winter residents – and million-dollar homes.
When Nelson first became aware that Stone Canyon was available, he said it didn't take a lot of convincing for the Mickelson group to take a good hard look at an acquisition.
"We were looking for properties to acquire in Arizona, and Stone Canyon kind of came on the radar with a call from a longtime friend who talked me into taking a look," Nelson said. "I had seen it when it first opened, so I knew it to be a beautiful property. I really did not have any idea what the circumstances were around the ownership. My friend just indicated that it was available.
"We started talking about it. Phil and Steve had never even heard of it, so I had to get them to take a look at it. They were very excited about it because it's such a beautiful property."
That the property was available was a mild upset in itself as Stone Canyon went through a dark financial period beginning with the real estate crash in the mid-2000s. The period was littered with bankruptcies and other financial distress that threatened the club's existence. Much of the property in the development, including the golf club, ended up in a family trust where it was maintained until a buyer could come along and rescue it.
"It was a beautiful, fantastic facility, well done. Everything was quality," Nelson said of his first impression. "We had to figure out whether or not we could turn it around financially and make it successful."
At the time, Mickelson and Loy were focusing their business venture in Arizona where they were buying financially troubled golf courses and clubs and turning them around by making them more enticing and, in some cases, more affordable for golfers. In addition to McDowell Mountain, they own two other public courses – Ocotillo Golf Club in Chandler and Palm Valley Golf Club in Goodyear. In addition to The Stone Canyon Club, they own two other private clubs – The Rim Golf Club and The Golf Club at Chaparral Pines, both in Payson.
A Sun Devil who loves Tucson
Mickelson is originally from San Diego, but he is no stranger to Arizona. He attended Arizona State University, where he launched his golf career with Loy as his coach. His first of 42 PGA Tour victories came in Tucson when he played in the Northern Telecom Open. Playing as an amateur on a sponsor's exemption from the Tucson Conquistadores, he beat all the pros. He took home the traditional Conquistador helmet that is the tournament's trophy, but he didn't take home the cash prize so that he could keep his college eligibility at ASU.
"I've always had a certain place in my heart for Tucson because it was my first tour win and the Conquistadores were the first group to ever give me a sponsor's invite," Mickelson said. "I always have this feeling of love when I think of Tucson. I don't feel this rivalry between ASU and the University of Arizona. In fact, I pull for the UA whenever they play. So when the opportunity came here, it was a perfect fit."
From a financial standpoint, the opportunity and the fit were far better in Arizona than in, say, Mickelson's home state of California or other states in the West.
"We've come close to purchasing properties in Washington and Oregon and California. We've gotten very close to the finish line on a number of properties, but the deal ended up not being quite right," Mickelson said. "We feel that if one deal goes bad, we jeopardize the others, and so you have to make sure it's the right deal for all the properties.
"Arizona had the most opportunity to do what we wanted to do with so many courses closing, so many courses struggling," he said. "There were opportunities to step in in California. The land was just too expensive. It's very expensive to get started there."
'A fun hang'
And so it's Arizona for now for Mickelson Golf Properties.
The sparkling 25,000-square-foot clubhouse at Stone Canyon that opened in March 2016 is an obvious sign that the turnaround for the club has been achieved. It has transformed the clubhouse into a place to be rather than a just a place to start your round.
"I want the environment to be comfortable," Mickelson said. "Our whole mindset in structuring our clubs is to create a fun hang where you want to bring your family, your friends, or meet and congregate."
Nelson added: "This new facility has given the staff an opportunity to do some things differently, where they can do different theme nights – whether it's around a ball game, a UA game, the Super Bowl, live music – and have a different experience. It's making it more social and more interactive and a lot more fun than it ever was before."
And that's the plan, the business model, the vision – fun.
"Stone Canyon was a risk for us at first because it's such an elite property," Mickelson said. "We had to create an environment that made you want to come here. I think it's been a success because it's able to sustain itself. It's not losing money, but more than that, we've created an environment where people want to come here."