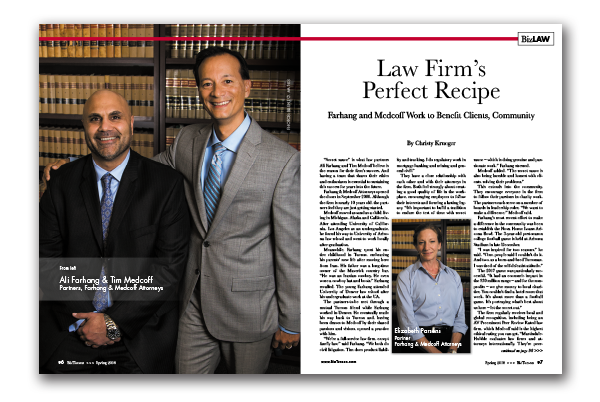 Law Firm's Perfect Recipe
By Christy Krueger –
Farhang and Medcoff Work to Benefit Clients, Community
"Secret sauce" is what law partners Ali Farhang and Tim Medcoff believe is the reason for their firm's success. And having a team that shares their ethics and enthusiasm is essential to sustaining this success for years into the future.
Farhang & Medcoff Attorneys opened the doors in September 2008. Although the firm is nearly 10 years old, the partners feel they are just getting started.
Medcoff moved around as a child, living in Michigan, Alaska and California. After attending University of California, Los Angeles as an undergraduate, he found his way to University of Arizona law school and went to work locally after graduation.
Meanwhile, Farhang spent his entire childhood in Tucson, embracing his parents' new life after moving here from Iran. His father was a long-time owner of the Maverick country bar. "He was an Iranian cowboy. He even wore a cowboy hat and boots," Farhang recalled. The young Farhang attended University of Denver law school after his undergraduate work at the UA.
The partners-to-be met through a mutual Tucson friend while Farhang worked in Denver. He eventually made his way back to Tucson and, having been drawn to Medcoff by their shared passions and visions, opened a practice with him.
"We're a full-service law firm, except family law," said Farhang. "We both do civil litigation. Tim does product liability and trucking. I do regulatory work in mortgage banking and mining and general civil."
They have a close relationship with each other and with their attorneys in the firm. Both feel strongly about creating a good quality of life in the workplace, encouraging employees to follow their interests and forming a lasting legacy. "It's important to build a tradition to endure the test of time with secret sauce – which is doing genuine and passionate work," Farhang stressed.
Medcoff added, "The secret sauce is also being humble and honest with clients, solving their problems."
This extends into the community. They encourage everyone in the firm to follow their passions in charity work. The partners each serve on a number of boards in leadership roles. "We want to make a difference," Medcoff said.
Farhang's most recent effort to make a difference in the community was been to establish the Nova Home Loans Arizona Bowl. The 3-year-old post-season college football game is held at Arizona Stadium in late December.
"I was inspired for two reasons," he said. "One, people said I couldn't do it. And two, as a born-and-bred Tucsonan, I was tired of the self-defeatist attitude."
The 2017 game was particularly successful. "It had an economic impact in the $30 million range – and for the nonprofits – we give money to local charities. You couldn't find a hotel room that week. It's about more than a football game. It's portraying what's best about us here – let the secret out."
The firm regularly receives local and global recognition, including being an AV Preeminent Peer Review Rated law firm, which Medcoff said is the highest ethical rating you can get. "Martindale-Hubble evaluates law firms and attorneys internationally. They're peer-reviewed, so they solicit other attorneys about law firms."
U.S. News & World Report named the firm in its 2018 Best Law Firms list, which identifies who is doing top-notch legal work. Medcoff and Farhang are also proud of the recognition they've received as a minority-owned-and-operated business, as well as the number of Rising Stars awards given to their lawyers by the Southwest Super Lawyers publication.
One of their attorneys who already reached the Stars is partner Elizabeth Parsons. She joined the firm four years ago. She worked at a large law practice in Washington, D.C., before moving to Tucson "for a better work-life balance," she said.
Farhang said he knew within 10 minutes of meeting her that she was an excellent fit for the firm. She agreed wholeheartedly. "I'm swayed by people," she said. "Also what swayed me was they were still becoming something and I could build it and grow."
Parsons was specifically hired to lead the transactional and corporate part of the business. It coincidentally became an all-female department until recently when a male colleague from litigation joined the group of seven women. "This is quite unusual, especially in Tucson," Parsons said. "Most transactional attorneys are male."
Her favorite part of practicing law is helping her clients reach their goals. "In transactional, you're helping clients reach their potential, helping them get somewhere in business." A particular area she enjoys is start-ups. "I work with Tech Launch Arizona to help commercialize technologies."
Parsons identifies several qualities that make this law firm unique. "There's an incredible foundation in teamwork. Everything in the structure encourages us to work together and not compete. We have fun. There's an energetic vibe. Tim and Ali are so inspiring to me because they're not just in this for themselves – it's for their colleagues and it's about Tucson – how deeply they care about the community."