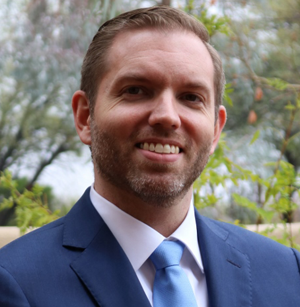 Sierra Tucson, an internationally renowned leader in behavioral and mental health care, announces the appointment of Aaron Wilson, MD, as its chief medical officer.
As chief medical officer, Dr. Wilson will be responsible for working closely with internal and external teams to advance clinical and medical programing, and to improve the outcomes of Sierra Tucson's residents. He also will assist in the continued development of Sierra Tucson's medical team; working diligently to provide enhanced safety for residents and staff, and a greater ease of access to Sierra Tucson's innovative treatments.
Prior to joining Sierra Tucson, he served as medical director of Valley Hospital, a private psychiatric hospital located in Phoenix. He also served as medical director of the Freedom Care Unit, which focuses on the specific mental health needs of military service members and first responders. Dr. Wilson received his medical degree from Tulane University School of Medicine, in New Orleans, and completed his residency in psychiatry. Prior to graduating he served as chief resident at Tulane's Department of Psychiatry and Behavioral Sciences.
"Dr. Wilson's collaborative approach to treatment is an ideal fit for our team-centric environment," said Jaime Vinck, MC, LPC, NCC, CEIP, chief executive officer of Sierra Tucson. "I am impressed by the creativity and vision he has for the future of Sierra Tucson and will continue to rely on his wonderful insight." An active member of the mental health community in Arizona, Dr. Wilson currently serves as President of the Arizona Psychiatric Society and is chairman of the Arizona Disaster Psychiatry Task Force. He also is a co-founder of the Arizona Inter-Professional Behavioral Health Collaborative.
Additionally, Sierra Tucson also announced earlier this month the promotion of two of its medical staff. Dianne Keller, MD, was appointed to the position of associate medical director, and Shannon Padilla, DNP, was announced as the co-director of Desert Flower Inpatient Behavioral Health Unit.
To learn more about Sierra Tucson's programs, please visit www.sierratucson.com.
 About Sierra Tucson
For more than 34 years, Sierra Tucson's longstanding legacy of clinical excellence and compassionate care has resulted in recovery for those struggling with substance use disorder, trauma-related issues, disordered eating, chronic pain, mood and anxiety disorders, and co-occurring disorders. Internationally renowned for its innovative approach to behavioral and mental health treatment, Sierra Tucson was the co-recipient of the 2017 Clinical Excellence Award by Acadia Healthcare. Sierra Tucson combines integrative and experiential therapies with evidence-based practices to provide a full range of treatment methods. Call 800-842-4487 or visit SierraTucson.com.