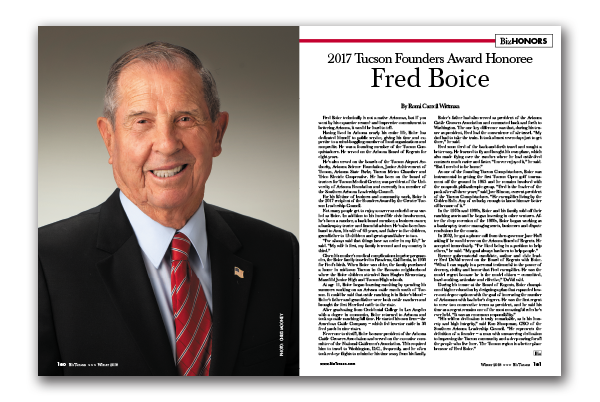 By Romi Carrell Wittman –
2017 Tucson Founders Award Honoree
Fred Boice technically is not a native Arizonan, but if you went by his expansive resumé and impressive commitment to bettering Arizona, it would be hard to tell.
Having lived in Arizona nearly his entire life, Boice has dedicated himself to public service, giving his time and expertise to a mind-boggling number of local organizations and nonprofits. He was a founding member of the Tucson Conquistadores. He served on the Arizona Board of Regents for eight years.
He's also served on the boards of the Tucson Airport Authority, Arizona Science Foundation, Junior Achievement of Tucson, Arizona State Parks, Tucson Metro Chamber and Trico Electric Cooperative. He has been on the board of trustees for Tucson Medical Center, was president of the University of Arizona Foundation and currently is a member of the Southern Arizona Leadership Council.
For his lifetime of business and community work, Boice is the 2017 recipient of the Founders Award by the Greater Tucson Leadership Council.
Not many people get to enjoy a career as colorful or as varied as Boice. In addition to his incredible civic involvement, he's been a rancher, a bank board member, a business owner, a bankruptcy trustee and financial adviser. He's also been husband to Ann, his wife of 65 years, and father to five children, grandfather to 15 children and great-grandfather to two.
"I've always said that things have an order in my life," he said. "My wife is first, my family is second and my country is third."
Given his mother's medical complications in prior pregnancies, the Boice family traveled to Pasadena, California, in 1930 for Fred's birth. When Boice was older, the family purchased a home in midtown Tucson in the Encanto neighborhood where the Boice children attended Sam Hughes Elementary, Mansfeld Junior High and Tucson High schools.
At age 11, Boice began learning ranching by spending his summers working on an Arivaca cattle ranch south of Tucson. It could be said that cattle ranching is in Boice's blood – Boice's father and grandfather were both cattle ranchers and brought the first Hereford cattle to the state.
After graduating from Occidental College in Los Angeles with a degree in economics, Boice returned to Arizona and took up cattle ranching full time. He started his own firm – the American Cattle Company – which fed investor cattle in 30 feed yards in nine states.
Never one to sit still, Boice became president of the Arizona Cattle Growers Association and served on the executive committee of the National Cattlemen's Association. This required him to travel to Washington, D.C., frequently, and he often took red-eye flights to minimize his time away from his family.
Boice's father had also served as president of the Arizona Cattle Growers Association and commuted back and forth to Washington. The one key difference was that, during his tenure as president, Fred had the convenience of air travel. "My dad had to take the train. It took almost seven days just to get there," he said.
Fred soon tired of the back-and-forth travel and sought a better way. He learned to fly and bought his own plane, which also made flying over the ranches where he had cattle-feed contracts much easier and faster. "I never enjoyed it," he said. "But I needed to be home."
As one of the founding Tucson Conquistadores, Boice was instrumental in getting the first Tucson Open golf tournament off the ground in 1963 and he remains involved with the nonprofit philanthropic group. "Fred is the leader of the pack after all these years," said Jose Rincon, current president of the Tucson Conquistadores. "He exemplifies living by the Golden Rule. Any of us lucky enough to know him are better off because of it."
In the 1970s and 1980s, Boice and his family sold off their ranching assets and he began investing in other ventures. After the deep recession of the 1980s, Boice began working as a bankruptcy trustee managing assets, businesses and dispute resolutions for the courts.
In 2002, he got a phone call from then-governor Jane Hull asking if he would serve on the Arizona Board of Regents. He accepted immediately. "I've liked being in a position to help others," he said. "My goal always has been to help people."
Former gubernatorial candidate, author and civic leader Fred DuVal served on the Board of Regents with Boice. "What I can supply is a personal testimonial to the power of decency, civility and honor that Fred exemplifies. He was the model regent because he is the model citizen – committed, hard-working, articulate and effective," DuVal said.
During his tenure at the Board of Regents, Boice championed higher education by designing a plan that expanded lower-cost degree options with the goal of increasing the number of Arizonans with bachelor's degrees. He was the first regent to serve two consecutive terms as president, and he said his time as a regent remains one of the most meaningful roles he's ever held. "It was an enormous responsibility."
"His selfless dedication is truly remarkable, as is his honesty and high integrity," said Ron Shoopman, CEO of the Southern Arizona Leadership Council. "He represents the definition of a founder – a man with unwavering dedication to improving the Tucson community and a deep caring for all the people who live here. The Tucson region is a better place because of Fred Boice."