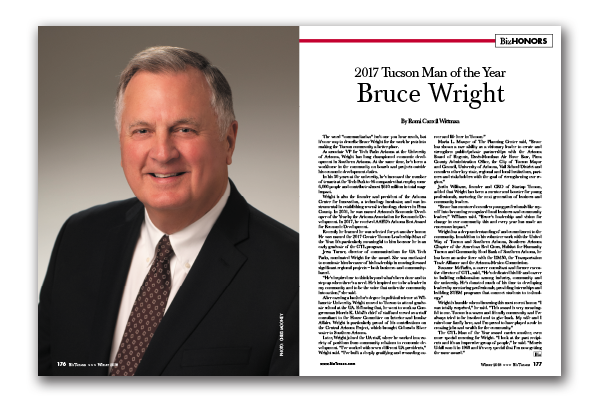 By Romi Carrell Wittman –
2017 Tucson Man of the Year
The word "communitarian" isn't one you hear much, but it's one way to describe Bruce Wright for the work he puts into making the Tucson community a better place.
As associate VP for Tech Parks Arizona at the University of Arizona, Wright has long championed economic development in Southern Arizona. At the same time, he's been a workhorse in the community on boards and projects outside his economic development duties.
In his 30 years at the university, he's increased the number of tenants at the Tech Park to 46 companies that employ some 6,000 people and contribute almost $610 million in total wage impact.
Wright is also the founder and president of the Arizona Center for Innovation, a technology incubator, and was instrumental in establishing several technology clusters in Pima County. In 2001, he was named Arizona's Economic Developer of the Year by the Arizona Association for Economic Development. In 2017, he received AAED's Arizona Best Award for Economic Development.
Recently he learned he was selected for yet another honor. He was named the 2017 Greater Tucson Leadership Man of the Year. It's particularly meaningful to him because he is an early graduate of the GTL program.
Jessa Turner, director of communications for UA Tech Parks, nominated Wright for the award. She was motivated to nominate him because of his leadership in moving forward significant regional projects – both business- and community-based.
"He's inspired me to think beyond what's been done and to step up when there's a need. He's inspired me to be a leader in my community and to be the voice that unites the community into action," she said.
After earning a bachelor's degree in political science at Willamette University, Wright moved to Tucson to attend graduate school at the UA. Following that, he went to work as Congressman Morris K. Udall's chief of staff and served as a staff consultant to the House Committee on Interior and Insular Affairs. Wright is particularly proud of his contributions on the Central Arizona Project, which brought Colorado River water to Southern Arizona.
Later, Wright joined the UA staff, where he worked in a variety of positions from community relations to economic development. "I've worked with seven different UA presidents," Wright said. "I've built a deeply gratifying and rewarding career and life here in Tucson."
Maria L. Masque of The Planning Center said, "Bruce has shown a rare ability as a visionary leader to create and strengthen public/private partnerships with the Arizona Board of Regents, Davis-Monthan Air Force Base, Pima County Administration Office, the City of Tucson Mayor and Council, University of Arizona, Vail School District and countless other key state, regional and local institutions, partners and stakeholders with the goal of strengthening our region."
Justin Williams, founder and CEO of Startup Tucson, added that Wright has been a mentor and booster for young professionals, nurturing the next generation of business and community leaders.
"Bruce has mentored countless young professionals like myself into becoming recognized local business and community leaders," Williams said. "Bruce's leadership and vision for change in our community this and every year has made an enormous impact."
Wright has a deep understanding of and commitment to the community. In addition to his volunteer work with the United Way of Tucson and Southern Arizona, Southern Arizona Chapter of the American Red Cross, Habitat for Humanity Tucson and Community Food Bank of Southern Arizona, he has been an active force with the DM50, the Transportation Trade Alliance and the Arizona-Mexico Commission.
Suzanne McFarlin, a career consultant and former executive director of GTL, said, "He's dedicated his life and career to building collaboration among industry, community and the university. He's donated much of his time to developing leaders by mentoring professionals, providing internships and building STEM programs that connect students to technology."
Wright is humble when discussing this most recent honor. "I was totally surprised," he said. "This award is very meaningful to me. Tucson is a warm and friendly community and I've always tried to be involved and to give back. My wife and I raised our family here, and I'm proud to have played a role in creating jobs and wealth for the community."
The GTL Man of the Year award carries another, even more special meaning for Wright. "I look at the past recipients and it's an impressive group of people," he said. "Morris Udall won it in 1968 and it's very special that I'm now getting the same award."