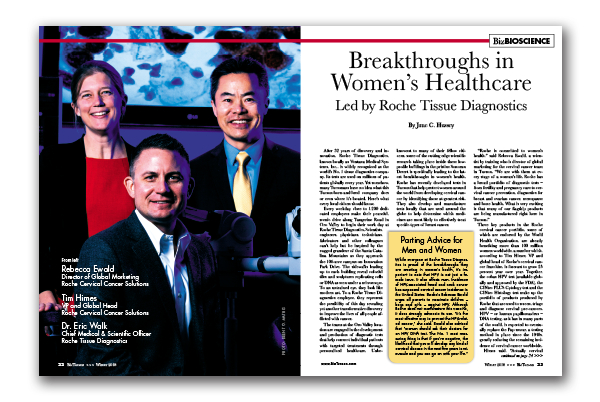 Breakthroughs in Women's Healthcare
By June C. Hussey –
Led by Roche Tissue Diagnostics
After 32 years of discovery and innovation, Roche Tissue Diagnostics, known locally as Ventana Medical Systems, Inc., is widely recognized as the world's No. 1 tissue diagnostics company. Its tests are used on millions of patients globally every year. Yet somehow, many Tucsonans have no idea what this Tucson-born-and-bred company does or even where it's located. Here's what every local citizen should know.
Every weekday, close to 1,200 dedicated employees make their peaceful, scenic drive along Tangerine Road in Oro Valley to begin their work day at Roche Tissue Diagnostics. Scientists, engineers, physicians, technicians, fabricators and other colleagues can't help but be inspired by the rugged grandeur of the Santa Catalina Mountains as they approach the 106-acre campus on Innovation Park Drive. The sidewalks leading up to each building reveal colorful tiles and sculptures replicating cells or DNA as seen under a microscope. To an untrained eye, they look like modern art. To a Roche Tissue Diagnostics employee, they represent the possibility of this day revealing yet another transformative discovery to improve the lives of all people afflicted with cancer.
The teams at the Oro Valley location are engaged in the development and production of diagnostic tests that help connect individual patients with targeted treatments through personalized healthcare. Unbeknownst to many of their fellow citizens, some of the cutting edge scientific research taking place inside these low-profile buildings in the pristine Sonoran Desert is specifically leading to the latest breakthroughs in women's health. Roche has recently developed tests in Tucson that help protect women around the world from developing cervical cancer by identifying those at greatest risk. They also develop and manufacture tests locally that are used around the globe to help determine which medicines are most likely to effectively treat specific types of breast cancer.
"Roche is committed to women's health," said Rebecca Ewald, a scientist by training who is director of global marketing for the cervical cancer team in Tucson. "We are with them at every stage of a woman's life. Roche has a broad portfolio of diagnostic tests – from fertility and pregnancy care to cervical cancer prevention, diagnostics for breast and ovarian cancer, menopause and bone health. What is very exciting is that many of our flagship products are being manufactured right here in Tucson."
Three key products in the Roche cervical cancer portfolio, some of which are endorsed by the World Health Organization, are already benefiting more than 100 million women worldwide, a number which, according to Tim Himes, VP and global head of Roche's cervical cancer franchise, is forecast to grow 25 percent year over year. Together, the cobas HPV test (available globally and approved by the FDA), the CINtec PLUS Cytology test and the CINtec Histology test make up the portfolio of products produced by Roche that are used to screen, triage and diagnose cervical pre-cancers. HPV – or human papillomavirus – DNA testing, as it has in many parts of the world, is expected to eventually replace the Pap smear, a testing method in place since the 1940s, greatly reducing the remaining incidence of cervical cancer worldwide.
Himes said, "Actually cervical cancer is probably the only 100 percent preventable cancer that exists. We know that it's caused by a specific virus, we can vaccinate against the virus, we can detect the presence of the virus – and different from other cancers, it has a long period of precancerous disease. If detected, it can be removed so that cancer never has the opportunity to develop. The fact that women die from cervical cancer today is absolutely unacceptable. Could you imagine if women in the U.S. were still dying from polio or measles?"
Despite these advancements, 250,000 women do still die from cervical cancer annually, 4,500 within the United States alone. Most of these fatalities occur in unscreened populations. January is National Cervical Health Awareness Month, when health organizations across the country spotlight issues related to cervical disease, HPV and the importance of screening and early detection.
HPV is the causative agent of 99.7 percent of cervical cancers and, according to Himes, it's as common as the flu. Eighty percent of all adults will at some point in time be infected. The immune system usually takes care of it. At the same time, about 70 percent of cervical cancers are caused by HPV16 and HPV18, the subtypes associated with the highest cancer risk.
Ewald explained. "When you're HPV-positive, it doesn't mean you're automatically going to get cervical cancer. According to the landmark ALTS study, the virus clears on its own in 90 percent of women. But how do you know which are the right women to send on for further testing and treatment? That's where our new biomarker-based tests can really make a difference. We look for transforming events in the cells caused by HPV. Our tests are actually very clever. When you are HPV-positive and positive for the biomarker test, then you go for a closer exam of your cervix. Your doctor may take a biopsy to see whether you have cervical disease requiring treatment. We use a test on the biopsy to see if transforming events are occurring, based on the p16 biomarker."
People outside the industry often say to Himes, "Now that we have a high-tech, scientific method, why isn't that the standard of care?" His answer: " 'Go get your annual Pap smear' has been the message to every woman in developed countries for the past 60 years, so now we are in the process of changing clinical practice."
Dr. Eric Walk, chief medical and scientific officer, added, "Most women don't know that Pap smears may miss disease in nearly 50 percent of women with cervical disease. A false- negative rate that high is simply unacceptable for a screening test. On a quarterly basis, we bring patients impacted by cancer to speak with our employees about their journeys. Last year, we spoke with a patient named Lizzi, who despite having annual Pap smears was diagnosed with invasive cervical cancer. It's patient stories like Lizzi's that drive us to create better screening solutions for this disease."
Walk summarized the transformative scientific evolution that's taken place in our lifetimes, driven in large part by the team at Roche. "The whole field of pathology diagnostics used to be about answering the simple questions: What does the patient have? Is it cancer or is it benign? If it's cancer, what type? It ended there. Now, through the use of immunohistochemistry technology, we can also answer two more important questions: If it is cancer, how dangerous is it, or what is the prognosis? And more recently, over the past 10 years, are there specific drugs that can be effective with that cancer?
"So that brings us into the era of personalized medicine and immunotherapy. Preventing over-treatment is a key reason that personalized healthcare movement really took hold. In the mid-'90s, we were still in a one-size-fits-all therapy mode. We were looking at breast or lung cancer as single entities. If you look at the data, the response rates were extremely low. We needed something else.
"We're all thrilled that the role of diagnostics has been elevated to quite a high level in oncology – one that is equally as important or perhaps more important than the drugs – because especially with companion diagnostics, these are tests that inform patients and doctors which drugs will and won't be effective."
It's exciting to think that the next lifesaving cancer test or treatment could very well be inspired by Roche colleagues in Tucson conversing during a lunchtime hike on the breathtaking nature trails surrounding their worksite, or perhaps by patients who have been invited to discuss their cancer experiences with local researchers, or even by the next Tucson Symposium, an international conference of the world's leading scientists that the company hosts in Tucson each year. These are just a few of the reasons why Roche Tissue Diagnostics deserves a spot on everyone's radar and they are certainly among the reasons why neighbors like Walk, Himes and Ewald are excited about their work.
Walk concluded, "I'm a pathologist by training. I went into medicine because I wanted to contribute to patient care. As a hospital-based pathologist, I could only impact one patient at a time, maybe 10 patients a week. Here, I get to work with individuals and teams to transform pathology and medicine as a whole. To me it doesn't get better than that."