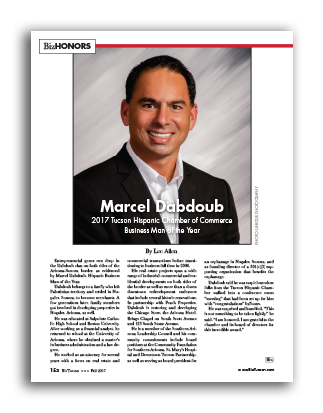 By Lee Allen –
2017 Tucson Hispanic Chamber of Commerce Business Man of the Year
Entrepreneurial genes run deep in the Dabdoub clan on both sides of the Arizona-Sonora border, as evidenced by Marcel Dabdoub, Hispanic Business Man of the Year.
Dabdoub belongs to a family who left Palestinian territory and settled in Nogales, Sonora, to become merchants. A few generations later, family members got involved in developing properties in Nogales, Arizona, as well.
He was educated at Salpointe Catholic High School and Boston University. After working as a financial analyst, he returned to school at the University of Arizona, where he obtained a master's in business administration and a law degree.
He worked as an attorney for several years with a focus on real estate and commercial transactions before transitioning to business full time in 2008.
His real estate projects span a wide range of industrial, commercial and residential developments on both sides of the border as well as more than a dozen downtown redevelopment endeavors that include several historic renovations. In partnership with Peach Properties, Dabdoub is restoring and developing the Chicago Store, the Arizona Hotel, Brings Chapel on South Scott Avenue and 123 South Stone Avenue.
He is a member of the Southern Arizona Leadership Council and his community commitments include board positions at the Community Foundation for Southern Arizona, St. Mary's Hospital and Downtown Tucson Partnership, as well as serving as board president for an orphanage in Nogales, Sonora, and as founding director of a 501(c)(3) supporting organization that benefits the orphanage.
Dabdoub said he was suspicious when folks from the Tucson Hispanic Chamber walked into a conference room "meeting" that had been set up for him with "congratulations" balloons.
He was surprised and humbled. "This is not something to be taken lightly," he said. "I am honored. I am grateful to the chamber and its board of directors for this incredible award."