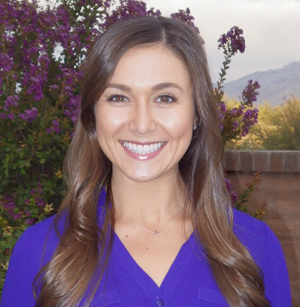 Tucson Native Joins the Dental Team of Davenport & Davenport
Dr. Kirsten Linaker now an associate at Tucson family dental practice
 Tucson, Ariz. (September 14, 2017) – Dr. Kirsten Linaker, DMD, recently joined the acclaimed dentists at Davenport & Davenport Dental Practice in Tucson. A Tucson native, Dr. Linaker attended Ironwood Ridge High School and received her bachelor's degree in psychology from the University of San Diego. She then moved to Phoenix and completed her Doctorate of Dental Medicine at the A.T. Still University, Arizona School of Dentistry and Oral Health.
Dr. Linaker enjoys family practice and working with patients of all ages. She is committed to providing high-quality dentistry in a positive and caring environment. She focuses on patients' individual needs and works with them, so that together they can achieve the healthiest, most confident smile.
Dr. Linaker is a member of the American Dental Association, Arizona Dental Association, and Southern Arizona Dental Society. During dental school, she worked in community health centers, providing dental care to the underserved. She has a passion for service and will continue to give back to the Tucson community.
Excited to be returning home to her friends and family, Dr. Linaker said, "I feel blessed to have the opportunity to return to Tucson and to be a part of a practice focused on compassionate service to our patients. I strive to carry on the legacy of providing the highest standard of care, while working alongside the Davenports."
In what little spare time she has, Dr. Linaker enjoys staying active, spending time with her dog, Diesel, and cheering on the Arizona Wildcats.
 For more about the Dr. Kirsten Linaker, please visit DavenportDDS.com. To schedule an interview, please reach out to the contact listed at the bottom of this release.
 ABOUT Davenport & Davenport Dental Practice
Davenport & Davenport is a family dental practice in the truest sense. Dr. David Davenport, is a lifelong Tucson resident and father to partner, Dr. Deron Davenport. Offering exceptional dental care with a personal touch, Davenport & Davenport provides cosmetic, restorative, and emergency dental services in addition to family dentistry solutions. The latest dental training and techniques are practiced in every dental procedure, and concern for comfort is a top priority.
Website: